The new Team of the Week in FIFA 20 with Sancho and Roberto Firmino
In FIFA 20 the TOTW 21 was published. Only one player from the Bundesliga is among the best eleven players this week. Especially interesting are the players from the Premier League.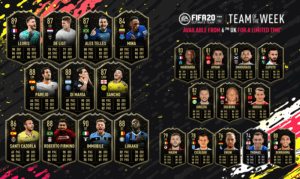 Sancho is represented in the starting eleven of the week.
The only surprise: The FUT card can be played in the central midfield. But Sancho is a winger and has also played on the right wing on the weekend.
With his ZOM card you can also include the English player in your formation if you don't have any outside players.
Two top cards from England
For your Premier League squad, there's also something to draw this week. The 89 card of Hugo Lloris as well as the 88 card of Roberto Firmino are a great enrichment for your game. While the Frenchman gets his first improved version, Firmino is already the fourth.
The Brazilian's Ultimate Cream card currently costs just under a million coins and has similar values to his current Inform card. The new TOTW21 card will therefore also be in this price range.
In Monday's forecast we saw Mo Salah in front of Firmino. But the publisher had other plans.
Salah scored twice on the weekend, but the three templates of Firmino are rated higher by EA Sports.
The TOTW cards are available in packs from 19 o'clock today.
Which players are you hoping for in the packs? Tell us via our social media.