The professional scene in Dota 2 is facing massive changes. According to reports the Dota Pro Circuit (DPC) will probably present itself in a completely new format next season.
Major changes are coming for the Dota 2 Pro Circuit next year, sources tells us. No Minors, a league system, and only three Majors.

What we know: https://t.co/kDdH8jJrZV pic.twitter.com/jn0hjMogle

— LiquidDota.com (@LiquidDota) February 1, 2020
Only three majors instead of five.
The new DPC season will limit the number of majors. Furthermore the Minor will be a thing of the past. Qualification to the major tournaments will no longer be done by individual tournaments, instead leagues will be played in the current regions. So there will be six different Dota leagues in the future: North America, South America, Western Europe, Eastern Europe, China and Southeast Asia.
Teams that do well in the league will not only receive DPC points, but will also qualify for a major.
First and second league in planning
The leagues in the regions will then be divided into a first and second division. As in the Bundesliga, teams can move up and down between the two leagues. The worst and best two teams from leagues one and two then change leagues at the end of a season.
For relegated teams from league two, the situation is to become even more dramatic. They lose their place in the league system and have to win new slots in qualifying matches against challengers. The planned Dota 2 league will therefore retain the open character of the tournament system and will not become a franchise league along the lines of Overwatch or Call of Duty.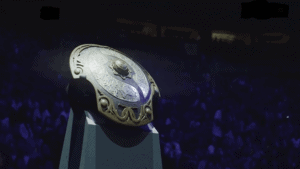 Further details on the plans for DPC 2020/21 are not yet known and the above-mentioned points have not yet been officially announced either. Instead, both liquiddota.com and Caster Vitalii Nikolaevich "v1lat" Volochai refer to a meeting between Valve and some representatives of the professional teams in Seattle for their information.
On the part of the developer there was no reaction to the reports so far. Of course we will keep you up to date as soon as we know more.
What do you think about the planned new Dota Pro Circuit? Tell us via social media!