De professionele scène in Dota 2 staat voor enorme veranderingen. Naar verluidt zal het Dota Pro Circuit (DPC) zich volgend seizoen waarschijnlijk in een volledig nieuw formaat presenteren.
Major changes are coming for the Dota 2 Pro Circuit next year, sources tells us. No Minors, a league system, and only three Majors.

What we know: https://t.co/kDdH8jJrZV pic.twitter.com/jn0hjMogle

— LiquidDota.com (@LiquidDota) February 1, 2020
Slechts drie majors in plaats van vijf.
Het nieuwe DPC-seizoen zal het aantal majors beperken. Bovendien zal de Minor tot het verleden behoren. De kwalificatie voor de grote toernooien zal niet langer worden gedaan door individuele toernooien, in plaats daarvan zullen de competities in de huidige regio's worden gespeeld. Er zullen dus zes verschillende Dota-liga's zijn in de toekomst: Noord-Amerika, Zuid-Amerika, West-Europa, Oost-Europa, China en Zuidoost-Azië.
Teams die het goed doen in de competitie krijgen niet alleen DPC-punten, maar komen ook in aanmerking voor een major.
Eerste en tweede klasse in de planning
De competities in de regio's worden dan verdeeld in een eerste en tweede divisie. Net als in de Bundesliga kunnen teams zich op en neer bewegen tussen de twee liga's. De slechtste en beste twee teams uit de competities één en twee veranderen dan van competitie aan het einde van een seizoen.
Voor degradatieteams uit de tweede klasse wordt de situatie nog dramatischer. Ze verliezen hun plaats in het competitiesysteem en moeten nieuwe slots winnen in kwalificatiewedstrijden tegen uitdagers. De geplande Dota 2 competitie zal dus het open karakter van het toernooisysteem behouden en zal geen franchisecompetitie worden naar het voorbeeld van Overwatch of Call of Duty.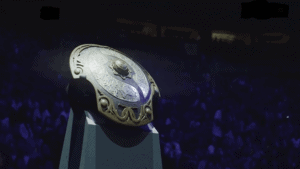 Verdere details over de plannen voor DPC 2020/21 zijn nog niet bekend en de bovengenoemde punten zijn ook nog niet officieel aangekondigd. In plaats daarvan verwijzen zowel liquiddota.com als Caster Vitalii Nikolaevich "v1lat" Volochai naar een ontmoeting tussen Valve en enkele vertegenwoordigers van de professionele teams in Seattle voor hun informatie.
Van de kant van de ontwikkelaar was er tot nu toe geen reactie op de rapporten. Natuurlijk houden we u op de hoogte zodra we meer weten.
Wat vind je van het geplande nieuwe Dota Pro Circuit? Vertel het ons via sociale media!