La scena professionale di Dota 2 sta affrontando enormi cambiamenti. Secondo quanto riferito, il circuito Dota Pro (DPC) si presenterà probabilmente in un formato completamente nuovo nella prossima stagione.
Major changes are coming for the Dota 2 Pro Circuit next year, sources tells us. No Minors, a league system, and only three Majors.

What we know: https://t.co/kDdH8jJrZV pic.twitter.com/jn0hjMogle

— LiquidDota.com (@LiquidDota) February 1, 2020
Solo tre major invece di cinque.
La nuova stagione del DPC limiterà il numero delle major. Inoltre il Minore sarà un ricordo del passato. Le qualificazioni ai tornei principali non saranno più effettuate da tornei individuali, ma si giocheranno invece i campionati nelle regioni attuali. Quindi ci saranno sei diverse leghe Dota in futuro: Nord America, Sud America, Europa occidentale, Europa orientale, Cina e Sud-Est asiatico.
Le squadre che fanno bene in campionato non solo riceveranno punti CED, ma si qualificheranno anche per una major.
Prima e seconda lega nella pianificazione
Le leghe nelle regioni saranno poi suddivise in una prima e una seconda divisione. Come in Bundesliga, le squadre possono muoversi su e giù tra i due campionati. Le peggiori e le migliori due squadre dei campionati uno e due cambiano di campionato alla fine della stagione.
Per le squadre retrocesse dalla seconda serie, la situazione è destinata a diventare ancora più drammatica. Perdono il loro posto nel sistema del campionato e devono vincere nuovi slot nelle partite di qualificazione contro gli sfidanti. La prevista Dota 2 league manterrà quindi il carattere aperto del sistema dei tornei e non diventerà una franchise league sulla falsariga di Overwatch o Call of Duty.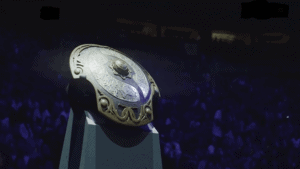 Non sono ancora noti ulteriori dettagli sui piani per il DPC 2020/21 e nemmeno i punti summenzionati sono stati ufficialmente annunciati. Invece, sia liquiddota.com che Caster Vitalii Nikolaevich "v1lat" Volochai fanno riferimento ad un incontro tra Valve e alcuni rappresentanti delle squadre professionistiche di Seattle per informazione.
Da parte dello sviluppatore non c'è stata finora alcuna reazione ai rapporti. Naturalmente vi terremo aggiornati non appena ne sapremo di più.
Cosa ne pensate del nuovo circuito Dota Pro? Diccelo tramite i social media!