La scène professionnelle de Dota 2 est confrontée à des changements massifs. Selon les rapports, le Dota Pro Circuit (DPC) se présentera probablement sous un tout nouveau format la saison prochaine.
Major changes are coming for the Dota 2 Pro Circuit next year, sources tells us. No Minors, a league system, and only three Majors.

What we know: https://t.co/kDdH8jJrZV pic.twitter.com/jn0hjMogle

— LiquidDota.com (@LiquidDota) February 1, 2020
Seulement trois majors au lieu de cinq.
La nouvelle saison de DPC va limiter le nombre de majors. En outre, le mineur sera une chose du passé. La qualification aux grands tournois ne se fera plus par des tournois individuels, mais par des ligues jouées dans les régions actuelles. Il y aura donc six ligues Dota différentes à l'avenir : Amérique du Nord, Amérique du Sud, Europe de l'Ouest, Europe de l'Est, Chine et Asie du Sud-Est.
Les équipes qui réussissent dans la ligue recevront non seulement des points DPC, mais se qualifieront également pour une majeure.
La première et la deuxième ligue en matière de planification
Les ligues des régions seront ensuite divisées en une première et une deuxième division. Comme en Bundesliga, les équipes peuvent se déplacer entre les deux championnats. Les deux meilleures et les pires équipes des championnats un et deux changent de championnat à la fin d'une saison.
Pour les équipes reléguées en deuxième division, la situation va devenir encore plus dramatique. Ils perdent leur place dans le système de la ligue et doivent gagner de nouveaux créneaux lors des matchs de qualification contre les challengers. La ligue Dota 2 prévue conservera donc le caractère ouvert du système de tournoi et ne deviendra pas une ligue de franchise du type Overwatch ou Call of Duty.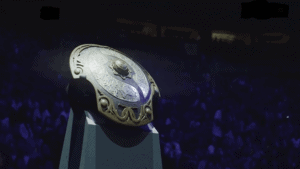 Les détails des plans pour le DPC 2020/21 ne sont pas encore connus et les points mentionnés ci-dessus n'ont pas encore été officiellement annoncés non plus. Au contraire, tant liquiddota.com que Caster Vitalii Nikolaevich « v1lat » Volochai font référence à une réunion entre Valve et certains représentants des équipes professionnelles à Seattle pour leur information.
Le promoteur n'a pas réagi aux rapports jusqu'à présent. Bien entendu, nous vous tiendrons au courant dès que nous en saurons plus.
Que pensez-vous du nouveau circuit Dota Pro prévu ? Dites-le nous via les médias sociaux !