On its coming of age, the classic shooter takes the next, overdue technological step. Our VR tester raves: nothing since Half-Life Alyx has impressed him so much
When Half-Life 2 was released in November 2004, there was a lot of excitement in the gaming community. On the one hand, because it was undoubtedly a grandiose game with more than impressive visuals and physics for its time, and on top of that, it had exemplary storytelling. We once awarded it a whopping 93 points in the test.
On the other hand, there were also many negative voices, which primarily had to do with a gaming service called Steam – Half-Life 2 had to be activated online via Steam, which was still rarely used at the time. In a time when the PC was not yet necessarily connected to this strange internet.
We humans of the year 2022 know: The positive voices have prevailed, Steam is now an established service that many gamers no longer want to do without, and Half-Life 2 in our top 250 best games. And now it"s going one step further into the future. The Half-Life 2 VR mod, officially available for free on Steam, makes the oldie VR-ready and bases its controls heavily on Half-Life: Alyx, the best VR shooter of all time according to Petra. All you need to do is have Half-Life 2 in your Steam library. Whether the download and setup are worth it, we"ll tell you in the test.
Eight years in development
Since the initial attention hype for virtual reality from the Oculus Rift, VR enthusiasts have been telling people how impressive Half-Life 2 would have to be in virtual reality. Then in 2013, when Razer introduced a (failed) VR input device called Hydra, some people actually sat down at their computers to develop a VR mod for Valve"s shooter.
It happened as it often does with mods: development stalled and then went dormant for a long time. In fact, until July 2021, as Holger Frydrych, one of the programmers on the mod team, told us. And then everything went surprisingly fast: Since 16 September 2022, the mod (officially available for download on Steam) and can be played with any SteamVR-enabled headset. We tested it with Oculus Quest 2 via Airlink as well as the Valve Index and were pleased about the low system requirements, among other things.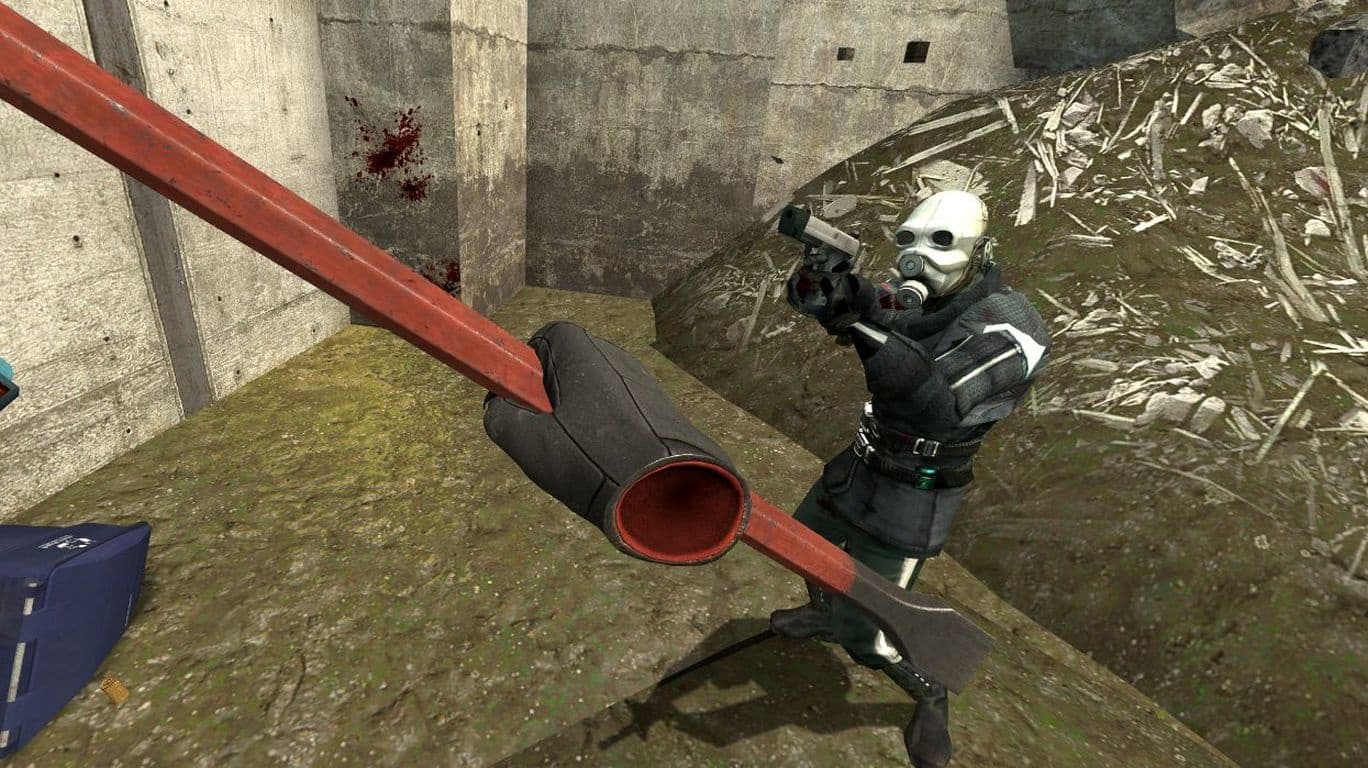 But it"s still a beta, so development is not yet complete (which is why we won"t give it a rating). And, spoiler alert, we also found a few quibbles with the implementation in the test. Nevertheless, Half-Life 2 can be played through completely in VR and certainly not only for Freeman fans with a big grin on their faces. After all, Half-Life 2 is still a very good game 18 years after its release, and the VR mode makes it even more immersive.
Put yourself in Gordon Freeman"s shoes for once…
Ok, facehuggers interpret Freeman"s skin differently than VR gamers, but you know what I mean. And that"s exactly what the mod offers: thanks to VR, I embody Gordon Freeman myself and don"t just see through his eyes via a monitor.
Head, hand and body movements actually have an influence on what happens, so the aim of the starter pistol is also via the rear sight instead of the crosshairs. Don"t worry, later weapons will offer you the aiming aid, but then immersively as part of a sight and not as a flat pixel cross in the middle of the screen.
Thanks to Steam integration, the mod is quickly and easily installed and we are actually standing in the world of Half-Life 2, the iconic start menu hovering in front of our noses. The settings have been expanded to include some VR-specific tabs for control and comfort. So you can change the movement to fluid turns or snapturn (jerky turning, which can help with motion sickness), specify whether you want to shoot right or left, and whether you"re sitting or standing.
If you"re prone to VR nausea, you can activate some comfort features like a vignette, but we"d still advise very sensitive people not to start Virtual Reality with Half-Life 2 VR of all things.
Now quickly start a new game and we find ourselves as Gordon Freeman on a train and may be greeted by the G-Man. The first steps in City 17 show: The mod developers have done a good job with the controls.
While the popular mods by Luke Ross (for Red Dead Redemption 2, GTA 5 and other current AAA titles) force you to control the game via gamepad or mouse/keyboard, in Half-Life 2 you actually have full 6DOF freedom of movement. Means, for example: Your hands don"t just hold the weapon rigidly in one position like in the monitor version, instead you can move it freely with the VR controllers. The modders have made new weapon models for this. Or rather: Are still there, in the later course of the game some weapons are currently still lacking animations.
Convenient control with the VR controllers
When picking up objects, you don"t have to bend down or reach into a corner (and risk scaring the cat – sorry, Pippin!). If you point your hand at an object, it can be sucked in, so to speak, from a certain distance at the touch of a button. Weapons are changed by pressing the joystick and then selecting them.
In general, the control is oriented towards the genre standard and Half-Life: Alyx, among others, is definitely not a bad role model as far as successful VR control is concerned. Pleasant: The modders have made many of the objects in the game usable (although not as many as in Half-Life: Alyx), so you can throw dishes at walls without restraint and enjoy the shards.
Sometimes, however, the immersion breaks: for example, when plates and other objects can be used on a table, but the prominently placed bottle only ensures that the hands slide through. Unfortunately, this also applies to various wooden slats that we have to smash with the crowbar in the course of the game. Often, the only thing that helps is frantically searching for the right angle to smash them – not nice when you are being shot at by Combine in the meantime.
Talking about points of criticism: Of course, the graphics of Half-Life 2 are no longer up to date, many textures look very coarsely pixelated up close and the lighting is also old-fashioned. The mod team wants to work on this, however, and an extensive graphics refresh has already been announced. And despite the graphics of the original game, which are designed for graphics cards like the ATI Radeon 9700 Pro with 128 megabytes of memory, Half-Life 2 looks surprisingly good in VR. Especially people and opponents stand out positively.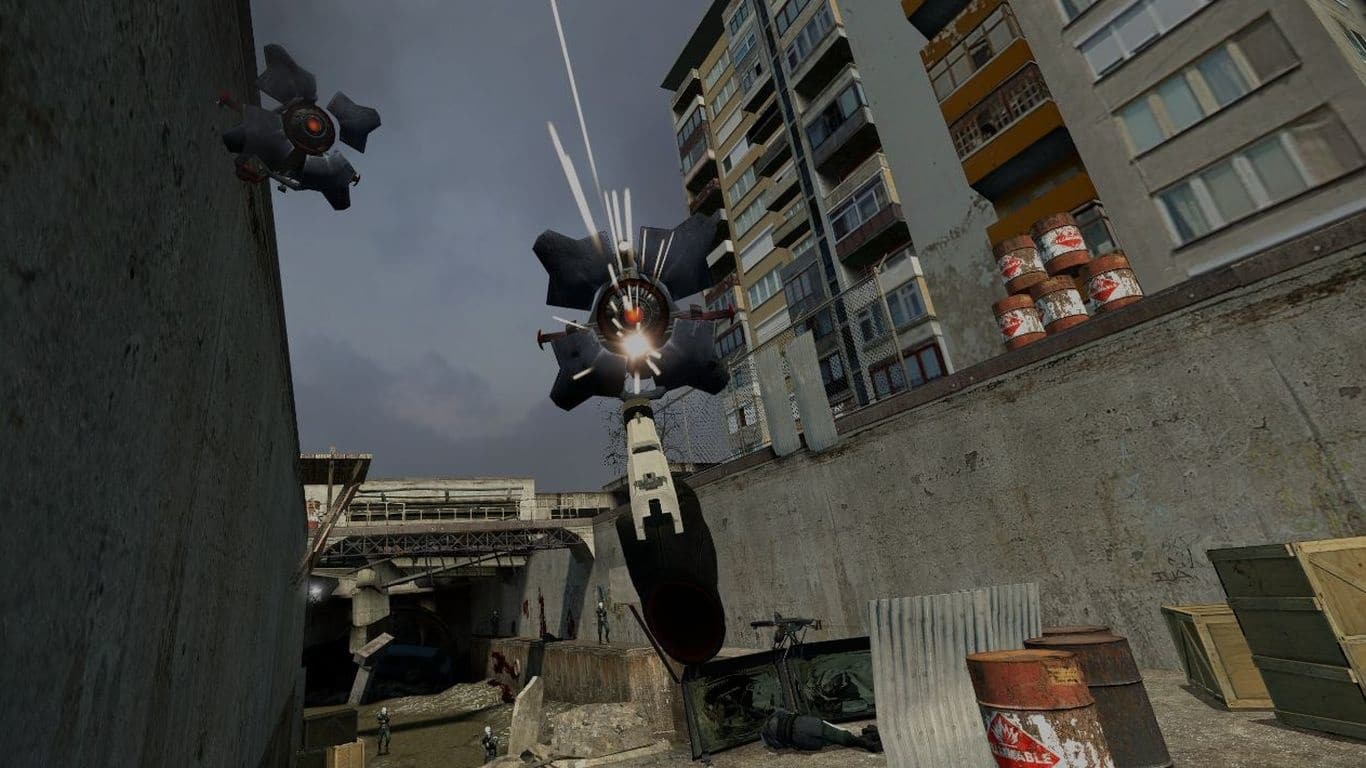 Physics lessons in City 17
According to Holger Frydrych, the mod team struggled a lot with the source engine and its physics calculation at the beginning of the development. Holger reports, for example, the challenge that the player"s virtual body moved objects in the game world when you bent over them – a movement that is of course not possible in the original game in this way:
"Fixing this was surprisingly complex, as the player"s movement is coupled to the physics engine and any form of movement thus inevitably triggers a feedback loop. But if you simply turn off the physics interactions, you risk breaking certain parts of the game that rely on physics. Like the part in Ravenholm where you have to ride up on the cars hanging from a truck"
Even though the development has been very labour intensive, the team continues to work on the mod. In addition to the aforementioned graphics update and bug fixes, the VR implementation of the two Half-Life episodes is still on the schedule.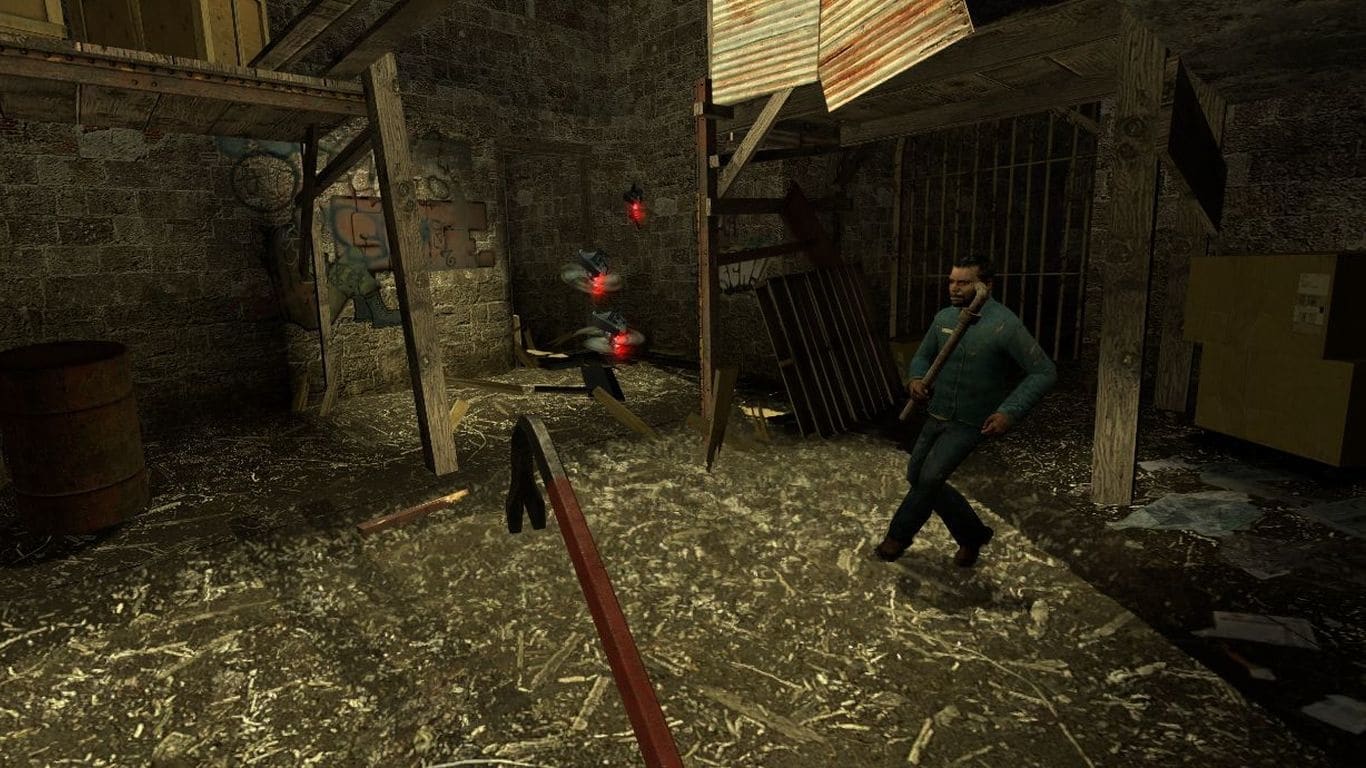 Editorial conclusion
Also in VR Half-Life 2 is the familiar shooter, there are no changes to the story or gameplay. However, this is not a point of criticism, but rather praise. The controls are sometimes a bit hectic, especially if you are not used to manoeuvring with your thumb on the joystick as a mouse/keyboard gamer. Holger Frydrych is also not entirely happy with the stick control, as it does not yet react as responsively as he would like – so there is hope that something will change here.
Despite the criticism, this should not stop any shooter fan with a VR headset in their possession from checking out the mod for themselves. The gameplay is right, the graphics look amazingly good for their age in VR (moreover, the modders have already announced a graphics overhaul) and it"s a pleasure to experience City 17, Ravenholm and all the other locations of the game in a completely new way.
Because that"s exactly what the Half-Life 2 VR mod is: a new experience and basically exactly the experience that at least I dreamed of from games in the future back 18 years ago. Right in the middle as the protagonist of an exciting storyline and with full freedom of movement. Today we have this future and, thanks to the work of modders, we can dive into a pleasantly familiar game world for free and wield a crowbar in front of Combine. Or with a pointed scream and a frantic head movement, dodge the headcrab that wants to mate with our face.