The new patch for Counter-Strike: Global Offensive mainly brings changes to several competitive maps.
The latest update of Counter-Strike: Global Offensive mainly brings changes to the competitive maps. Four maps from the current pool were changed by Valve in this update. Cache gets some small optimizations like a radar update, visibility improvements and minor bug fixes. On Train there is one big change besides visibility fixes: The skybox that separates Ivy from the A-spot has been opened completely. So the attacking Ts can now throw new smokes to make it easier for them to capture the bomb site.
Release Notes for today are up. We've made some changes to Mirage, Dust 2, and Train. Mirage has a new bench mid, Dust 2's Tunnels skybox has been opened up as has Train's skybox from Ivy. This and more here: https://t.co/ExZAjaCyYu pic.twitter.com/ZTPwNCkgIP

— CS:GO (@CSGO) January 30, 2020
Change to Dust2 causes a furore
The longest serving map de_dust2, which was released in March 2001 and is available in all games of the Counter-Strike series, has dusted off an innovation. The skybox above the catacombs in front of the B-spot has been opened. This allows the advancing Ts in CS:GO to take the B-Site with an organized wall of smoke grenades for the first time. This change will significantly alter the meta on Dust2, a solo player on the B-Spot will find it very difficult to master a coordinated attack in the future.
Mirage gets several innovations
Mirage gets most of the changes. A new AWP wallbang has been added to the A-spot, allowing T-players to shoot from the palace towards the plateau or jungle. In the middle, the T-entrance has been widened and recently a bench has been added next to the Connector entrance, allowing players to jump into the window. This was previously only possible by a boost from a Teammate. From the new bench you can also take a new angle to peek in the direction of B-short. At the B-spot a jump-peek in direction Kurz was removed and the border of the balcony in front of the apartments was shortened.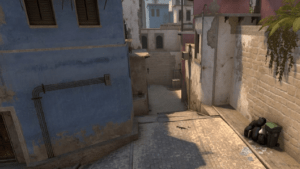 Challenge for the professionals
Especially for the professional Counter-Strike players it is now important to find the optimal grenade lineups as fast as possible to benefit from the changes. In the coming days and weeks it will become clear which tactics promise the greatest success. It is noticeable that most of these changes play into the hands of the offensive T-side. Therefore, the balance of power on these three cards could change significantly in the future.