La nuova patch per Counter-Strike: Global Offensive porta principalmente cambiamenti a diverse mappe competitive.
L'ultimo aggiornamento di Counter-Strike: Global Offensive porta principalmente cambiamenti nelle mappe della concorrenza. Quattro mappe dell'attuale pool sono state modificate da Valve in questo aggiornamento. La cache ottiene alcune piccole ottimizzazioni come un aggiornamento del radar, miglioramenti della visibilità e piccole correzioni di bug. Su Treno c'è un grande cambiamento oltre alle correzioni di visibilità: lo skybox che separa Ivy dal punto A è stato aperto completamente. Così i Ts attaccanti possono ora lanciare nuovi fumi per facilitare la cattura del sito della bomba.
Release Notes for today are up. We've made some changes to Mirage, Dust 2, and Train. Mirage has a new bench mid, Dust 2's Tunnels skybox has been opened up as has Train's skybox from Ivy. This and more here: https://t.co/ExZAjaCyYu pic.twitter.com/ZTPwNCkgIP

— CS:GO (@CSGO) January 30, 2020
Il passaggio a Dust2 provoca un furore
La mappa de_dust2 più lunga, pubblicata nel marzo 2001 e disponibile in tutti i giochi della serie Counter-Strike, ha rispolverato un'innovazione. Lo skybox sopra le catacombe davanti al punto B è stato aperto. Questo permette alle T che avanzano in CS:GO di prendere il B-Site con un muro organizzato di granate fumogene per la prima volta. Questo cambiamento modificherà significativamente il meta su Dust2, un giocatore solista sul B-Spot troverà molto difficile padroneggiare un attacco coordinato in futuro.
Mirage ottiene diverse innovazioni
Mirage ottiene la maggior parte dei cambiamenti. Un nuovo wallbang della PLE è stato aggiunto al punto A, permettendo ai T-player di sparare dal palazzo verso l'altopiano o la giungla. Al centro, l'ingresso a T è stato allargato e recentemente è stata aggiunta una panchina accanto all'ingresso Connector, che permette ai giocatori di saltare nella finestra. Prima questo era possibile solo grazie alla spinta di un compagno di squadra. Dalla nuova panchina si può anche prendere un nuovo angolo per sbirciare in direzione di B-breve. Nel punto B è stata rimossa una grondaia in direzione di Kurz e il bordo del balcone davanti agli appartamenti è stato accorciato.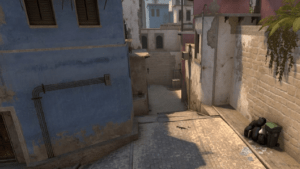 Una sfida per i professionisti
Soprattutto per i giocatori professionisti del Counter-Strike è ora importante trovare il più velocemente possibile la formazione ottimale delle granate per poter beneficiare dei cambiamenti. Nei prossimi giorni e nelle prossime settimane sarà chiaro quali tattiche promettono il maggior successo. Si nota che la maggior parte di questi cambiamenti giocano nelle mani del T-side offensivo. Pertanto, l'equilibrio di potere su queste tre carte potrebbe cambiare significativamente in futuro.