Le nouveau patch pour Counter-Strike : Global Offensive apporte principalement des changements à plusieurs cartes de la concurrence.
La dernière mise à jour de Counter-Strike : Global Offensive apporte principalement des modifications aux cartes de la concurrence. Quatre cartes du pool actuel ont été modifiées par Valve dans cette mise à jour. Le cache reçoit quelques petites optimisations comme une mise à jour du radar, des améliorations de la visibilité et des corrections de bogues mineurs. Dans le train, il y a un grand changement en plus des corrections de visibilité : la skybox qui sépare le lierre du point A a été complètement ouverte. Ainsi, les T attaquants peuvent maintenant lancer de nouvelles fumigènes pour faciliter leur capture du site de la bombe.
Release Notes for today are up. We've made some changes to Mirage, Dust 2, and Train. Mirage has a new bench mid, Dust 2's Tunnels skybox has been opened up as has Train's skybox from Ivy. This and more here: https://t.co/ExZAjaCyYu pic.twitter.com/ZTPwNCkgIP

— CS:GO (@CSGO) January 30, 2020
Le passage à Dust2 fait fureur
La plus ancienne carte de_dust2, qui est sortie en mars 2001 et qui est disponible dans tous les jeux de la série Counter-Strike, a dépoussiéré une innovation. La skybox au-dessus des catacombes, devant le point B, a été ouverte. Cela permet aux Ts qui avancent dans CS:GO de prendre le site B avec un mur organisé de grenades fumigènes pour la première fois. Ce changement modifiera considérablement le méta sur Dust2, un joueur solo sur le point B aura beaucoup de mal à maîtriser une attaque coordonnée à l'avenir.
Le Mirage reçoit plusieurs innovations
C'est Mirage qui obtient la plupart des changements. Un nouveau wallbang AWP a été ajouté au point A, permettant aux joueurs T de tirer depuis le palais vers le plateau ou la jungle. Au milieu, l'entrée en T a été élargie et récemment un banc a été ajouté à côté de l'entrée du Connector, permettant aux joueurs de sauter par la fenêtre. Auparavant, cela n'était possible que grâce à un coup de pouce d'un coéquipier. Depuis le nouveau banc, vous pouvez également jeter un coup d'œil sous un nouvel angle dans la direction du B-short. Au point B, un point de saut en direction de Kurz a été supprimé et la bordure du balcon devant les appartements a été raccourcie.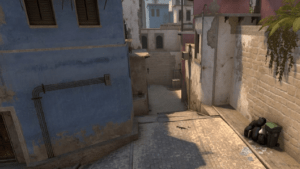 Défi pour les professionnels
En particulier pour les joueurs professionnels de contre-attaque, il est maintenant important de trouver le plus rapidement possible les alignements de grenade optimaux pour profiter des changements. Dans les jours et les semaines à venir, il deviendra clair quelles tactiques promettent le plus grand succès. Il est à noter que la plupart de ces changements jouent en faveur de la face T de l'offensive. Par conséquent, l'équilibre des pouvoirs sur ces trois cartes pourrait changer considérablement à l'avenir.