Shortly after the announcement at BlizzCon, there was a wealth of information on the latest installment of the Diablo series. After that, however, news became scarce.
Now the first of the quarterly updates for Diablo IV announced in November has been released and Blizzard not only presented parts of the interface, but also the "enemy family" of cannibals.
Extensive changes to the user interface
Blizzard has responded to the numerous feedback received for the BlizzCon demo by changing the layout of the inventory. In addition, the different sizes of items will be eliminated for clarity. All items now take up the same amount of space in the backpack.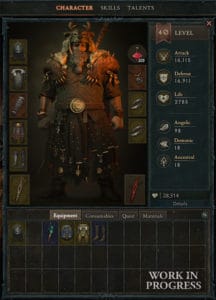 But not only the inventory has changed, also the keyboard layout will be freely selectable in Diablo IV. Each ability can then be assigned to a different key according to your own preference. Another point for the individualization of the options is the possibility to switch between the classic mouse and keyboard control as well as a controller on the PC at any time.
The last major innovation regarding the interface was the ability to move the action bar. PC gamers can choose between a central or left arrangement.
The monster family of cannibals
After introducing the new concept of enemy families at BlizzCon with the examples of the Drowned and Traps, we've now introduced another group: the Cannibals.
Each family will have its own archetypes, abilities, and characteristics. These should complement the different backgrounds of the families, so that each confrontation with one group is different from the other. In the case of the cannibals, their bloodthirsty background can be seen in the fact that they have no rangefighters at all.

Despite their apparently one-dimensional aggressiveness, the members of the enemy family proceed tactically. Players must confront different archetypes, each of which requires its own tactics. For example, the massive two-handed swordsman is supported by nimble "swarmers" who can inflict a great deal of damage in a short time with their two axes.
Players must therefore be on their guard in order to recognize the different weapons of their opponents and take them out accordingly.
What do you think of the new information about Diablo 4? Tell us via social media.