Call of Duty: Warzone has once again had many hackers banned. Nevertheless, cheats are becoming more and more rampant.
Cheats and Call of Duty: Warzone are still a sad duo in 2021: After a particularly bad hack, developer Raven Software has taken action once again. However, the new wave of bans hardly brings relief to the players, because the cheaters are only impressed to a limited extent.
First, however, the good news: The ban hammer has struck again, as the developers themselves announced on Twitter. According to Activision, more than 30,000 cheaters have lost their accounts. During the last ban wave in February, as many as 60,000 profiles were banned.
#Warzone anti-cheat update.

New banwave earlier today! 🚫

More to come…

— Raven Software (@RavenSoftware) March 16, 2021
This is not the end of the line, "more will come", the developers promise. It is unclear whether this means further bans or a tightening of the anti-cheat measures. Both would be urgently necessary according to experts and professional players, because more and more cheats and hacks are appearing in the current Season 2.
Invisible players (not) in sight
Around the same time as the new wave of bans, the fan portal ModernWarzone uncovered a new supposed hack on Twitter, which can now apparently make players completely invisible. In the video clip shown, the co-driver of an enemy team is not visible at all to the shooting player:
Hackers / Cheaters can go invisible in #Warzone now.

Wish we didn't have to tweet something like this daily. pic.twitter.com/Di08IxH4Yl

— ModernWarzone (@ModernWarzone) March 17, 2021
Cheat or glitch? Meanwhile, the commentaries are divided as to whether this is actually a hack or a glitch. After all, a bug recently occurred in the Roze skin, which makes the player's head invisible.
Regardless of whether it's a cheat or a glitch, cheats are still relatively widespread in Call of Duty: Warzone. This is proven almost daily by new experience reports and videos on Reddit. Often, they are aimbots that capture players thanks to Killcam:
50% of Diamond Lobby's lately. Somethings got to give. from CODWarzone
Cheat advertising directly on Google
It has become frighteningly easy to get hold of cheat and hack tools. In the meantime, cheat programs can even be found via a simple Google search. If you search for the corresponding keywords, you will receive paid advertisements as a result, which immediately lead you to cheat providers: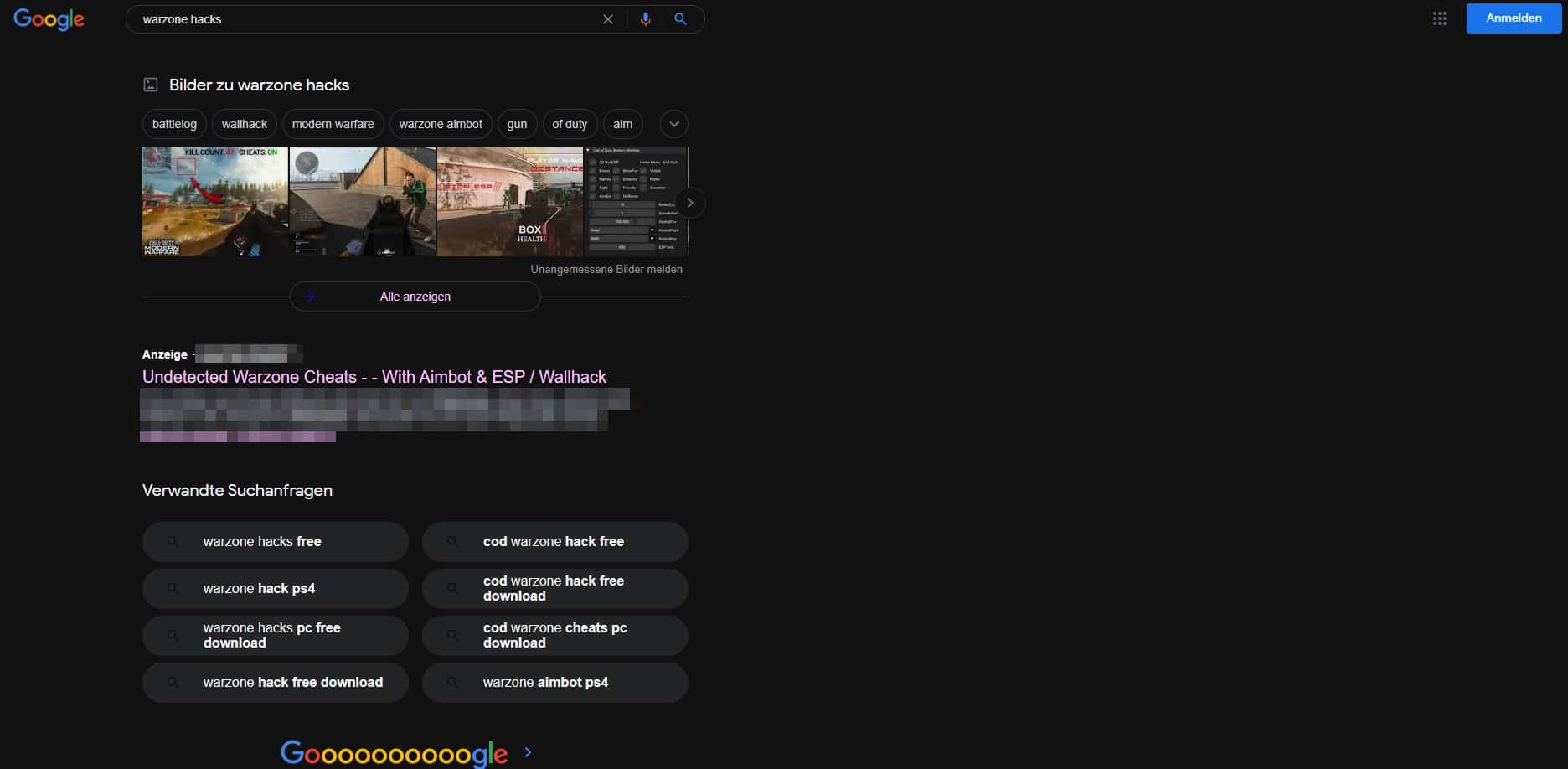 Actually forbidden: Such advertisements are not allowed at all according to Google's advertising guidelines. According to the so-called AdSense rules, "no advertising is permitted for products or services that enable unacceptable behavior." According to the list, this also includes hacker software including the corresponding instructions – as in the case of the Warzone Cheattools.
It is unclear if and when Google will take action against such ads. For many gamers, however, it is another sign that the measures taken so far against cheaters are far from sufficient. Even e-sports is affected by this, after a $250,000 tournament was overshadowed by a cheating scandal in January.