Founded in 1886, Ladbrokes is the oldest bookmaker in the world. The British veteran is logically a big player in England. "
The history of Ladbrokes reaches deep into the past, to the year 1886 and takes its starting point – as usual in Great Britain – on the horse racecourse.
From this point on, it was to take a few more years before sports betting was finally accepted under the name "Ladbrokes" since 1902.
Over the decades, the three-man company developed – from the on-course bookmaking business, to stationary and telephone betting, and finally to the step into the Internet – into a globally active and listed major corporation.
With around 2,700 betting stores – mainly in the UK -, around 120,000 telephone betting customers, over 1 million online tipsters and more than 14,000 employees, it is a major player in the industry.
It is no longer true that in this mix of sales channels – and given that Ladbrokes generates 70% of its revenues from its UK betting stores – the online business only plays second fiddle.
It was only with the relaunch of the betting site realized in 1998 in 2015 that the bookmaker impressively demonstrated how important it is for it to remain competitive online as well.
Thanks to countless improvements, there is hardly anything to criticize about the online sportsbook, both functionally and in terms of usability.
This also applies to the betting offer, which is one of the core competencies of the bookmaker, given that it has been tried and tested for over a century.
The Ladbrokes betting offer
As a bookmaker that originates from an English betting tradition, Ladbrokes attaches great importance to corresponding diversity.
This can be seen in the betting menu right at first glance, which is always well-filled not only with tennis, soccer, basketball, volleyball, motor and winter sports, but also with fringe sports such as floorball, rugby league, speedway, social and entertainment betting.
Only the actual roots are denied in this country: the horse and dog betting, with which the founders started their betting business and Ladbrokes was associated for so long, now no longer find their way into the German sportsbook.

The assessment of whether this cutback represents a cutback or is good for the Ladbrokes betting offer in terms of streamlining and increased compactness is up to everyone.
The fact is that the omission of relevant betting options is far from being able to take away the Sportsbook's impression of richness.
Fact check: these 7 sports are bet on the most by Ladbrokes customers:
Soccer betting (almost 55% of sports bets placed at Ladbrokes).
Tennis betting (between 10% and 15% of bets placed, depending on the season)
Bets on basketball (at times of the NBA up to 12% of betting tips)
Ice hockey betting (in the winter months around 10% of betting tips)
Bets on volleyball and beach volleyball (around 7% of betting tips)
Football betting (less than 5%, playoff and Super Bowl excluded)
Handball betting (maximum 3% of sports betting turnover in Germany
On the contrary, this also continues in depth, with countless special and long-term betting offers.
Here, in connection with pre-match betting, popular betting markets are opened very early in terms of time.
For example, the "standard repertoire" for soccer events (around 45 betting options) already makes its way into the betting program one match day in advance, only to be extensively increased a few days before the match, up to a three-digit value.
Special mention also needs to be made of English soccer, which is not only overrepresented with around eight leagues and competitions, but is also represented with numerous ante post special bets (team and player specials).
The Ladbrokes betting odds
If the first Ladbrokes bookmakers still knew how it is to calculate betting odds completely without technical and statistical aids, the last decades have brought a significant relief in this regard.
Probabilities and sporting handicaps can be called up at the click of a mouse, and the entire sportsbook can be subjected to a clear odds policy thanks to the computing power of the computer.
For the latter, clear rules can be established at Ladbrokes, based on observation alone:
For example, the majority of betting offers get by with a payout key of 93 to 94 percent, and Ladbrokes betting odds are also characterized by the fact that over the course of time, there is hardly any more shaking of a payout ratio determined for a betting event.
However, one deviation from this approach can be noted: the bookmaker seems to have a heart, especially for its early-decided clientele.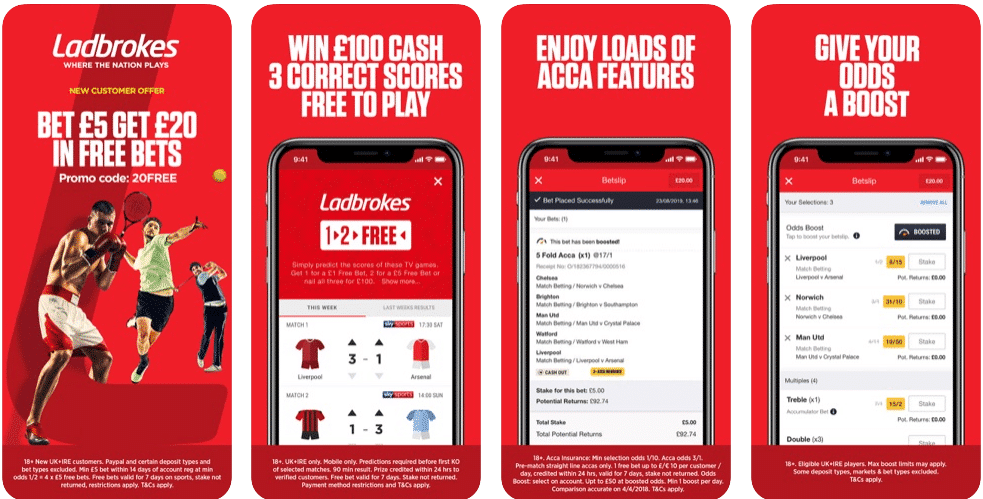 Not only that, for example, for a top match in soccer, which is scheduled for the next but one match day, even 96% of the bets are returned as winnings, but also the favorite tip is often traded well above the industry average so long in advance.
US sports are generally written large at Ladbrokes: the odds key for two-way bets on the top American sports leagues NFL, NBA and NHL rarely slips below the 95% mark.
Not only "early birds" are in good hands at Ladbrokes, but also tennis, basketball and ice hockey fans.
While events from these categories are usually still subject to the standard odds (payout key of 93/94 percent), bettors with a soft spot for US sports – and the classic two-way bet! – are treated with preference thanks to a 5% profit margin reduced by Ladbrokes.
Deposits to a Ladbrokes betting account
The conditions for depositing to the personal Ladbrokes betting account are kept very customer-friendly.
Not only that with VISA and Mastercard, Skrill, Neteller, Paysafecard, Sofortüberweisung and bank transfer all major methods of electronic payment (e-wallet, prepaid card, credit card) are covered, the bookmaker also has something over for old-fashioned money transactions.
If you want, you can also make your deposit by check or simply visit a Ladbrokes store to add funds to your online betting account.
However, the latter method is not particularly practical for customers from Germany, Austria or Switzerland, as the majority of Ladbrokes outlets are spread across the United Kingdom and Ireland.
The processing of deposit requests is particularly fair.
Not only does Ladbrokes process them promptly, but they also do not charge any fees and have set generous limits, as can be seen in the list below.
The limits to deposits to a Ladbrokes betting account:
1. Deposit minimum
5 Euro: credit card
10 Euro: Skrill, Neteller, PaySafeCard, Bank transfer, EPS (Austria only), Giropay (Germany only), Sofortüberweisung
2. Deposit maximum
No maximum amount is set for any of the deposit methods!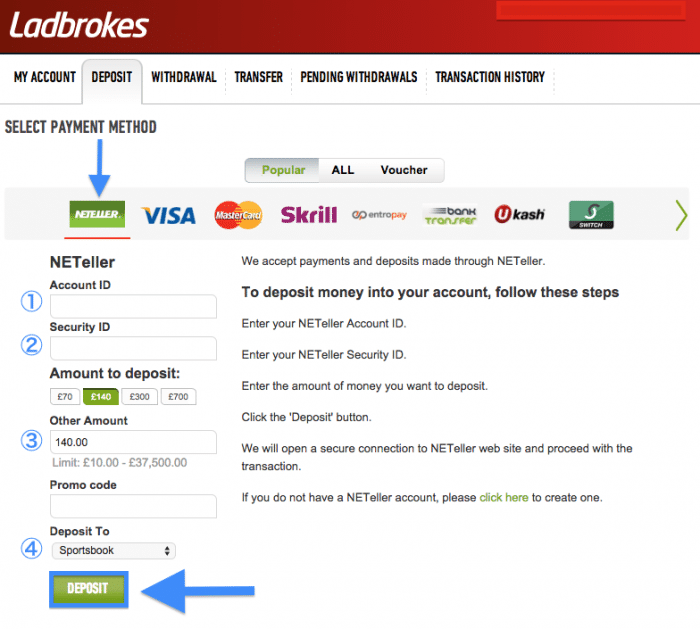 Payout of winnings at Ladbrokes
Of course, the processing of the payout of betting winnings at Ladbrokes is also handled in an exemplary manner.
According to the peculiarities of certain payment service providers (including Sofortüberweisung and PaySafeCard), these are not available for a return transfer of funds.
However, all other options from the range of payment service providers can be used – and this, as with the deposit, free of charge.
With 5 or 10 euros, the minimum requirements for the transferred amount are also kept customer-friendly.
The only thing that is not quite as positive is that even with the transfer methods that are known for their immediacy, such as Neteller, a time delay of up to 6 hours has to be accepted before the amount appears at the destination.
The limits to withdrawals from a Ladbrokes betting account:
1. Payout minimum
5 Euro: credit card
10 Euro: Skrill, Neteller
No lower limit is set for bank transfer!
2. Withdrawal maximum
No maximum amount is set for any of the withdrawal methods!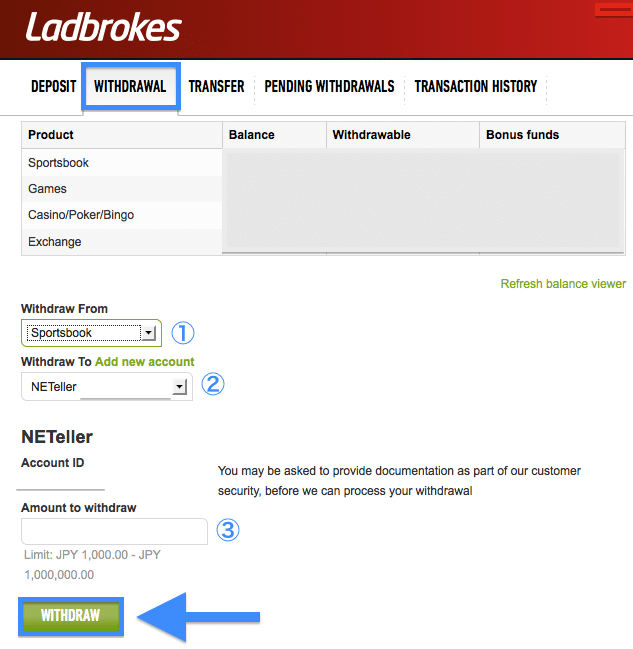 Ladbrokes customer service
Based on the Ladbrokes customer service, as already mentioned at the beginning, the two-tier society reveals itself.
As a grown, listed bookmaker with a core market in the UK, Ladbrokes now has the corresponding infrastructure.
Therefore, customers based in the UK or Ireland can rightly expect to be served satisfactorily all around.
Ladbrokes can only promise to answer digital mail within 48 hours via e-mail.
On the other hand, Ladbrokes customers who are logged in to their betting account have access to a live chat around the clock.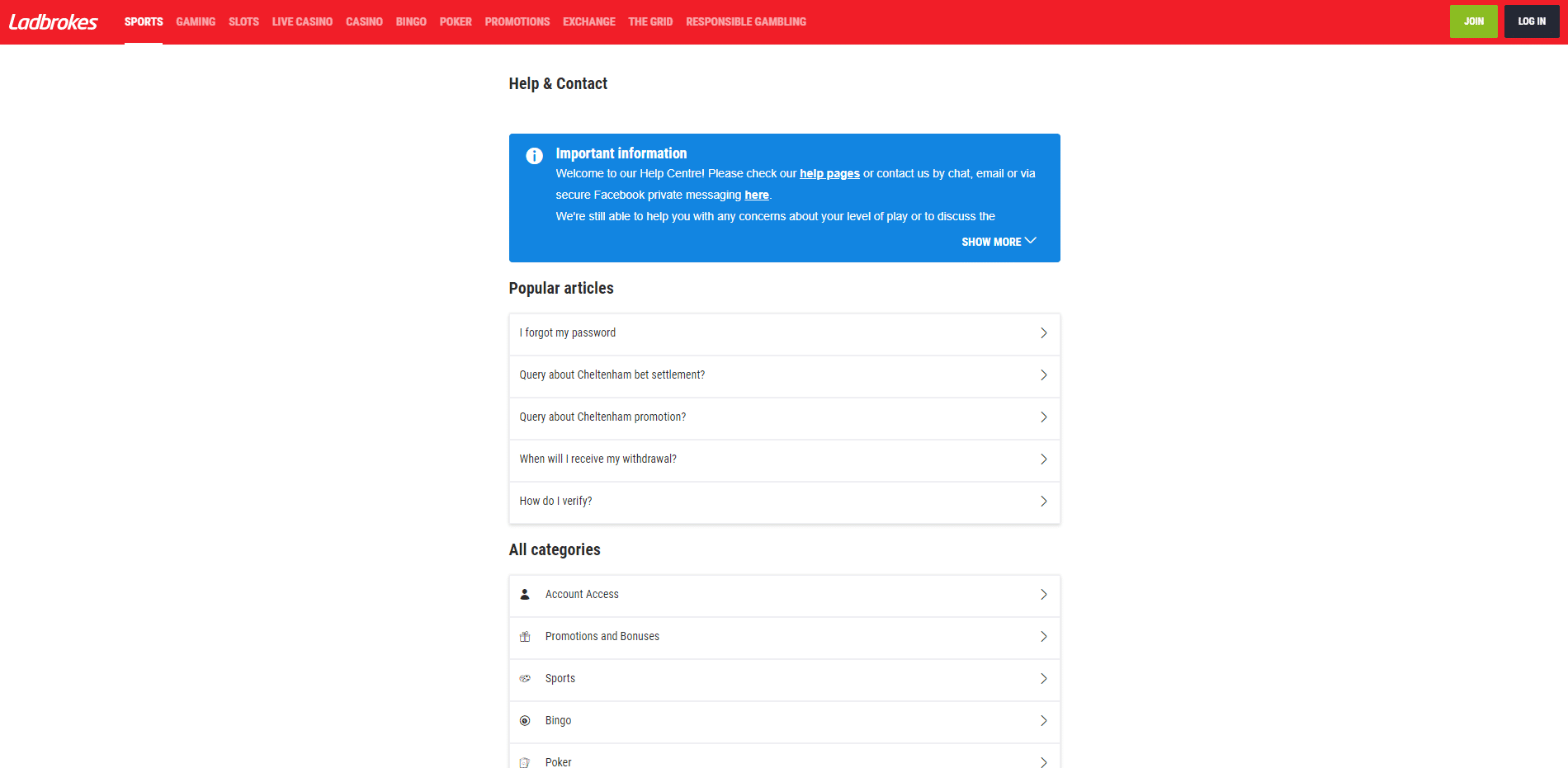 However, since not every question immediately requires a personal contact, it is advisable to first consult the FAQ.
Unfortunately, these are also evidence that English betting customers are considered to be the clearly "more important" clientele – this is quite understandable, since they also pay for Ladbrokes services in their mass.
The reason for this diagnosis is the fact that although a collection of questions is also written in German, it does not stand up to comparison with the FAQ section in English.
This is revealed not only by the content, but also by the visual presentation.
The Ladbrokes website
After Ladbrokes initially, in 2014, ventured into a completely new web concept with the mobile website in cooperation with the Playtech subsidiary Mobenga, this was also allowed to be implemented for the main portal.
In July 2015, this must have had quite a surprise effect on the established Ladbrokes customers, who found nothing the same when they visited the portal.
After the implementation of the new mobile portal, Ladbrokes has seen a 110% growth in mobile betting.
For the bookmaker, this is a clear indication that the new web strategy is paying off and that aligning the main portal is the right move.
What can be relied on, of course, is the Ladbrokes red, which ultimately earned "The Big Red" its nickname, and which is also appropriately showcased on the new portal.
Otherwise, the color concept is somewhat darker than before due to the numerous shades of gray. However, this alone does not account for the changes.
In fact, the new appearance radically breaks with the usual usage patterns.
After all, not only visually, but also structurally, the Ladbrokes website has been heavily interfered with.
The overall result is now not only very modern, but also reminiscent of interfaces programmed for mobile devices, thanks to a fade-in side menu and variable content arrangement.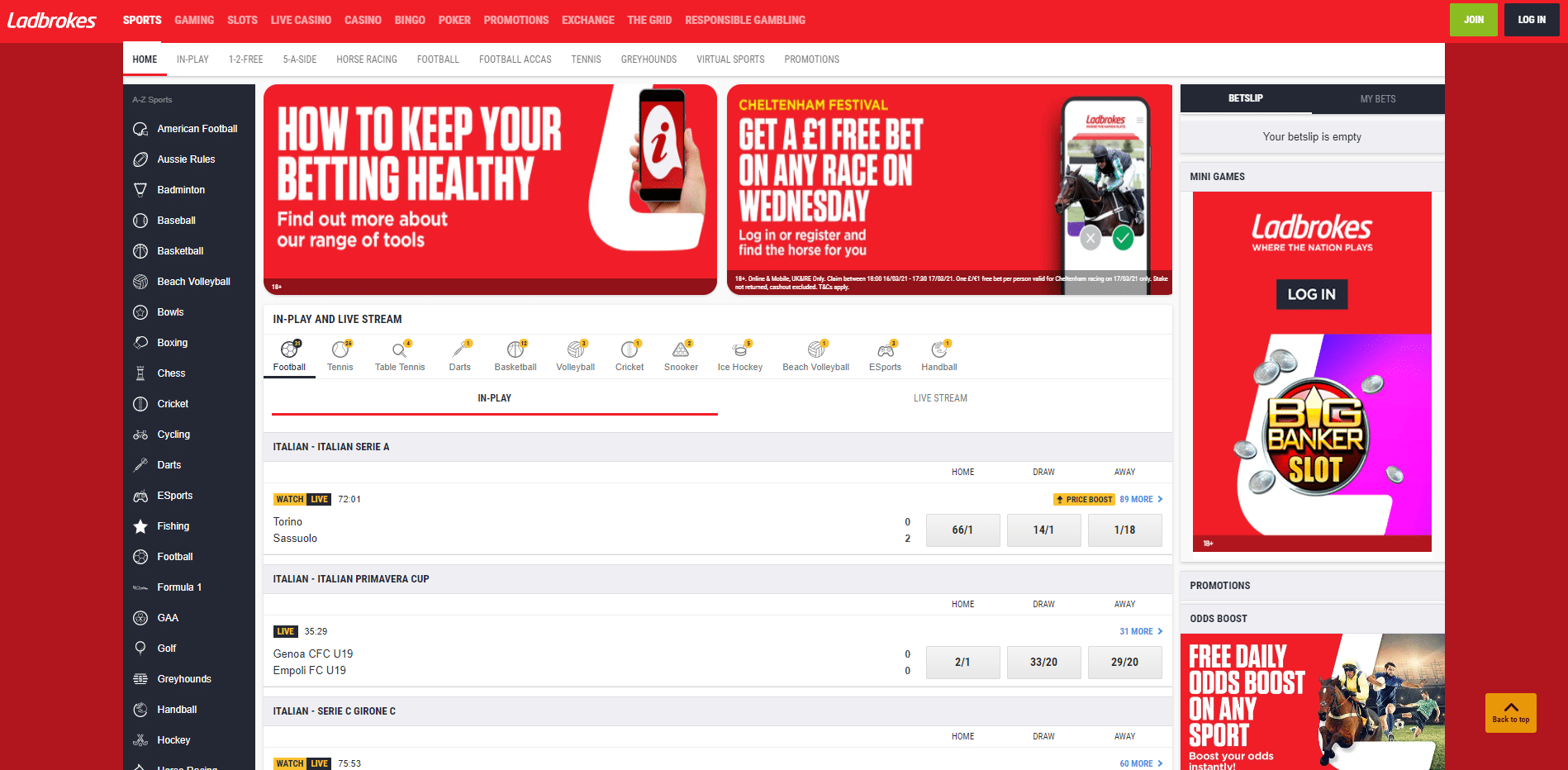 This is because the makers of Ladbrokes have set themselves the goal of providing a "consistent betting experience" across all screens – be they small as on a smartphone, slightly larger as on a tablet and laptop, or be it a monitor.
That means the user should find everything, there and then, in one and the same place and with the same look.
For the desktop version of the betting portal, this initially results in an appearance that takes some getting used to and new navigation paths.
Once seen through, however, these must be perceived as refined and very functional.
Advantages:
shorter loading times
shortened navigation paths
responsive design
adaptation of the different online platforms to each other
integration of live betting into the sportsbook
new features can be implemented faster
Disadvantages:
Betting account is still outsourced to a separate window
possibility to create a favorites menu has been removed
still no search function
The new customer bonus from Ladbrokes
Of the two offers that are preferred within the betting industry as a new customer bonus, Ladbrokes has shifted to the free bet.
With this, the bookmaker is not in great company, as most of the competition offers a deposit bonus.
At Ladbrokes, the bonus can be requested via a code during the registration process.
If the conditions are finally met, 4 free bets of 5 euros each are credited to the newly opened betting account.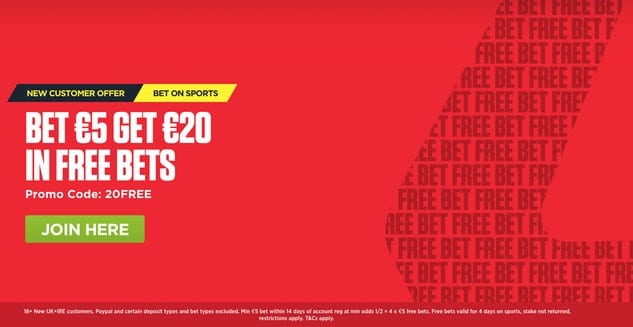 If we now disregard the fact that already the free bet as a welcome present does not correspond to the mainstream, this can also definitely not apply to the fixed amount of the possible additional betting credit.
While in the majority of cases the bonus amount depends on a deposit or bet, at Ladbrokes every new user who plays a €5 bet with odds of 1.50 receives a fixed amount of free bets worth €20.
The most important conditions of the Ladbrokes bonus:
After registration, the promotional code must be entered
Play qualifying bet within 14 days
The minimum stake of the qualifying bet is €5, the minimum odds are 1.50
Credit by Ladbrokes of 4 free bets of 5 euros each.
The free bet must be placed within 7 days from receipt.
First deposits with Skrill, Neteller, PayPal or Paysafe Card do not qualify for the offer
Security: how reputable is Ladbrokes?
Ladbrokes is a company that has grown over the decades and as such can point to continuity in its offer and has long proven its reliability.
The fact that the company has been listed on the London Stock Exchange (since 1967!) also subjects the bookmaker dinosaur to strict disclosure regulations, which is why interested bettors can find out about the bookie's constitution at any time on the investor page.
To ensure that everything is "above board", Ladbrokes has of course secured the backing of the European regulatory authorities over time and has hoarded several betting licenses.
The fact that not just one, but numerous control authorities stand behind the bookmaker's offer can be seen as a real quality verdict.
After all, the award of such a license – especially in the German state of Schleswig-Holstein! – is tied to strict conditions, which not least check how the company is financially positioned and what measures have been implemented to protect players.
Ladbrokes holds betting licenses from the following European governments:
Schleswig-Holstein
Great Britain
Gibraltar
The only drawback in the "Ladbrokes package" is that the bookmaker is still strongly anchored in the English market and does not focus its energies exclusively on the Internet as a sales channel.
This is especially true since the stationary betting business on the British Isles (incl. Ireland) still accounts for the lion's share of sales.
In view of the fact that – even for a stationary "giant" like Ladbrokes – the online business is increasingly turning out to be one of the markets with the greatest growth potential (interestingly, this also applies to telephone betting, which is popular with high rollers), bettors can also expect to benefit increasingly from relevant investments in the future.
Ladbrokes' Esport offer
At Ladbrokes you can sort eSport matches by date or eSport event. Overall, the site is unfortunately not very clear, but you will find a lot of betting markets, especially for CS:GO. The British bookmaker also has other eSports games like Dota 2 and Hearthstone up its sleeve. For soccer fans, Ladbrokes also has a few FIFA 17 Ulitmate Team bets in its program. The amount of eSports matches you can bet on is very manageable and can't keep up with all eSports bookmakers, but Ladbrokes offers different betting markets and gives you plenty of opportunities to bet anyway.
The most eSports betting markets can be found for Counterstrike:GO. Here you can not only place bets on the match winner, but also on the winner of the pistol rounds, for example. Ladbrokes offers you enough betting opportunities in any case. But also on Dota 2 and LoL, the London bookmaker offers some special odds.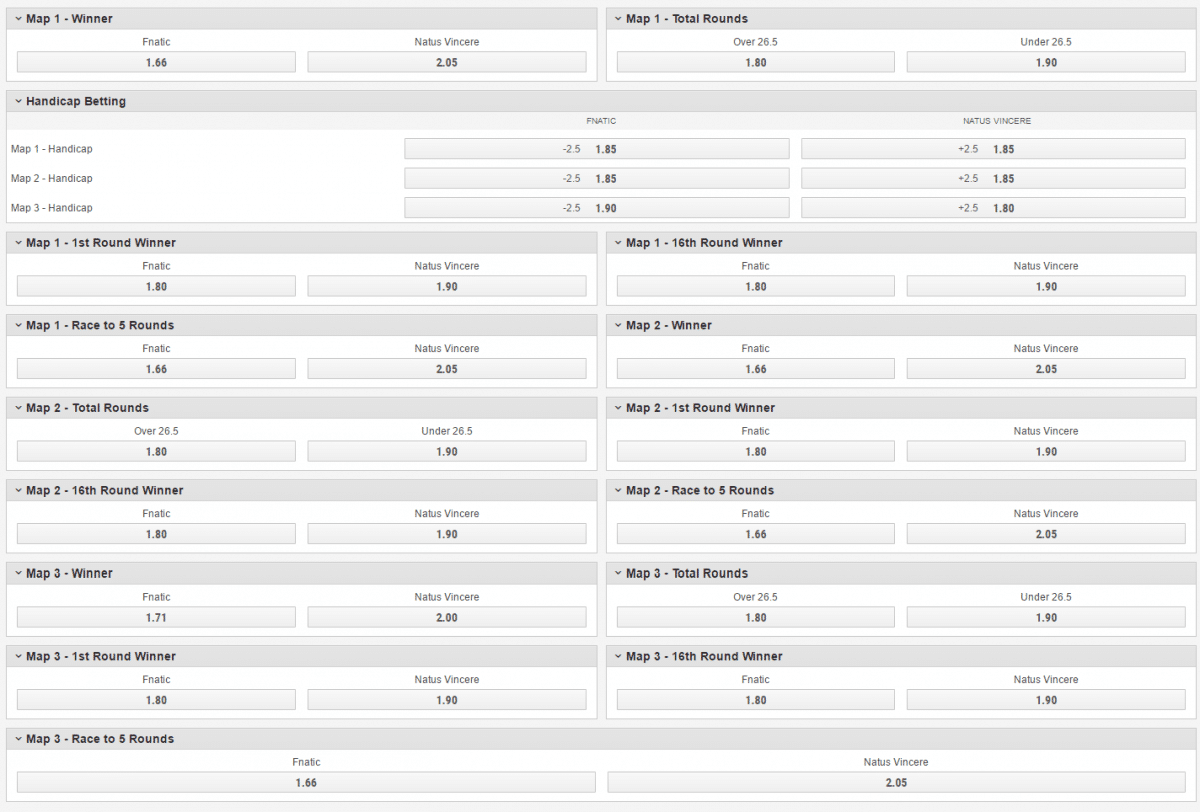 Ladbrokes' most interesting eSports betting markets are:
Tournament Winner
Card winner
Match winner
Handicap betting
Round count
First team with 5 round wins
Winner of the pistol round
First Blood
First team with 10 kill
Number of kills
Esport Odds at Ladbrokes
Odds-wise, Ladbrokes plays right up front and is one of the best eSports betting sites in this area. It is not unlikely that Ladbrokes will offer you the best odds on your favorite team – so take a look before you place your bet! Especially on favorites, Ladbrokes seems to have very tempting odds. Comparing odds between several eSports bookmakers can always pay off in general, because eSports odds are mostly created manually by experts and not bought centrally.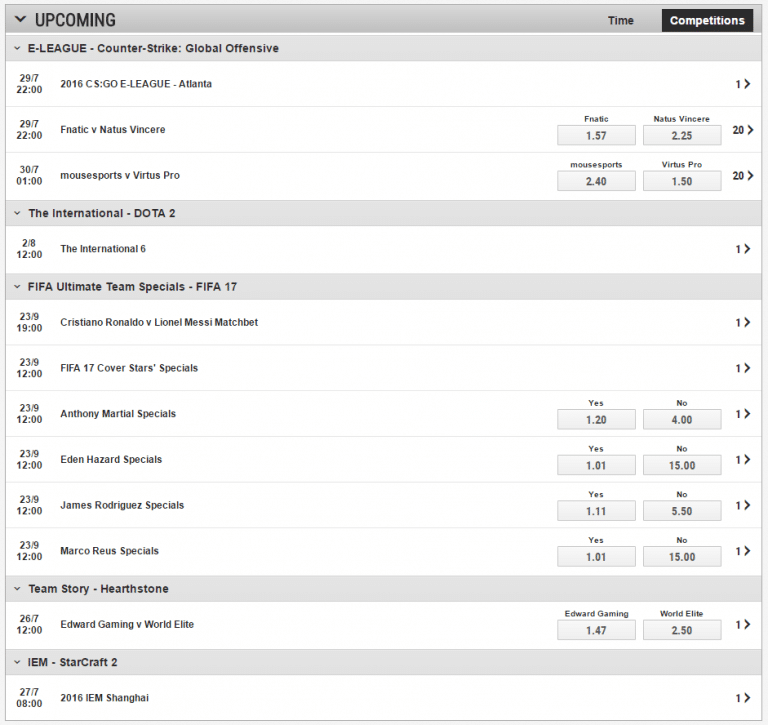 The FIFA 17 specials are a big plus for Ladbrokes, because no other eSports bookmaker offers you FIFA odds. Ladbrokes also provides live eSports odds for selected matches.
Bonus at Esport Bookmaker Ladbrokes
Attention: No bonus on payments via Skrill and Neteller!
Ladbrokes attracts players with two enticing offers at once. On the one hand, a 60€ free bet is waiting for you and on the other hand, you can pick up 50% bonus up to a maximum amount of 300€. The free bet will be credited to your first placed bet with a maximum stake of 60€ after entering the bonus code (you can find it on the Ladbrokes website). If you meet the minimum odds of 1.5, you cannot make a loss on your first bet.
The first deposit bonus is 50% and can go up to a maximum of €300. Unlike most bookies, Ladbrokes does not allow you to withdraw the bonus in real money, only the net profit. The advantage is, however, that you can draw real money from the bonus amount very quickly and easily, because you do not have to wager the bonus several times in the sports betting area before something can be paid out to you.
In practice it looks like this: You deposit 600€ and place a bet for the entire amount at a minimum odds of 1.5, after which you get a 300€ (50%) free bet. Within 7 days after receiving the bonus, you must place your free bet, there is no minimum odds. If you then win your free bet with a stake of 300€ and odds of, for example, 2.5, then you will not be paid 750€, but only the net profit of 450€.
PAYOUT CONDITIONS
At Ladbrokes it is not possible to cash out the bonus in real money, but it is much easier to make real money out of the bonus. You don't have to wager the amount countless times before you can turn it into real money. The net profit of your free bet can be cashed out immediately, but after the one bet there is no bonus amount left. As so often, everything has its pros and cons, but we think that a free bet without being tied to a minimum odds is a very good argument for Ladbrokes.
DEPOSIT OPTIONS
Ladrokes leaves nothing to be desired when it comes to payment options. From credit cards to Paypal and Skrill, all common payment methods are accepted. If you want to collect your Ladbrokes bonus, you should avoid a first deposit via Skrill or Neteller, because the bookmaker does not award bonuses on these deposit methods. After your first deposit, these methods are just as good as any other.

At Ladbrokes you can pay in the following ways:
Credit/Debit Card
Paypal
Bank Transfer
Neteller
Skrill
paysafecard
instant bank transfer
entropay
Trustly
eps
Esport betting provider Ladbrokes – Rating
Range of games
The big eSports titles like Dota 2, LoL and CS:GO are represented at Ladbrokes. Depending on upcoming eSports tournaments, the British bookie also has Starcraft 2 and Hearthstone bets on offer from time to time. In any case, you can bet on the most interesting eSports titles at Ladbrokes.
Betting options
The largest variety of betting markets can be found at Ladbrokes for CS:GO. Of course, this may be due to the fact that there are currently no major tournaments for other games, but Ladbrokes is indeed strongly CS:GO oriented. With The International, however, we believe this will change.
Odds
Ladbrokes' eSports odds are absolutely respectable. As with many eSports betting providers, favorite odds are quite high and allow for very high winnings even with small stakes via combination bets.
Payout conditions
We like the fact that you can win real money from the bonus as quickly as possible. You do not have to fulfill any special turnover conditions, but can place a bet after receiving the bonus (free bet) and receive the net profit. What we don't like is that you only have the bonus for one bet.
Clarity
We find the clarity in the eSports section a bit lacking. The navigation in the left bar is sometimes there and sometimes gone. We have to give the bookmaker credit for the fact that the odds can be displayed both decimally and in fractions and the page itself is quite clear.