Overall, Betfair performs very well in the bookmaker test with 86% and therefore gets the bookmaker test recommendation.
The uncomplicated deposit and withdrawal as well as a solid betting offer were convincing, deductions were made for the somewhat tedious live chat in customer support. All in all, however, Betfair is an absolutely reliable and competent betting provider.
Registration at Betfair is relatively quick and uncomplicated in just a few steps. No special account verification via SMS code or e-mail link is necessary. When depositing, payment by credit card is suggested first, then under the button "Alternative methods" there are all payment options from instant transfer to Paysafecard to Paypal. Here, every betting fan should find what he is looking for. The minimum deposit amounts and fees vary depending on the payment method. The deposit then works quite quickly and without difficulty. Therefore, I give a strong 90% for the registration and deposit at Betfair.
The payout via Paypal worked absolutely smoothly. Also, the minimum amount for withdrawals via Paypal is with 20€ compared to other bookmakers absolutely okay. The desired amount was transferred to the Paypal account within one day and no further verification steps were required after the withdrawal request. For the uncomplicated payout, there is therefore 85% percent.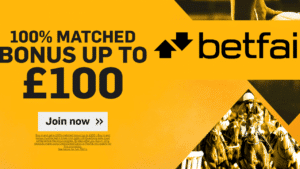 The betting offer of Betfair is actually quite clearly arranged at first glance. On the homepage, you get an overview of various upcoming highlights, as well as Betfair's live offer. Unfortunately, the listing of sports highlights with currently running and upcoming events is then a bit long and therefore it is somewhat difficult to find the right event immediately. For live betting, I would have expected a bit more markets and the live view is also not very well done. For pre-match bets, there is a very extensive range of different markets, which actually leaves nothing to be desired. The Betfair betting slip offers all essential options, and there is also a cash-out function for many events. Overall, the Betfair betting offer is convincing and therefore receives a strong 85% in the bookmaker test.
In the area of customer support, there are several contact options with email, live chat and Twitter. In the live chat, I received an answer to the majority of my questions, but the answers were a bit jumbled and it took a few follow-up questions to clarify everything. Overall, the chat did help, but the service still could have been better. The FAQ section covers the most important questions and there is not much else to criticize about the Betfair customer support. In the test, there is therefore a good 85% for the Betfair customer support.
What did we look for in our Betfair test?
It was important to us that the Betfair test does not sound too technical. We specifically paid attention to the points that you as a player are most interested in.
This concerns, for example, the general advantages and disadvantages of the provider as well as the registration with the bookie or the deposit and withdrawal methods.
Of course, we also asked ourselves how easy it is to understand the design of the Betfair site. By the way, do you have any wishes for us to test? Then just let us know.
Advantages and disadvantages of Betfair
+ Large betting program
+ Many deposit and withdrawal options, including PayPal
+ Good German language support
+ Cool cash out offer
+ Numerous special bets
+ Generous welcome bonus
– The site means it a bit too well with all its offers. Sometimes it is a bit confusing. And sometimes you have to click a little too often to get to the goal.
– Contact is hard to find
Betfair Esports
Betfair is not a specialist for eSports. This is also clear from the relatively small portfolio. At least, however, some very popular games are taken into account. These include CS:GO, League of Legends (LoL), StarCraft 2 and Call of Duty, for example. Unfortunately, Dota 2 is missing from the portfolio. This is disappointing for many eSports fans, as this game is particularly popular. But even without this modern classic, it is quite possible to find interesting eSports bets at Betfair. However, it is just as certain that there are competitors with significantly larger betting offers for eSports fans.
Available bet types for the different games
Currently, Betfair offers almost exclusively map bets in the eSports area. Thus, the selection of bet types is very small. There are not many strategic options. For sports betting fans who want to place eSports bets once in a while, this may not be a big disadvantage. But for a real eSports fan, the selection of betting options is not sufficient in the long run. At least the bet types are clearly displayed, though, so it is easy to place the desired bets. Betfair does not offer special features like a LoL betting game.
How good are the Esport odds?
The classic bookmaker part of Betfair cannot offer the outstanding quality that is partly available in the odds of the betting exchange. But the odds have a solid quality overall. The average odds key should be somewhere between 92 and 93 percent according to our estimates. In some cases, there are also slightly higher odds keys for eSports. The betting odds are on a decent level, without being consistently inspiring. But what is important is that the betting odds are designed to be fair overall. This is an important prerequisite to be successful with eSports betting at Betfair.
Betfair in the sports betting test
Let's start with the most important of all questions: How does Betfair perform in the sports betting test? After all, you only want to bet where you can find your favorite sports. In total, Betfair offers 28 sports that you can bet on.

Represented are of course the classics such as king soccer or tennis and motor sports. But also fans of sports that are not necessarily mainstream taste get their money's worth. This applies, for example, to netball or Gaelic sports.
The absolute focus of betting is on soccer. At any time, you can find at least three-digit, mostly four-digit, and sometimes even five-digit betting offers there.
Betfair's betting offer inspires with its specials. For example, before the 2016/17 Champions League final between Real Madrid and Juventus Turin, you could bet on whether Cristiano Ronaldo would cry in front of the camera or not.
How do I register with Betfair?
The registration at Betfair starts on the start page on the top right. There you will find a grayish button with the inscription "Register now". Now a new form opens in a pop up.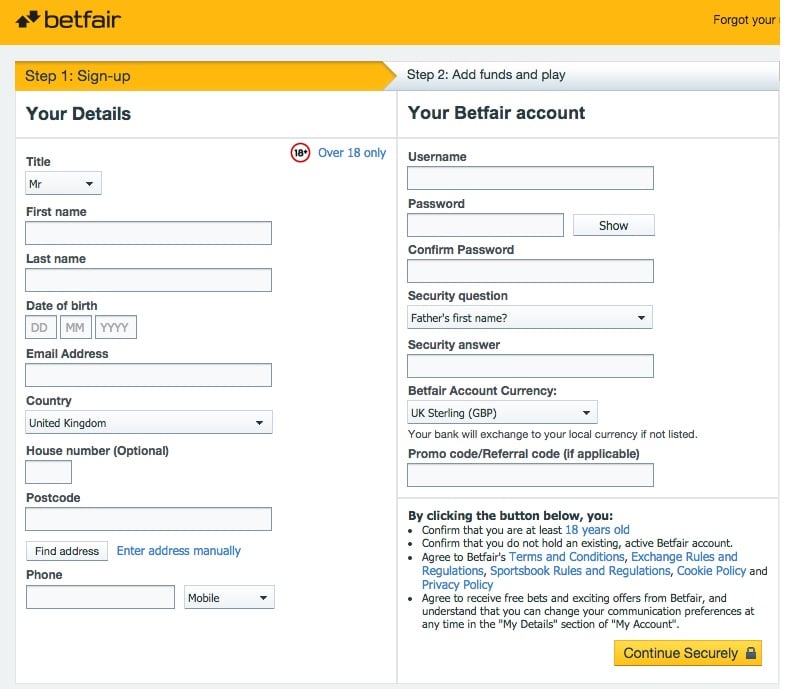 The registration takes place in two steps. In the first step you have to enter the classical information (your name, your address, your email, your cell phone number, your password as well as your security question and the currency in which you want to play).
Once you have done this, the second step is to make your first deposit. After all, you want to be able to start playing right away. You can only register more easily with the Tipico Classic app!
Deposit and withdrawal at Betfair
As mentioned, the first deposit at Betfair is already part of the registration process. After that, you can make further deposits and withdrawals at any time. You will find corresponding buttons in various places when you are logged in – for example, in the area of your account.
Betfair allows deposits and withdrawals via credit card, bank transfer, Sofortüberweisung, Neteller and fortunately also PayPal.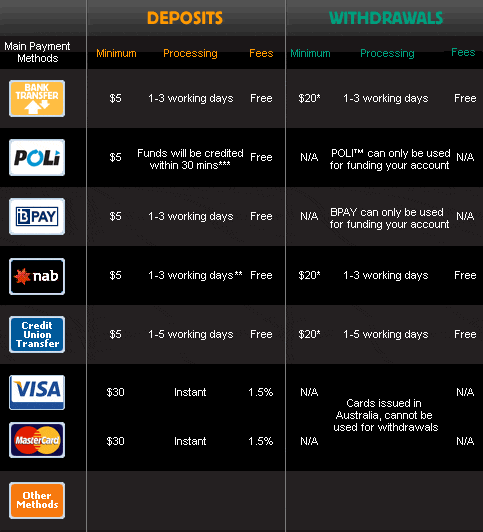 However, if you decide to use PayPal, you should know that the bookie itself reports that there may be problems if you have connected your PayPal account with your credit card from Mastercard. However, Betfair says that they are working on the problem.
Withdrawals are credited very quickly. Depending on the withdrawal method, it only takes a few hours up to one business day until you have the money in your account. That's how it should be!
Structure and design of the Betfair homepage
Here we have a little bit to complain about. The design of the page seems slightly overloaded.
To get to the sports betting section and get a general overview, you have to click on the very small "Sports Betting" button at the very top left. Unfortunately, there are several other buttons much larger, which take you to various subpages of the sportsbook (and also of other areas of Betfair).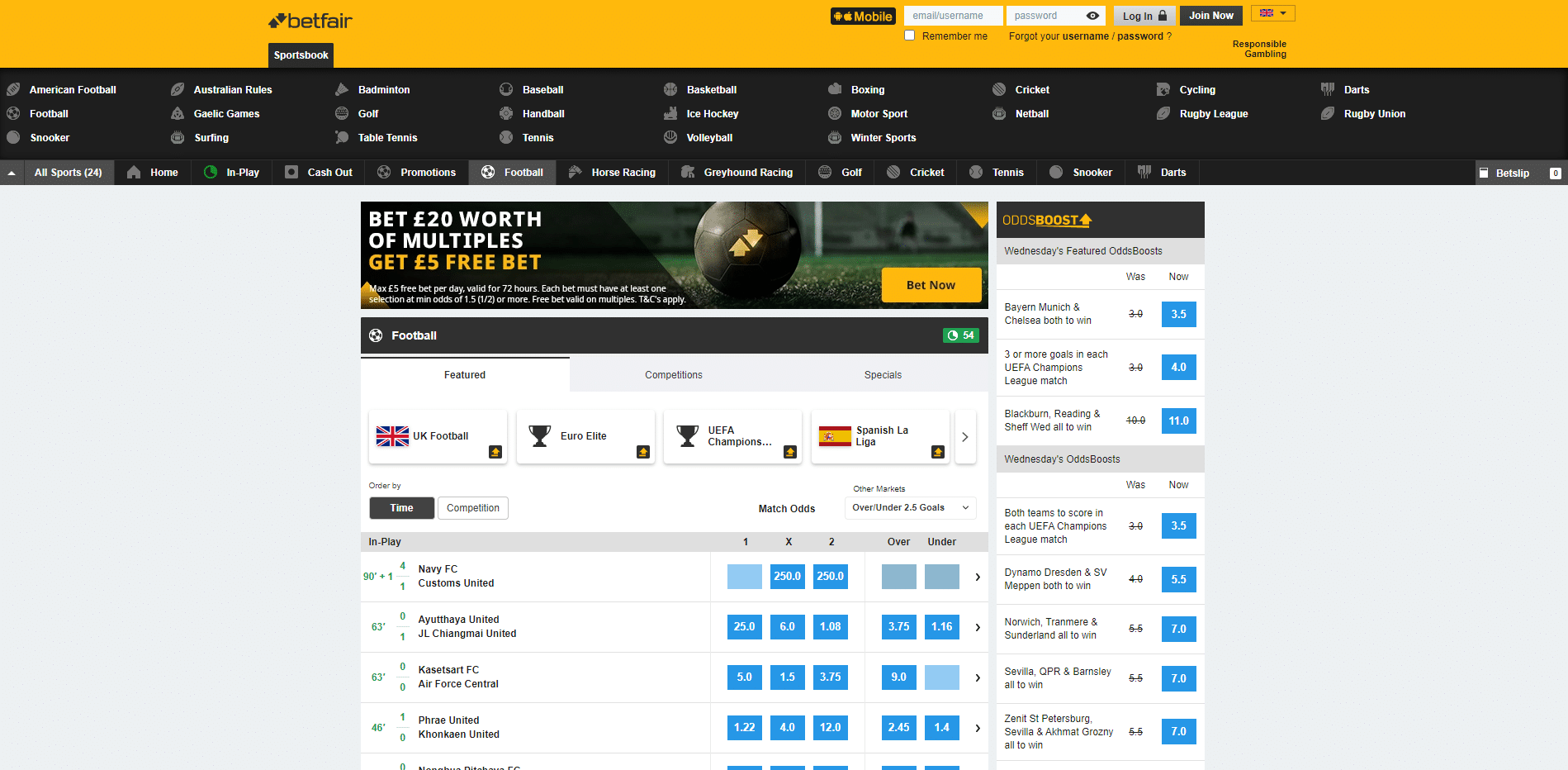 Here it would have been desirable if Betfair had chosen a clearer design. In return, however, the design of the actual sports betting area is very well done.
The Betfair betting program at a glance
It already sounded: Betfair offers almost 30 categories that you can bet on. Both popular and marginal sports are represented. In addition, you can also place bets on developments in politics in the "Current Affairs" section.
Customer support & contact at Betfair
The customer support or contact of Betfair is unfortunately not so easy to find. In the footer you have to select "Help". Now a pop up opens. In this you select "Contact" in the header. Here you can now contact the bookmaker by mail or chat. Unfortunately, there is no hotline.