In total, Bwin received a very strong 88% in the bookmaker test. In all areas, the bookmaker performed very well and, on the whole, leaves nothing to be desired.
Bwin deposit – options, costs & more
+ no fees
+ daily maximum 32.000€ with Skrill 1-Tap
+ Paypal and Paysafecard available
+ 15 different deposit options
The Bwin registration is done in 2 simple steps, where the registration is then verified by a confirmation email. During registration, a small FAQ is also included and you are sufficiently informed about password security and the like. That is already very good.
Once you have completed the registration, you can choose from a solid selection of payment options. From Sofortüberweisung to Paypal to Skrill and Neteller, all common payment methods are available and free of charge; everyone should find the right one here.
The payout itself is then quite fast and uncomplicated, whereby the limits of €10 are consistently okay. Only the minimum deposit limit of €10 for the bank transfer is a bit too high for my taste. In total, there is 83% for the simple registration and uncomplicated deposit.
Withdrawal at Bwin

When paying out, you as a customer then also have a choice of different payment methods, although the offer is not quite as large as with the deposit.
In order to pay out, you have to upload your personal documents, although you can also perform this step at any time after registration. The minimum withdrawal amount is a very fair €10 and the withdrawal is processed within the next 2-4 days. Thus, there is 85% for the Bwin payout.
Betting at Bwin
The betting offer at Bwin is, as it should be for a big player in the industry, of course very extensive. However, it is crucial that you do not lose track of this large selection of sports and events at Bwin.
The navigation is very simple and intuitive and you can quickly find your way around even as a new customer. For a bookmaker that is so broadly positioned, it is of course difficult to also go into depth. If you want to bet on amateur soccer in Germany, for example, you won't find what you are looking for at Bwin.
On the other hand, the Bwin Live offer is very strong and is one of the best on the market. This applies to both the number of sporting events and the individual markets per game. The average odds ratio is around 93%, which is absolutely within the bounds.
The betting slip itself leaves nothing to be desired: The profit tax is clearly visible and in addition to the usual system and combination options, there is also a cash-out option on the betting slip. Overall, Bwin's strong betting offer is awarded 95% in the bookmaker test.
Customer support at Bwin
For general questions, Bwin offers a very detailed and clear FAQ section. If there are still questions, there is an extensive selection of contact options. In addition to the e-mail contact form, Bwin also offers a live chat and a hotline. In the test, the live chat was very efficient and helped me immediately. The answers were also really individually written and not copy-paste, which is unfortunately often the case and also often leads to more confusion than clarity. Overall, the support receives a very good 90%.
Bwin sports betting in the check
Founded in 1997 in Austria, Bwin is not one of the oldest bookmakers, but it still has a few more years under its belt than many of its competitors and was, above all, one of the pioneers in online betting. When this area really started to boom, Bwin had an enormous public presence. Among others, Bwin acted as a shirt sponsor of Real Madrid, AC Milan and Werder Bremen, which at that time was still regularly represented internationally.
Advantages and disadvantages of Bwin
+ Very wide range of bets
+ Very many live bets
+ Deposits and withdrawals are free of charge
+ Choice between 2 bonus offers
+ Support by e-mail, phone and live chat
– No bonus for deposits via e-wallets
– Odds often only average
If you deal with the topic of sports betting, you inevitably cannot avoid Bwin. Although the company, which for a long time advertised itself with the slogan "The biggest sports betting arena in the world", has lost its position as the market leader in recent years, it was a pioneer for a long time and has therefore unquestionably played a major role in the development of the entire betting market.
And regardless of that, it is unmistakable that Bwin is on the rise again with a changed strategy in the recent past, which is reason enough for us to take a closer look at the overall package.
Currently, Bwin is struggling to regain lost ground, which will not be easy due to the significantly larger and stronger competition. In the fight for new customers, Bwin relies on a welcome bonus, just like many of its competitors. As part of the so-called Joker bet, Bwin refunds new customers up to 100 euros lost on their first bet in the form of a freebet, which is then valid for seven days. The fact that only the net profit is paid out for a successful freebet and that there is no bonus at all for a real first bet makes the bonus offer seem rather mixed compared to other bookmakers.
If you want to place bets via you great mobile variant of Bwin, you can easily register here as well. Those who are good with their cell phones could even complete this in less than a minute. But even for mobile owners who aren't in a hurry, you should be through with registration in 2 minutes at most. Just like the registration, the Bwin Verification 2020 requires no more than 3-4 clicks. Using the integrated upload, you can simply upload a picture of your ID card. done.
Deposit and withdrawal forms are available to you in abundance at Bwin, depending on your taste and availability. Because not in every German-speaking country the same methods are offered, but can vary. We therefore advise you to try it out for yourself. However, the methods have one thing in common, no matter where you live and which deposit option you have chosen – there are no fees and you deposit completely free of charge. Very, very strong, in our opinion.
If it's your first deposit, there's also the whopping 100% Bwin new customer bonus up to 100 euros, which is not to be confused with the Bwin Joker bet. These are two offers to be considered different. However, the 100 euro new customer bonus is only available exclusively for you as a bookmaker test reader and also only if you register with Bwin via one of the links here.
In our detailed analysis of the homepage design further down in this report, we note that Bwin's site is clear and easy to use, but a bit too cluttered for our taste. This doesn't apply to the mobile site, which laughs at you sleek and tidy, as you can see in the image below: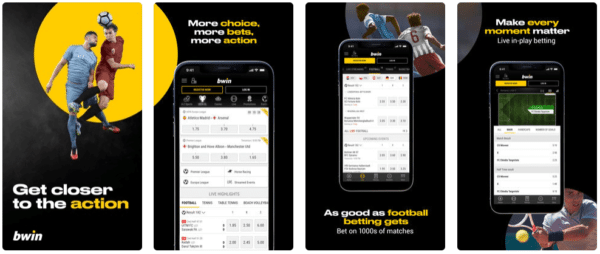 Practically all functions are visible at a glance and accessible with one click. This is exactly how a mobile site should be.
We will also take a closer look at Bwin's betting offer below, but we can already reveal that every sports betting fan should actually get their money's worth. In German soccer alone, the selection ranges all the way down to the premier league, so there should be nothing left to be desired. But also rather unusual bet types, such as politics & entertainment bets are offered.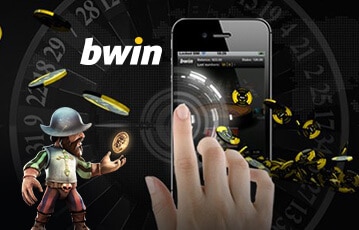 The customer support is also as it should be. You can reach Bwin via e-mail, live chat as well as phone at any time of the day or night and get competent answers to all your questions.
Bwin in the sports betting test
Like every bookmaker, Bwin has its strengths and weaknesses, which every (potential) customer has to weigh differently and for himself. Overall, however, the positive sides clearly outweigh the negative ones at Bwin. Especially in terms of customer friendliness, Bwin is well positioned with a very well-positioned support and the waiver of any fees for payment transactions.
The core business, sports betting, is convincing with an enormous breadth and variety, although the rather average odds tarnish the overall picture a bit.
How can I register an account with Bwin?
When you visit the Bwin website for the first time, a window opens automatically with a notice about the free Joker bet for new customers, where you can click on Register to enter the registration process. If you are already one step further on the website, you will always find a "Register now" in yellow letters on a black background in the upper right corner, with which the account opening can also be started.
The registration itself takes place in three steps. In the first part, all essential personal data such as name, address, date of birth, cell phone number and e-mail address must be entered. In the second step, a user name and password must then be specified for the subsequent login. In addition, a security question and answer must be entered in case you forget your password one day.
As soon as you have assured that you are at least 18 years old and accept the terms and conditions, the registration is already completed. Bwin sends a welcome email afterwards, but it does not contain a verification link. A further confirmation of the registration is therefore not necessary.
How can I deposit and withdraw at Bwin?
Bwin offers its customers a wide range of options to transfer money to the betting account, including many country-specific and limited payment methods. Fortunately, none of the payment methods that are common in online betting are missing at Bwin. Payments can also be made via Bwin Paypal, which is unfortunately still not standard on the bookmaker market. In addition, payments by credit card (Visa, Mastercard, Diners), the wallets Skrill and Neteller as well as the Bwin Paysafecard deposit form are of course available. And several ways of an accelerated bank transfer such as Sofortüberweisung.de or Giropay should not be missing.
It is very pleasing that this bookmaker generally processes every deposit as well as every Bwin payout free of charge. As with most bookmakers, withdrawals are made automatically via the deposit method. If this is not technically possible, Bwin usually pays out via bank transfer.
Structure & design of the website
It is not an easy task to present such a wide range of bets in such a way that the overview is maintained and a quick navigation is made possible. However, Bwin has succeeded in this and with a modern layout as well as pleasant colors, the website of Bwin comes across very appealing and inviting. The one or other reference to other offers of Bwin would be dispensable, but overall one cannot speak of a cluttered look. Rather, the clear menu structure, the immediately visible and easily accessible help and, above all, pleasant graphics and fonts lead to the fact that one likes to come back.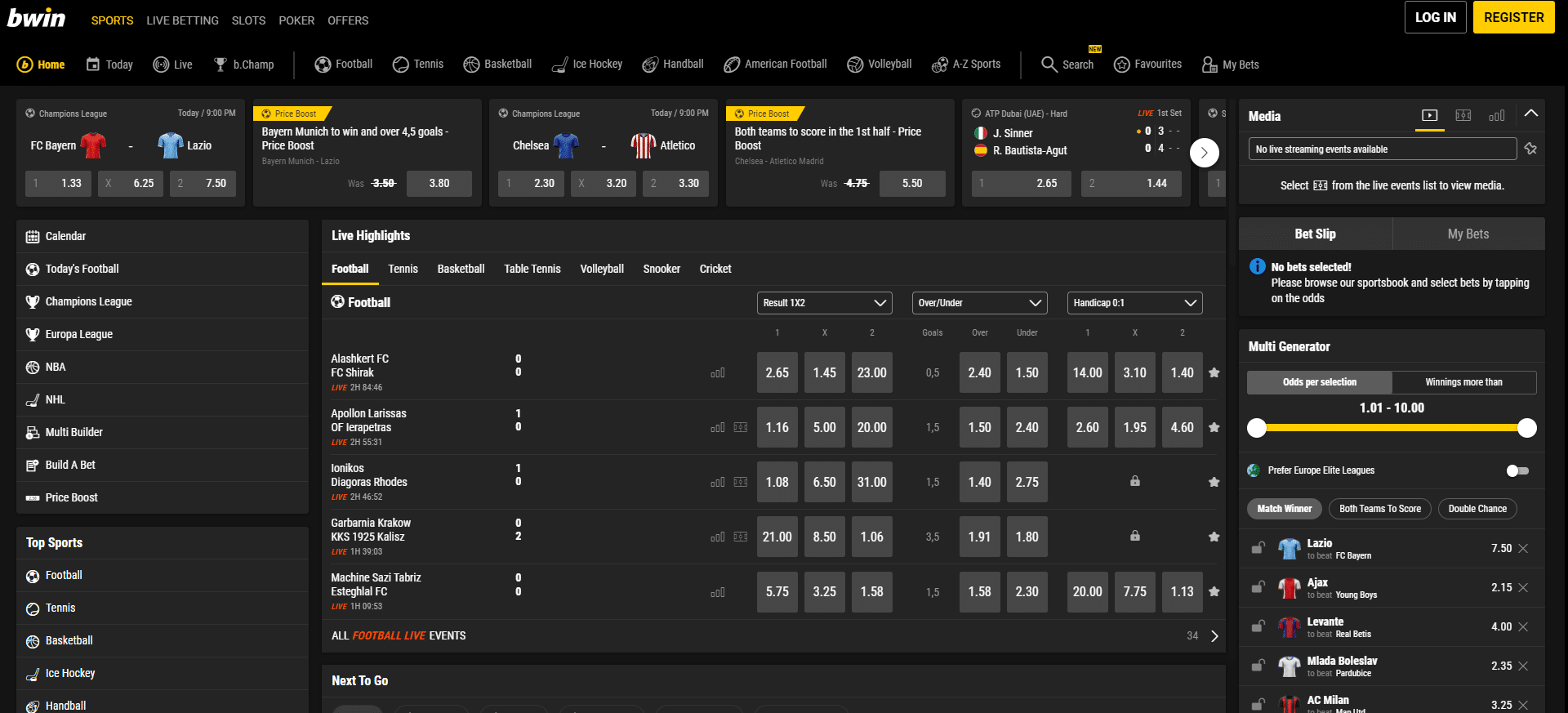 The aforementioned points apply equally to the Bwin app, which is available for iOS and Android and even increases the mobile betting experience. As well as, of course, for the Bwin desktop variant, which also impresses with a great clarity.
Betting program at Bwin
Even if it is no longer enough to be the market leader in other areas, there is still hardly any bookmaker that can outdo Bwin in terms of betting program. With up to 40 sports, including absolute exotics like floorball or bandy, Bwin covers a wide range, but also knows how to convince in depth with the big and popular sports.
Of course, this is especially true for King Football, which also takes the biggest place at Bwin. The fact that even on third- or fourth-class games a number of bets is offered that is clearly in the double-digit range is undoubtedly exceptional.
Unfortunately, less exceptional is the odds level, where Bwin cannot really keep up with many competitors. Especially in the recent past, Bwin has increasingly attracted attention with top odds on important soccer matches, but overall, an odds ratio of 92 to 93 percent on soccer matches in the top international leagues is no more than average. Let's hope that the outliers upwards will soon become the rule.
Customer support and contact at Bwin
In the area of customer service, Bwin has worked on itself the most in the recent past. Meanwhile, a long-missed live chat is just as much a part of the offer as the classic support via e-mail and a telephone hotline, which can be dialed from Austria and Germany for free.
The hotline is manned around the clock, from Monday to Sunday. In addition, written inquiries can be made at any time. The answers to mails usually come relatively quickly within a few hours.