In summary, Unibet comes in at a strong 90% in the bookmaker test and has thus achieved a good result.
The registration process is divided into four steps and is relatively quick. There are no fees for any of the deposit options offered. And you don't have to complain about the betting offer either.
Support is available via mail and live chat, and the response times there are also absolutely within reason. The withdrawal is also made in the same variant as the deposit.
Unibet deposit – options, costs & more
+ no fees
+ Deposits from 10€
+ deposit with Paysafecard possible
+ maximum possible deposit is 13.000€
Registration at Unibet is rather simple as usual, even though the registration window is relatively confusing to find. The registration is divided into four steps. After your personal data, such as name date of birth and so on, one must also enter the cell phone number and accept the terms and conditions.
When you click on the "Deposit" field, you will notice that there are still relatively few deposit options, but at least there are no fees for any of them and Paysafecard is included. The minimum deposit is not only for Paysafecard at 10 euros, but for all options. All in all, the most important options are included, you do not have to pay any fees and can deposit up to 13,000€.
Unibet Esports
You can access the Unibet eSport odds via the sports betting page, where you can select eSport n the sidebar as a sport. After that, Unibet will show you live bets and events that will start soon. Additionally, you can choose between long-term betting markets and all eSport offers. Via the promotion icon (on the right in the menu bar) you can access the Unibet promotion page. If there is a special promo for eSports, you will find it there. Unibet likes to offer odds races or betting championships, where you get points for successful picks, which bring cash prizes (up to €10,000) to the best bettor at the end.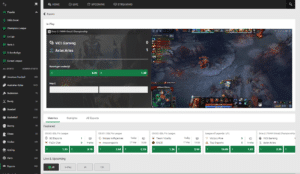 THE ESPORTS OFFER AT UNIBET
The current betting program of Unibet in the field of eSports is still rather small, but there are a variety of different tournaments per supported game. In our test, only bets on Counter-Strike, League of Legends and Dota 2 were available. With Counter-Strike, however, you could also bet on smaller eSport events, which we did not find at betway, for example. In addition to normal odds on games, Unibet also offers long-term bets. These are only available for larger tournaments.
In order to be able to evaluate Unibet's eSports offer even better, the provider would have to include other games such as PUBG, Rocket League or Overwatch in its offer. We will take another look at the betting program shortly to check our first impression.
THE ODDS IN THE TEST
In our experience report on Unibet eSports, we took a look at the odds from a CSGO match. The CSGO Asia Championships featured a duel between Avangar and mousesports, and here the payout ratio of the various bets ranged from around 91% to 93%. This value is rather at the end of the industry average, here one could definitely still improve. Also, the number of different betting markets is still rather limited, compared to the competition, they are lagging behind a bit. This is what your screen looks like for CSGO betting odds:
Unibet Payout
The payout is very good and clear to find. In my test I have to pay out by bank transfer, because I also deposited with it. This takes 1-3 days and there are no fees. I actually had the money in my account just a day later. After there were absolutely no problems, the Unibet payout comes to 95%.
Payout at Unibet classic with closed-loop procedure.
Unibet betting offer
The home page of the betting program is a bit cluttered but also not intrusive. The odds key is 96% up to 97% and there are quite a few betting options – from 3-way to Asian and player specials, everything is included.
Many special offers are also available at Unibet. It is important to note that Unibet retains 5% of the winnings in the case of a possible payout, i.e. the well-known betting tax. By the way, you can easily find your bets via "My bets" at the top left of the menu.
Very positive to highlight is the live betting offer compared to other betting providers. This is very positive to emphasize. In our opinion, however, the event display is deficient. Conclusion: Good betting offer, but somewhat confusing. Makes an overall score of 87%.
Support & Contact at Unibet
To get to support, you just have to go to "Help" at the top of the homepage. The page seems a little confusing, but has a good FAQ section that you can even sort by topics.There is a dedicated hotline a live chat and an email address to which you can contact (hotline only in English).
The German live chat is only available to a limited extent, but there is extensive live support in English. The response times in our test were around 2 minutes per message, which is still within reason. The Unibet support gets an overall score of 89% from us.
In a market that new companies are constantly trying to conquer, Unibet is unquestionably one of the established bookmakers, having been founded back in 1997. The bookie, which originally came from Sweden like quite a few big players and is also listed on the Stockholm Stock Exchange, has more than seven million customers who appreciate the offer in many respects.
And even in the current year, it is not getting quieter around Unibet. The competition is fierce. Brands like Tipico, bet365 or Betway invest a lot of money in advertising and thus become more and more famous. Unibet tries its best to offer customers something not only visually. How it behaves here, whether Unibet works seriously, we have tested. We have opened a betting account for you, deposited money and also paid out, so you can see how your Unibet experience could look like. Everything clear? Get the info in the first part of this page with video or read everything about Unibet Germany in our text here.
We also took a closer look at Unibet once because of the many positive voices, focusing on the core business of sports betting.
Advantages and disadvantages at Unibet
+ Outstanding 200% deposit bonus up to 100 euros with easy turnover requirements
+ Constantly updated bonus promotions
+ Very broad betting offer with very many live bets
+ Many live streams
+ High transparency and reliability thanks to stock exchange listing
History of Unibet
With branches in Malta and England as well as its Swedish origin, Unibet is well networked, but is one of the market leaders especially in the Scandinavian region as well as in southern European countries such as Spain or Greece. In German-speaking countries, Unibet has so far acted rather cautiously, also with regard to sponsoring and other marketing measures, but there are definitely certain tendencies to be seen that Unibet also wants to increasingly gain a foothold in Austria, Switzerland and especially in Germany. This is also evidenced by new sponsorship deals with the two German Bundesliga clubs RB Leipzig and Borussia Mönchengladbach.
The improvement of the bonus offer for new customers, which took place not too long ago, should be seen in this context. In the meantime, they offer the best new customer bonus on the market in the betting provider comparison. Namely, you get a 200 percent bonus of up to €100. Your Unibet deposit will therefore be tripled. For example, you deposit 50€ and can bet with 150€.
You only have to wager the bonus amount 6 times at minimum odds of 1.40. You have 30 days to do this. If you claim the maximum bonus, you have to wager a total of 600€ in this period. The minimum odds are very low compared to other betting providers.
Unibet has managed to put together a coherent overall package over the years, in which the number of plus points outweighs the rather negative aspects. However, Unibet still has room for improvement, especially in the area of payments, as some payment methods are missing from the portfolio. Nevertheless, we liked Unibet in our intensive review. In the following, we describe our experiences in various, from our point of view, important areas and go into more detail about strengths and weaknesses.
How do I register with Unibet?
On Unibet's website, which is predominantly green in color, the yellow highlighted "Register" stands out clearly in the upper right corner. Alternatively, you can also get to the registration process by clicking on the welcome offer advertised in the central area on the homepage.
This comprises four steps, the first of which involves entering the name, gender, date of birth and an e-mail address. This is followed on the next page by the details of the address, telephone number and the currency in which the betting account is to be held. Step number three includes the definition of username and password as well as a security question in case the password is forgotten. In the fourth and last step, the bonus offer including conditions can be accepted and, in addition to the assurance that you are at least 18 years old, you must also accept Unibet's terms and conditions.
With a final click on "Unibet Register", the betting account is opened and you are immediately redirected to the deposit page!
Depositing and withdrawing at Unibet
Unibet offers its customers a number of different payment options, although there is still some room for improvement in this regard. The most popular ones are the following: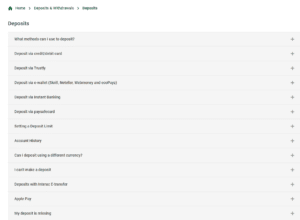 You would like to use Unibet Paypal? Then we must unfortunately disappoint you. This method is currently no longer offered on the German market at Unibet. Should something change here, however, you will of course find this out from us immediately. However, we can definitely recommend the Unibet Paysafecard, with which you can upload money free of charge, just like with the other payment methods.
Withdrawals are possible in the same ways, if technically feasible, and are generally free of charge. If a withdrawal is not possible in the same way as the deposit was made, Unibet pays out via bank transfer. While we're on the subject of deposits, don't forget to get the Unibet bonus. Here 200% up to 100€ are waiting for you.
Structure and design of the Unibet homepage
Unibet relies on the classic structure of a bookmaker page, where you can switch between sports betting and other areas at the top, and where the sports generally offered for betting and then the individual competitions are displayed in drop-down menus on the left. Once you have decided on a competition or a single sporting event, this takes up the entire central area and a betting slip only appears when you click on an odds.
This provides a neat structure that makes for faster orientation and navigation. The fact that the references to internal actions, which are otherwise displayed on the right, are then hidden when it comes specifically to the selection of bets is a good idea and certainly makes sense.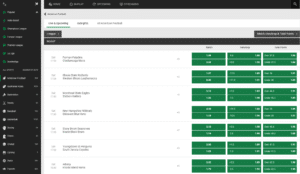 The mobile website is also successful (see image above), which Unibet offers for all mobile devices in addition to special apps for iOS and Android. The mobile version is kept nice and crisp and clear. Only what you actually need to bet is displayed, without any unnecessary bells and whistles.
The Unibet betting program at a glance
With around 30, sometimes even up to 40 sports, Unibet's betting offer is broad and also knows how to convince in depth. An example of this is the possibility to bet on German soccer all the way down to the fifth-class upper leagues. Especially when it comes to soccer, Unibet is very well positioned and also has a number of rather exotic leagues in its program.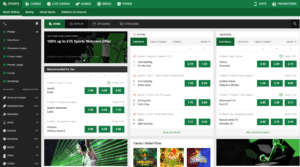 The range of live bets is also basically good, although the number of bets per event is still expandable compared to other bookmakers. Ultimately, however, this is complaining on a high level, as the Unibet betting program is certainly one of the best on the market.
In terms of odds, Unibet belongs to the upper midfield with an average payout key of 93 percent, but can often convince with top odds, especially when betting on outsiders. In addition, it is noticeable lately that Unibet is striving for a higher odds level. This can also be seen in the fact that, for example, the odds key for games from the English Premier League is now at an incredible 98%, which is unparalleled.
But Unibet is also ahead in the booming eSports and politics & entertainment betting and impresses with a huge betting offer that can hardly be topped. In addition, there are transfer and manager bets that are offered as special bets. Here you can, for example, bet on which player or coach will switch to which team. Not to forget, of course, the almost daily odds boosts, from which existing customers can also benefit. As you can see, Unibet is not only trying to generate new customers, but also to keep its existing customers happy.
Customer support & contact at Unibet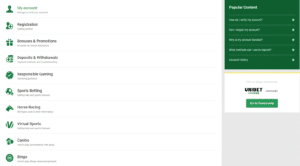 Unibet offers round-the-clock service 365 days a year, although it can still happen that written inquiries by mail are not answered until the next day. If you are in a hurry, you can contact an employee directly via live chat or toll-free hotline. It should be noted, however, that certain departments are not staffed around the clock. For questions about payment transactions, for example, you should contact Unibet during the day and during the week.
Our conclusion about Unibet
Unibet is rightly one of the better-known bookies on the German betting market. The bonus offer is certainly top. 200% up to 100€ is definitely outstanding and the turnover conditions are really fair. You can find more information about this in our betting bonus test. We are talking about a top bookie here, which is definitely one of the best providers worldwide. Here you are definitely in the best hands.
Otherwise, it only remains for us to say that we can definitely recommend Unibet. All customers from Germany can rejoice, Austrians can unfortunately not access the betting program of Unibet. To all those who are allowed to play at this betting provider, we wish a lot of fun and a safe hand when placing bets.