Blizzard announced details on upcoming PvE and PvP tournaments in World of Warcraft. Both the Arena World Championships and Mythic Dungeon International are entering their next season.
The Mythic Dungeon International and Arena World Championship return in 2020 to crown the champions of Battle for Azeroth. ⚔️

We've made some h̷́͂͠ug̵̐͊̅̾̎͑̂e ch̵͒̂̔̄̅̚à̷̭̙̩̭̠̾̏̈nges̵̈́̋͛͛ this year, click the link below to learn more! 👀

📜 https://t.co/SuRJBsaGwi pic.twitter.com/fPLFBxYY3X

— World of Warcraft (@Warcraft) February 13, 2020
$300,000 for the Mythic Dungeon International
For the new edition of the race for the fastest time, Blizzard is offering $300,000 for the best teams. For the new season, Operation: Mechagon will be introduced into the rotation. In addition, a new affix will be added as a new challenge.
The "Awakened" affix allows obelisks to appear in dungeons, allowing players to enter the shadow world of Ny'alotha. There a servant of N'Zoth must be defeated to prevent him from supporting the instance's end boss in battle.
The previous format will also receive some changes. The global competition will be divided into two divisions: The EU/Asia division will consist of players from Europe, Africa, the Middle East, Korea, China and Taiwan. The America Division will then include Australia and New Zealand in addition to North and South America.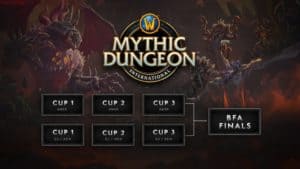 The first of three cups will take place on April 11th, which will allow teams to qualify for the final. There the eight best teams will compete and determine the winner of the fourth season.
The arena attracts 500,000 US dollars
But not only the best PvE players will get an update on their tournament. World of WarCraft's best Arena players will receive half a million dollars at the grand finale. From May 22nd, the road to the World Championship will begin here.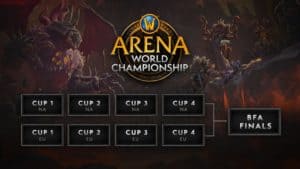 The teams can qualify for the four cups. Each cup not only offers the important qualification points to win, but also 10,000 US dollars to the winners of each cup.
Like at the Mythic Dungeon International, the best eight teams compete in the final on LAN. The top teams will certainly be highly motivated, after all the half million provided is the largest prize pool in the history of the Arena World Championship.
Blizzard also gave a preview of the structure of the Arena competitions in the new addon "Shadowlands":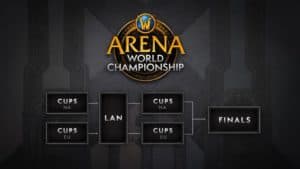 Once again, Cups will pave the way to the LAN tournaments. There will be two seasons for Shadowlands, each with its own LAN final.
YouTube as transmission platform
As an innovation to the previous seasons, the streaming partner of the tournaments has also changed. The official World of Warcraft YouTube channel will not only show the live games, but also the videos of the recording afterwards.
For more information, check out the official Blizzard announcement:
Plans for Arena World Championship and Mythic Dungeon International
Looking forward to the new tournaments in World of Warcraft? Tell us via social media!