Blizzard a annoncé les détails des prochains tournois JcJ et JcE dans World of Warcraft. Les Championnats du monde d'arène et le Mythic Dungeon International entament leur prochaine saison.
The Mythic Dungeon International and Arena World Championship return in 2020 to crown the champions of Battle for Azeroth. ⚔️

We've made some h̷́͂͠ug̵̐͊̅̾̎͑̂e ch̵͒̂̔̄̅̚à̷̭̙̩̭̠̾̏̈nges̵̈́̋͛͛ this year, click the link below to learn more! 👀

📜 https://t.co/SuRJBsaGwi pic.twitter.com/fPLFBxYY3X

— World of Warcraft (@Warcraft) February 13, 2020
300 000 dollars pour le Donjon mythique international
Pour la nouvelle édition de la course au meilleur temps, Blizzard offre 300 000 dollars aux meilleures équipes. Pour la nouvelle saison, l'opération : Mechagon sera introduite dans la rotation. En outre, un nouvel affixe sera ajouté comme nouveau défi.
L'affixe « Awakened » permet aux obélisques d'apparaître dans les donjons, permettant aux joueurs d'entrer dans le monde de l'ombre de Ny'alotha. Là, un serviteur de N'Zoth doit être vaincu pour l'empêcher de soutenir le chef de l'instance au combat.
Le format précédent subira également quelques modifications. La compétition mondiale sera divisée en deux divisions : La division UE/Asie sera composée d'acteurs d'Europe, d'Afrique, du Moyen-Orient, de Corée, de Chine et de Taïwan. La division Amérique comprendra alors l'Australie et la Nouvelle-Zélande, en plus de l'Amérique du Nord et du Sud.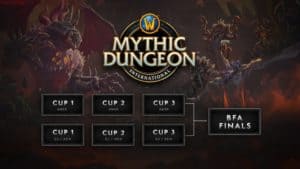 La première des trois coupes aura lieu le 11 avril, ce qui permettra aux équipes de se qualifier pour la finale. Les huit meilleures équipes s'y affronteront pour déterminer le vainqueur de la quatrième saison.
L'arène attire 500 000 dollars US
Mais ce ne sont pas seulement les meilleurs joueurs de PvE qui seront informés de leur tournoi. Les meilleurs joueurs de World of WarCraft recevront un demi-million de dollars lors de la grande finale. À partir du 22 mai, la route vers le championnat du monde commencera ici.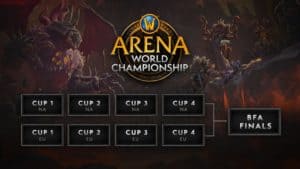 Les équipes peuvent se qualifier pour les quatre coupes. Chaque coupe offre non seulement les points de qualification importants à gagner, mais aussi 10 000 dollars américains aux gagnants de chaque coupe.
Comme au Mythic Dungeon International, les huit meilleures équipes s'affrontent en finale sur le LAN. Les meilleures équipes seront certainement très motivées, après tout le demi-million fourni est la plus grande cagnotte de l'histoire du Championnat du monde des arènes.
Blizzard a également donné un aperçu de la structure des compétitions Arena dans le nouvel addon « Shadowlands » :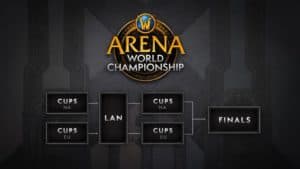 Une fois de plus, les Coupes ouvriront la voie aux tournois LAN. Il y aura deux saisons pour Shadowlands, chacune avec sa propre finale LAN.
YouTube comme plateforme de transmission
Comme innovation par rapport aux saisons précédentes, le partenaire de diffusion des tournois a également changé. La chaîne officielle de World of Warcraft sur YouTube diffusera non seulement les jeux en direct, mais aussi les vidéos de l'enregistrement par la suite.
Pour plus d'informations, consultez l'annonce officielle de Blizzard :
Plans pour le Championnat du monde d'arène et le Mythic Dungeon International
Vous attendez avec impatience les nouveaux tournois de World of Warcraft ? Dites-le nous via les médias sociaux !