Blizzard kondigde details aan over aankomende PvE en PvP toernooien in World of Warcraft. Zowel de Arena World Championships als Mythic Dungeon International gaan hun volgende seizoen in.
The Mythic Dungeon International and Arena World Championship return in 2020 to crown the champions of Battle for Azeroth. ⚔️

We've made some h̷́͂͠ug̵̐͊̅̾̎͑̂e ch̵͒̂̔̄̅̚à̷̭̙̩̭̠̾̏̈nges̵̈́̋͛͛ this year, click the link below to learn more! 👀

📜 https://t.co/SuRJBsaGwi pic.twitter.com/fPLFBxYY3X

— World of Warcraft (@Warcraft) February 13, 2020
300.000 dollar voor de Mythic Dungeon International…
Voor de nieuwe editie van de race voor de snelste tijd biedt Blizzard 300.000 dollar voor de beste teams. Voor het nieuwe seizoen wordt Operation: Mechagon in de roulatie gebracht. Daarnaast zal een nieuwe affix worden toegevoegd als nieuwe uitdaging.
De "Awakened" affix laat obelisken toe in kerkers te verschijnen, waardoor spelers de schaduwwereld van Ny'alotha kunnen betreden. Daar moet een dienaar van N'Zoth worden verslagen om te voorkomen dat hij de eindbaas van de instantie in de strijd steunt.
Het vorige formaat zal ook enkele wijzigingen ondergaan. De wereldwijde concurrentie zal worden verdeeld in twee divisies: De EU/Azië-divisie zal bestaan uit spelers uit Europa, Afrika, het Midden-Oosten, Korea, China en Taiwan. De America Division zal dan naast Noord- en Zuid-Amerika ook Australië en Nieuw-Zeeland omvatten.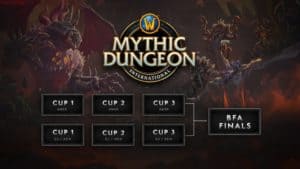 De eerste van drie cups vindt plaats op 11 april, waardoor de teams zich kunnen kwalificeren voor de finale. Daar zullen de acht beste teams strijden en de winnaar van het vierde seizoen bepalen.
De arena trekt 500.000 dollar aan
Maar niet alleen de beste PvE-spelers krijgen een update over hun toernooi. De beste Arenaspelers van World of WarCraft ontvangen een half miljoen dollar bij de grote finale. Vanaf 22 mei begint hier de weg naar het wereldkampioenschap.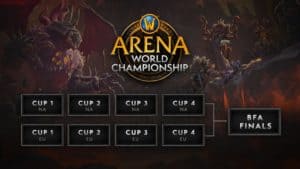 De teams kunnen zich kwalificeren voor de vier bekers. Elke beker biedt niet alleen de belangrijke kwalificatiepunten om te winnen, maar ook 10.000 dollar aan de winnaars van elke beker.
Net als bij de Mythic Dungeon International strijden de beste acht teams in de finale op LAN. De topteams zullen zeker zeer gemotiveerd zijn, want het half miljoen dat is voorzien is de grootste prijzenpot in de geschiedenis van het wereldkampioenschap Arena.
Blizzard gaf ook een voorproefje van de structuur van de Arena-wedstrijden in de nieuwe addon "Shadowlands":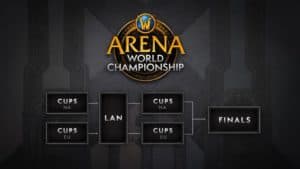 Nogmaals, Cups zal de weg vrijmaken voor de LAN-toernooien. Er zijn twee seizoenen voor Shadowlands, elk met een eigen LAN-finale.
YouTube als transmissieplatform
Als een vernieuwing ten opzichte van de vorige seizoenen is ook de streaming partner van de toernooien veranderd. Het officiële World of Warcraft YouTube-kanaal zal niet alleen de live-games tonen, maar ook de video's van de opname achteraf.
Kijk voor meer informatie naar de officiële Blizzard aankondiging:
Plannen voor Arena Wereldkampioenschap en Mythic Dungeon International
Kijk je uit naar de nieuwe toernooien in World of Warcraft? Vertel het ons via sociale media!