Blizzard ha annunciato i dettagli sui prossimi tornei PvE e PvP in World of Warcraft. Sia il Campionato del Mondo Arena che Mythic Dungeon International entreranno nella prossima stagione.
The Mythic Dungeon International and Arena World Championship return in 2020 to crown the champions of Battle for Azeroth. ⚔️

We've made some h̷́͂͠ug̵̐͊̅̾̎͑̂e ch̵͒̂̔̄̅̚à̷̭̙̩̭̠̾̏̈nges̵̈́̋͛͛ this year, click the link below to learn more! 👀

📜 https://t.co/SuRJBsaGwi pic.twitter.com/fPLFBxYY3X

— World of Warcraft (@Warcraft) February 13, 2020
300.000 dollari per il Mythic Dungeon International
Per la nuova edizione della gara per il tempo più veloce, Blizzard offre 300.000 dollari per le migliori squadre. Per la nuova stagione, Operation: Mechagon sarà introdotto nella rotazione. Inoltre, un nuovo affisso sarà aggiunto come nuova sfida.
L'affisso "Risvegliato" permette agli obelischi di apparire nei dungeon, permettendo ai giocatori di entrare nel mondo delle ombre di Ny'alotha. Lì un servitore di N'Zoth deve essere sconfitto per impedirgli di sostenere il boss finale dell'istanza in battaglia.
Anche il formato precedente riceverà alcune modifiche. La competizione globale sarà divisa in due divisioni: La divisione UE/Asia sarà composta da attori provenienti da Europa, Africa, Medio Oriente, Corea, Cina e Taiwan. La Divisione America includerà poi l'Australia e la Nuova Zelanda oltre all'America del Nord e del Sud.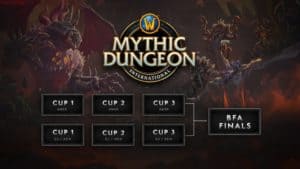 La prima delle tre coppe si svolgerà l'11 aprile, che permetterà alle squadre di qualificarsi per la finale. Lì le otto migliori squadre si sfideranno e determineranno il vincitore della quarta stagione.
L'arena attira 500.000 dollari USA
Ma non solo i migliori giocatori PvE riceveranno un aggiornamento sul loro torneo. I migliori giocatori dell'Arena di World of WarCraft riceveranno mezzo milione di dollari nel gran finale. Dal 22 maggio, la strada per il Campionato del Mondo inizierà qui.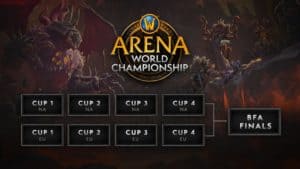 Le squadre possono qualificarsi per le quattro coppe. Ogni coppa offre non solo gli importanti punti di qualificazione per vincere, ma anche 10.000 dollari USA ai vincitori di ogni coppa.
Come al Mythic Dungeon International, le migliori otto squadre si sfidano in finale su LAN. Le squadre di punta saranno sicuramente molto motivate, dopo tutto il mezzo milione previsto è il più grande montepremi nella storia del Campionato del Mondo Arena.
Blizzard ha anche dato un'anteprima della struttura dei concorsi Arena nel nuovo addon "Shadowlands":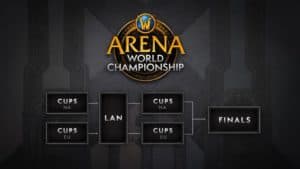 Ancora una volta, le coppe apriranno la strada ai tornei LAN. Ci saranno due stagioni per Shadowlands, ognuna con la sua finale LAN.
YouTube come piattaforma di trasmissione
Come novità rispetto alle stagioni precedenti, è cambiato anche il partner streaming dei tornei. Il canale YouTube ufficiale di World of Warcraft non mostrerà solo le partite dal vivo, ma anche i video della registrazione in seguito.
Per maggiori informazioni, date un'occhiata all'annuncio ufficiale di Blizzard:
Progetti per il Campionato Mondiale di Arena e Mythic Dungeon International
Non vedete l'ora di partecipare ai nuovi tornei di World of Warcraft? Diccelo tramite i social media!