Our author had to cry during his school internship in the supermarket – Trader Life Simulator 2 takes him back to that time. Great, isn"t it?
The Trader Life Simulator 2 takes us to a small fishing village where we build up a new existence as shopkeepers. The conditions are good: the village is idyllically situated on a lake, coniferous trees line the shore, gentle hills invite us to go hiking. It is a real magnet for tourists, many of whom would surely like to buy their water, snack or toilet paper here.
Hundreds of trade goods are promised in the game"s feature list, a day/night cycle that (I think to myself while reading) will certainly look pretty thanks to the Unreal engine, an economic system, trainable staff, several cars to buy and drive, and even housing for the time after work. The long trailer sells it all like this:
(Many good Steam reviews give the impression that we are dealing with an unjustly overlooked gem here. However: What I was ultimately presented with when testing Trader Life Simulator 2 was rather close to a nightmare
Old familiar gameplay
The game principle is the well-known "Buy cheap, sell dear". We buy cheap in the numerous specialised shops and the competing supermarket of the nameless town, bring the things to our shop on foot, by car or by taxi and sell them there for a profit. The more money we have, the more goods we can offer, which is good for the customers" rating of our shop.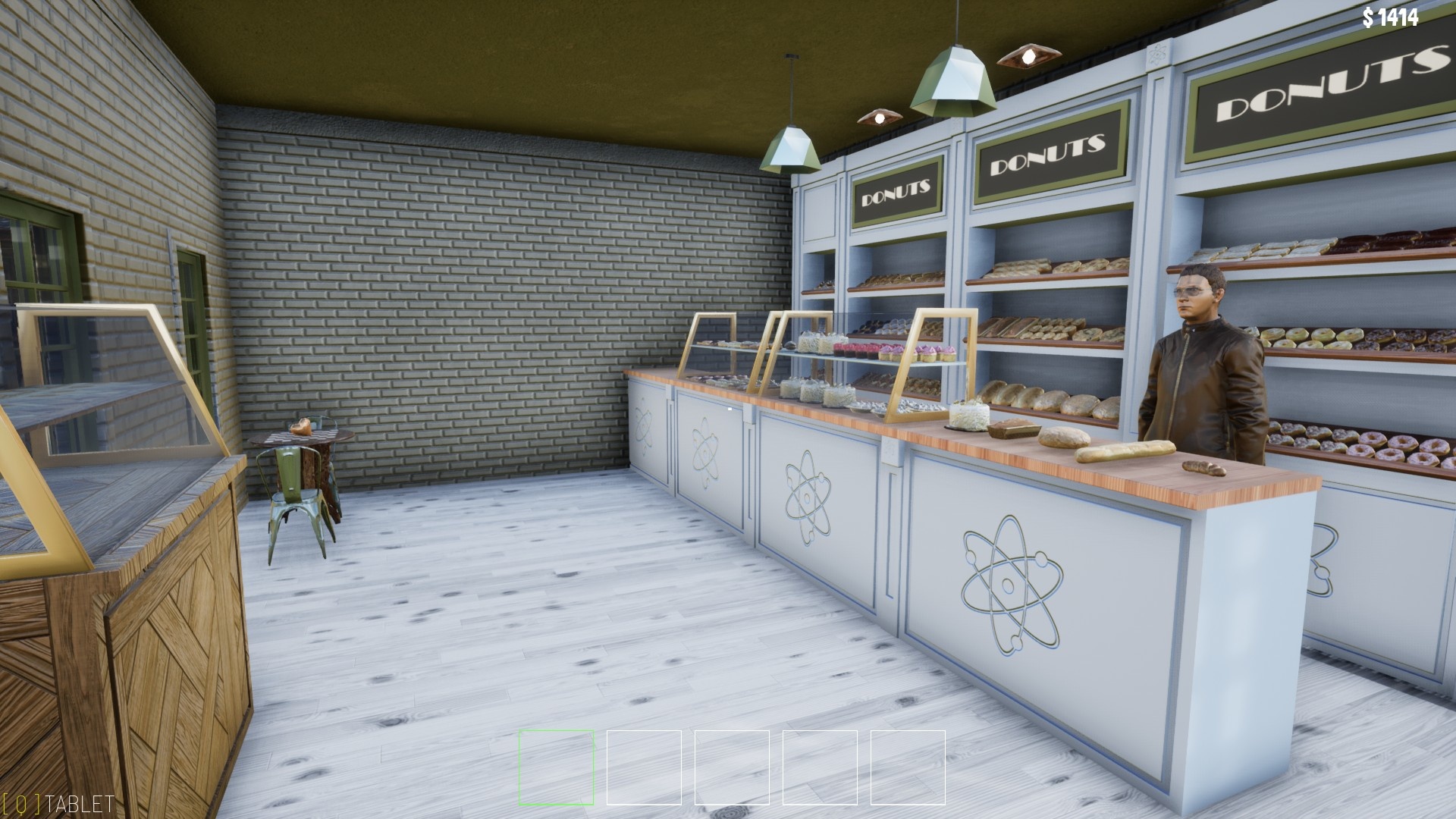 Valuation is necessary so that we can expand our product range to include higher quality goods. If we initially trade in food or household supplies, we later add clothing and electronics, for example. Whenever we don"t have a product that a customer is looking for, they give us a negative rating. Since the product a customer is looking for seems to be determined at random, we get a lot of negative reviews in the beginning, so we first have to build up a basic assortment that is as comprehensive as possible.
We don"t have to worry about such trivialities as pricing: We simply buy what is currently on offer (marked green in the user interface), then our account balance slowly but steadily increases, and the regular costs for wages and electricity are no longer an issue.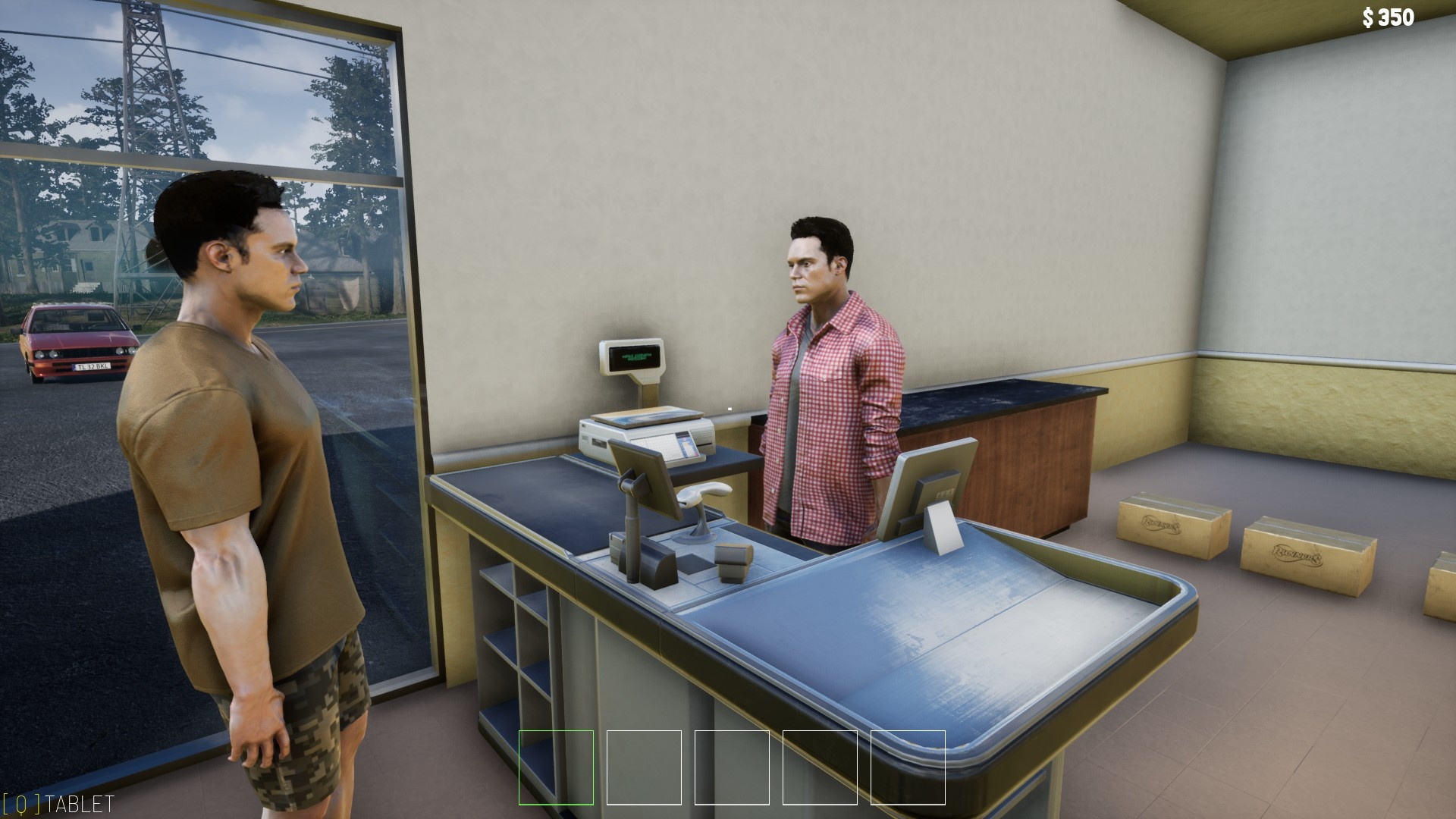 Monotone or Meditative: A Matter of Attitude
The actual gameplay consists mainly of unpacking purchased boxes and placing the goods freely on shelves. This is quite quick to do and tickles the "I"m furnishing my house" nerve. However, a few convenience functions, such as for the precise alignment of goods, would be nice.
All in all, there is a flow to the game that can have a meditative effect in good moments: Get up in the morning, drive to work in the car (a small car in the beginning), unlock the shop door, put goods away, wait for money, buy new goods or new furniture for the shop, close up in the evening, drive home, go to the bathroom, take a bath, sleep.
Yes , you read correctly, Trader Life Simulator 2 has a survival aspect that is completely unnecessary, yet mandatory. The character has to eat, drink, go to the toilet, wash and sleep regularly, otherwise he will get sick – and you don"t want that. Because then you have to go to the doctor, and judging by his stare, you shouldn"t trust him. So it"s better to help yourself to your bread counter, vegetable display or meat refrigeration counter.
Whereby – you might want to leave the latter to your customers. Because when you look at the guy in the "meat factory" like that, you"d better not buy anything from him, let alone eat it: The butcher looks like he"s straight out of Silent Hill.
Other NPC traders don"t fit into the game world either. The vendor at the, ahem, "farm" looks more like he"s either about to make us an offer we can"t refuse, or as if he"s strayed from the bank to the countryside.
By the way, the bank is used to take loans, deposit cash and add funds to your credit card. The card is needed to buy apps for the tablet. With the tablet you can, among other things, expand your shop, train the staff or call a taxi service for a quick trip. It would make more sense to have a few statistics to make the economic system more tangible, but there is nothing more than a list of recently purchased goods and a customer rating.
No atmosphere
The bench mentioned is important for another reason: it is a symbol. It stands for the fact that all the game and design elements of Trader Life Simulator 2 simply do not fit together. Nowhere is this more evident than in the oversized bank building. What, please, is a monumental building more suited to Manhattan doing in a rural backwater?
The answer should be: Nothing at all is looking for it there. It was probably just what the developer liked best in an Unreal asset store. Just as the rest of the game world seems cobbled together from mismatched assets. The solo developer behind the game shows no aesthetic sense here. So what Trader Life Simulator 2 offers in terms of good approaches (and they are really only approaches) is masked by a terrible exterior that does the Unreal engine an injustice.
Editor"s Verdict
I cried during my school internship in the supermarket anno 1997. The reasons for that do not matter here. But Trader Life Simulator has jogged that memory. It"s a mystery to me how this game got such good Steam reviews, because there"s just nothing coherent about it. Okay: The basic game principle of "buy cheap, sell dear" always works, and if you only concentrate on that, a kind of flow can even emerge for a short time. But for that you have to ignore everything else: the sterile buildings, which obviously come from an Unreal asset shop; the creepy and inappropriate NPCs, who are more reminiscent of mafia thugs than inhabitants of an idyllic village; the extremely simple economic system, which to call a "system" is actually too much of an honour. I am not even allowed to set my sales prices or the wages for my employee.
In the end, the whole game is limited to walking, driving or fast-travelling to other shops, buying products there that are cheap at the moment, putting them on display in your own shop and waiting for zombie-like NPCs to buy them. After a slightly more stressful initial phase, this quickly throws off enough money to set up my own house. Housing as an endgame – maybe that could even be fun, but the design and atmosphere would have to be much more consistent for that to happen. I could cry.