In the Smash universe there is a new hope for the scene. The brand new Smash World Tour connects the numerous tournaments throughout the year and culminates in the grand finale at the Smash World Tour Championships at the end of the year.
The Smash World Tour will include both Super Smash Bros. Melee and Super Smash Bros. Ultimate and will start with the first event, the CEO Dreamland from March 13-15.
Without Nintendo's participation
It wasn't that long ago that Juan "Hungrybox" Debiedma – world number 1 in Super Smash Bros. Melee – publicly asked Nintendo to take more care of the Esport scene. Now the Smash scene is acting itself instead of waiting for the Japanese developer to get involved.
WHEN NINTENDO DOESN'T DO IT WE DO IT OURSELVES

SMASH WORLD TOUR!!

$250,000!!!!!!

Thank you @VGBC_GimR @SuperSmashCon

🔥 🔥🔥🔥🔥🔥🔥🔥🔥

— hungrybox (@LiquidHbox) March 1, 2020
Completely without help, the various tournament organizations have now joined forces to create the Smash World Tour. The new tournament series combines more than 25 events worldwide, all of which are now leading up to the grand season finale of the Smash World Tour Championship.
Dude…250k… 😳

— T1 | MkLeo (@Mkleosb) March 1, 2020
The season finale not only awards the World Champion, it also offers a record prize money of 250,000 US dollars. A sum that is unparalleled in the smash scene. The pros were highly enthusiastic and the community also reacted with exuberantly positive feedback.
Points system for qualification
In order to qualify for the world championship tournament in December, players compete in the numerous events that are part of the World Tour. Depending on the number of participants and prizes, these are divided into platinum, gold and silver events, which give different numbers of points for qualification.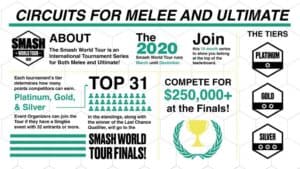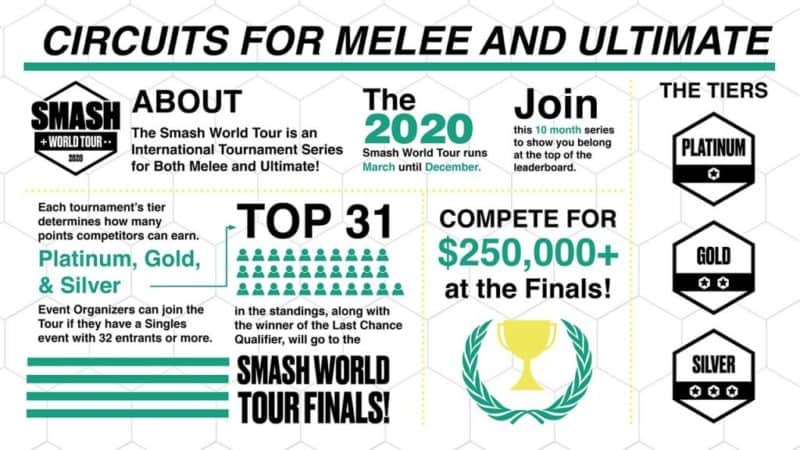 At the end of the season, the 31 best players will receive a direct invitation to the World Cup, while the rest will compete for the final ticket in a final qualifier.
More details about the tour and the format can be found on the official website:
Super Smash World Tour
What do you think of the new Super Smash World Tour? Tell us about it on the social media!