EA Sports forecasts every year anew which youngster will shape the world football in the future. The video game developer is often wrong – but sometimes he is also right on target. Who was EA really right about? Which player ignited and who completely disappeared into oblivion?
Every young professional soccer player dreams of one day joining the ranks of world stars like Ronaldo, Messi and Co. EA Sports sometimes makes this dream come true – at least on the console. Because every player has a fixed potential value in career mode. We look what the greatest talents of the games FIFA 07 – FIFA 09 have made of themselves – TOP OR FLOP!?
TOP: FIFA 07 – Sergio Kun Agüero – Potential 93
Sergio Agüero is only 18 years old at the release of FIFA 07. The Argentinian is taking the next step in his career at this point, moving from Club Atlético Independiente to Spain's top team Atlético Madrid. FIFA gives the Argentinian a 77 rating at the time, which can rise to 93 in career mode. Here EA has proven the right nose. After all, the Manchester City player is still one of the most feared strikers in the world.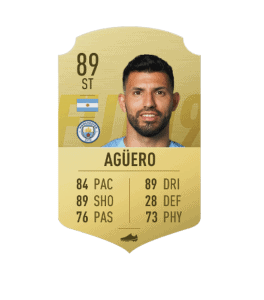 FLOP: FIFA 07 – Johan Djourou – Potential: 91
Well, who else knows him? Johan Djourou played in the Bundesliga for over four years (Hannover 96, Hamburger SV). In FIFA 07 the then 19-year-old Swiss is still with FC Arsenal. As a defensive all-rounder, FIFA predicted a bright future for him. After a few seasons in the career mode, the young Swiss was able to achieve an overall score of 91, with a starting value of 64. Today, Djourou kicks for FC Sion in his home country, but his great career was denied him. His highest FIFA rating was in FIFA 11 with 78.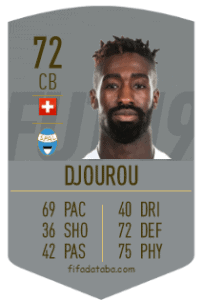 TOP: FIFA 08 – Luca Modrić – Potential: 90
At the age of 21, Luca Modrić was still playing on the right wing for Dynamo Zagreb and had a FIFA rating of 71. But the FIFA series already knew in 2008 that he was destined for higher. After a few years in career mode, owners of the Croatian could look forward to a player rating of 90. So EA hit the nail on the head. The Ballon d'or winner of 2018 has exactly this score 12 years later in FIFA 20.
The best talents in FIFA 20 career mode can be found here.
Luka Modrić shows off his Ballon d'Or to the Santiago Bernabéu crowd.

👏 👏 👏 pic.twitter.com/X2xvKuovUp

— ESPN FC (@ESPNFC) December 15, 2018
FLOP: FIFA 08 – Bojan Krkić – Potential: 92
Too many players have been touted as "the next Messi" and simply never lived up to this claim. Offensive man Bojan Krkić is definitely one of them. In 2008, the youngster from FC Barcelona already had a score of 76 and was able to achieve a total score of 92. FIFA was sure: a star is born! But as so often, FIFA and reality are far apart. Today Bojan is 29 years old and kicks somewhere in the USA (FIFA 20 ranking: 74). Oh yes: In 2017 he also had a short guest appearance at Mainz 05 (11 games, one goal). The next Messi is Bojan Krkić so definitely not.
He was once labelled the 'new Messi'.

But Stoke City's Bojan Krkic has spoken about following "my head, not my heart" and leaving Barcelona.

👉 https://t.co/cigmlGvS6k pic.twitter.com/rNOrOudq05

— BBC Sport (@BBCSport) December 6, 2018
TOP: FIFA 09 – Toni Kroos – Potential: 90
If only FC Bayern 2014 had taken a look at his development at FIFA before transferring Toni Kroos to Real Madrid… because not only did Kroos crown himself world champion with Germany, but in the career mode of FIFA 09 in 2014 he already has a game value of 90! No wonder that Real strikes there. This rapid development makes Kroos one of the most important midfielders, not only in FIFA career mode. In reality, the now 30-year-old has also reached the top of the world rankings with four Champions League titles.
By the way, there was another Bayern player with a starting value of 75 and potential 90 – central defender Breno. The later problem child, however, never achieved a higher value than 75, but Breno is not the biggest FIFA fail in 2009.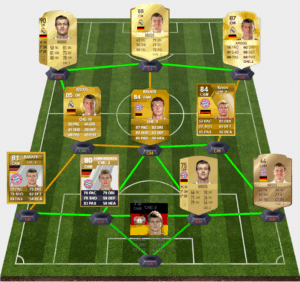 FLOP: FIFA 09 – Jose Baxter – Potential: 92
The biggest flop on this list is called Jose Baxter With a potential of 92 (starting value: 69) EA predicted the then 16-year-old's ascent to the football Olympics, but Baxter's career developed completely different. After four years with sporadic appearances for FC Everton, he entered the second English league. There the Englishman was kicked out of the club in 2015 because of a positive doping test. Today Jose Baxter is trying his luck with an English fourth division club. There is no longer any question of professional football, and certainly not of a 92cc classification.
Sheffield United midfielder Jose Baxter has been given a 5 month ban for a failed drugs test http://t.co/OPdsNpRbxL pic.twitter.com/M0IxF42jMt

— BBC Sport (@BBCSport) July 14, 2015
BONUS: Franco Di Santo – the flop from FIFA 11 – Potential: 90
South American strikers and and the hype about their great potential at FIFA – name a more iconic duo! In 2011 Franco Di Santo was under contract with Wigan Athletic and had a starting value of 74 at FIFA. Quite a few in the EA headquarters saw in the Argentinean at that time a mixture of Messi and Maradona. After just a few seasons in career mode, Di Santo had an overall score of 90.
Whether the scouts at Werder Bremen searched the FIFA 11 database in search of a new striker is not known. In any case, Di Santo showed his alleged superstar potential neither at Werder nor afterwards at Schalke. 22 goals in 120 Bundesliga games were simply not enough. Today the 30-year-old kicks in Brazil and is not even part of FIFA 20.