We tried out Battlefield 2042 before the beta launch and explain what conclusions we can already draw about the release.
Two and a half hours of gameplay – that's how long we were able to spend in Battlefield 2042 in the run-up to the beta. That's not enough for a judgement or a final conclusion, especially since our play-on version was, according to Dice, several weeks old and correspondingly unfinished. So a lot will change between now and launch.
The gunplay is great
In a shooter there is little that is more important than a good gun feel, after all we spend the majority of our game time with our finger on the trigger! And here Battlefield 2042 cuts an absolutely solid figure across the board: shooting sounds are rich, the reload animations look sleek and believable and the hit feedback shines with satisfying sound and HUD overlays. The weapons have a noticeable recoil, which we can compensate for with gentle  mouse movements to remain accurate even during sustained fire.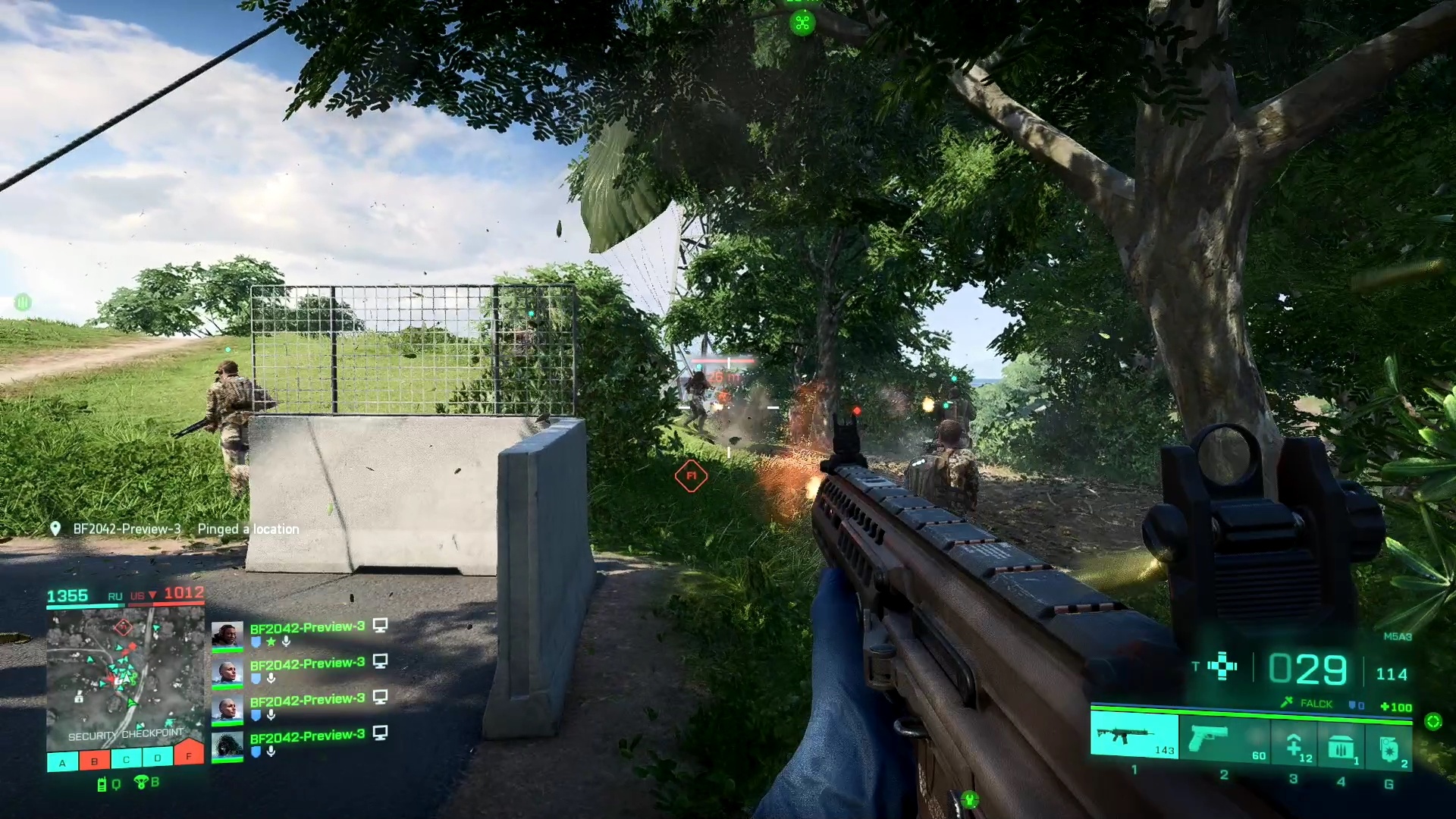 Shooting is not only fun on foot: the force of tank shells knocks down trees or sends chunks of concrete flying, missiles from helicopters deform the ground and tear permanent craters. This creates a great atmosphere from the very first second and proves that DICE has laid a good shooter foundation.
Although there are still small and also large balance inconsistencies in the beta – missiles from the air cause ridiculously little damage against foot soldiers, for example – there are definitely no problems that can't be solved with a little fine-tuning.
Vehicles are even more important than before
The role of vehicles is even greater in Battlefield 2042 than in its predecessors. By this we don't mean that they are more powerful, but simply more necessary. On the one hand, this is due to the size of the maps: even on the beta map Orbital, the distances between the flags are sometimes enormous and too large for a foot march – and it is by far not the largest of the eight release maps in multiplayer!
That's why we immediately hop into an MV38-Condor flying fortress, Little Bird helicopter, or troop carrier to get to the next sector as soon as the fighting dies down in one place. Conveniently, Battlefield 2042 also provides the solution to this problem and lets us request certain vehicles by air transport as well, so that the next jeep is only a button press away.
On the other hand, fighting in squads in vehicles is much more fun now, because many means of transport offer several firing positions: In the M1A5 main battle tank, we operate the main gun as the driver, a colleague clamps onto the machine gun in the turret, another passenger fires mortar shells, and the third passenger marks enemy targets for the crew. A nice side effect: vehicles invite more teamwork in this way and feel like rolling (or flying) fortresses when fully occupied.
The class system offers more freedom than expected
If you like to supply your comrades with ammunition but don't want to fire MGs, you were pretty much screwed in the last Battlefields. Because the support class was the one with the MGs. Battlefield 2042 says goodbye to the traditional class system of the series and introduces Specialists. Veterans may raise their eyebrows sceptically at first glance, but in our playthroughs the system provided one thing above all: flexibility!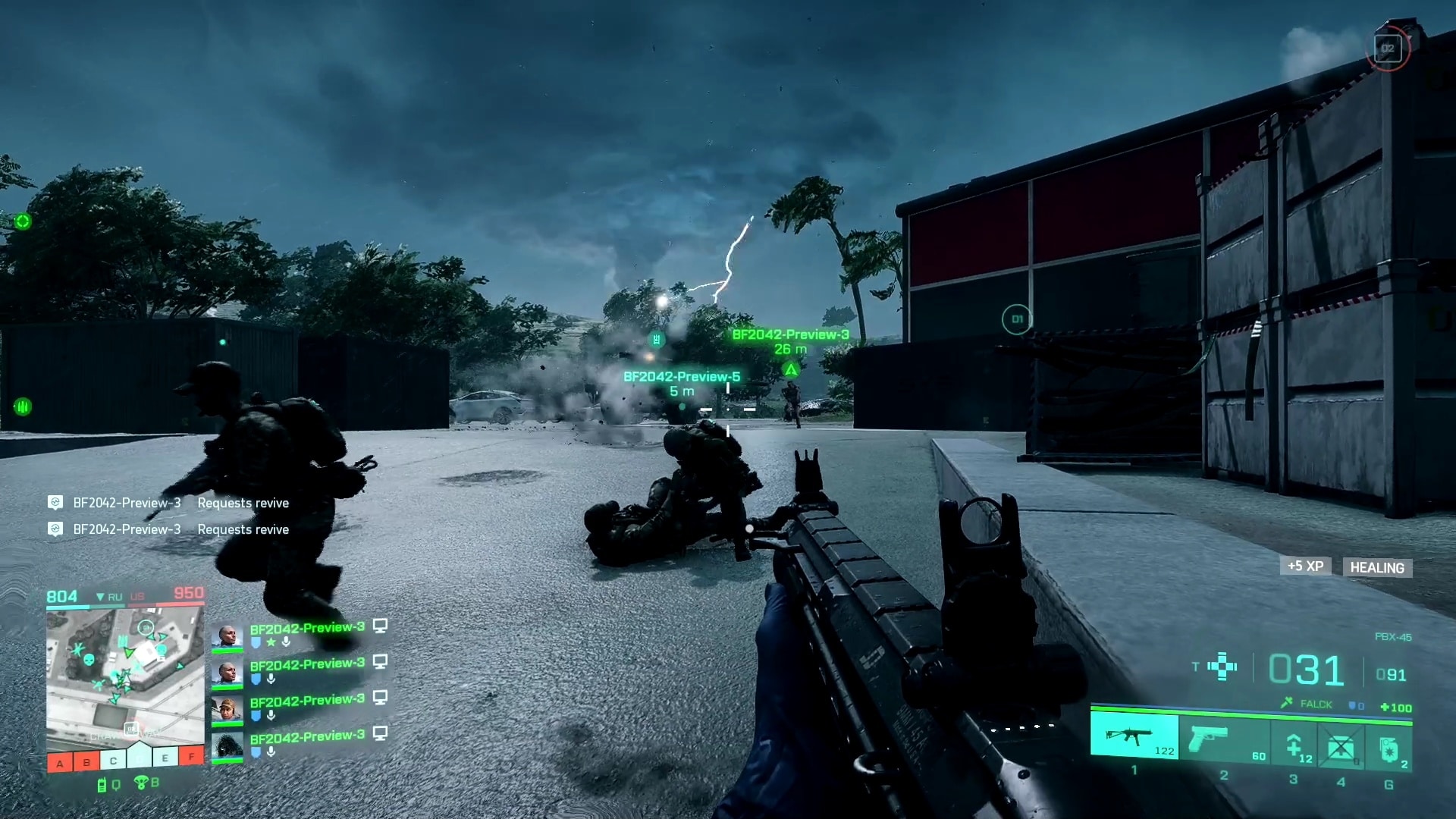 Since only the gadget and the passive ability are bound to the respective specialist, we can do whatever we want with the rest of the equipment. After a short time we had chosen the medic Maria Falck as our favourite, but she kept coming under sniper fire from a rooftop.
So we simply chose a precision rifle for Maria, screwed a scope on it and the perfect hybrid of healer and sniper was ready. Oh, that helicopter at flag point D is always annoying? And poof, we added an anti-aircraft missile launcher on top! By the way, you can find out exactly what weapons are available here:
The ability to design the class completely according to your own ideas is a real blessing and removes an age-old barrier. Once you've played it the way you did in Battlefield 2042, you won't want to go back.
Levolution is just a gimmick
The giant rocket launch pad on the beta map Orbital is one of many interactive Levolution elements in Battlefield 2042 that are marketed as an absolute highlight. The bottom line, however, is that whether the rocket launches or explodes doesn't really matter much for the course of the match (and for most players in a game).
Sure, the whole thing looks extremely fancy and spectacular, but let's face it: after the Shanghai tower in Battlefield 4 toppled over for the thirty-ninth time, no one's jaw dropped either.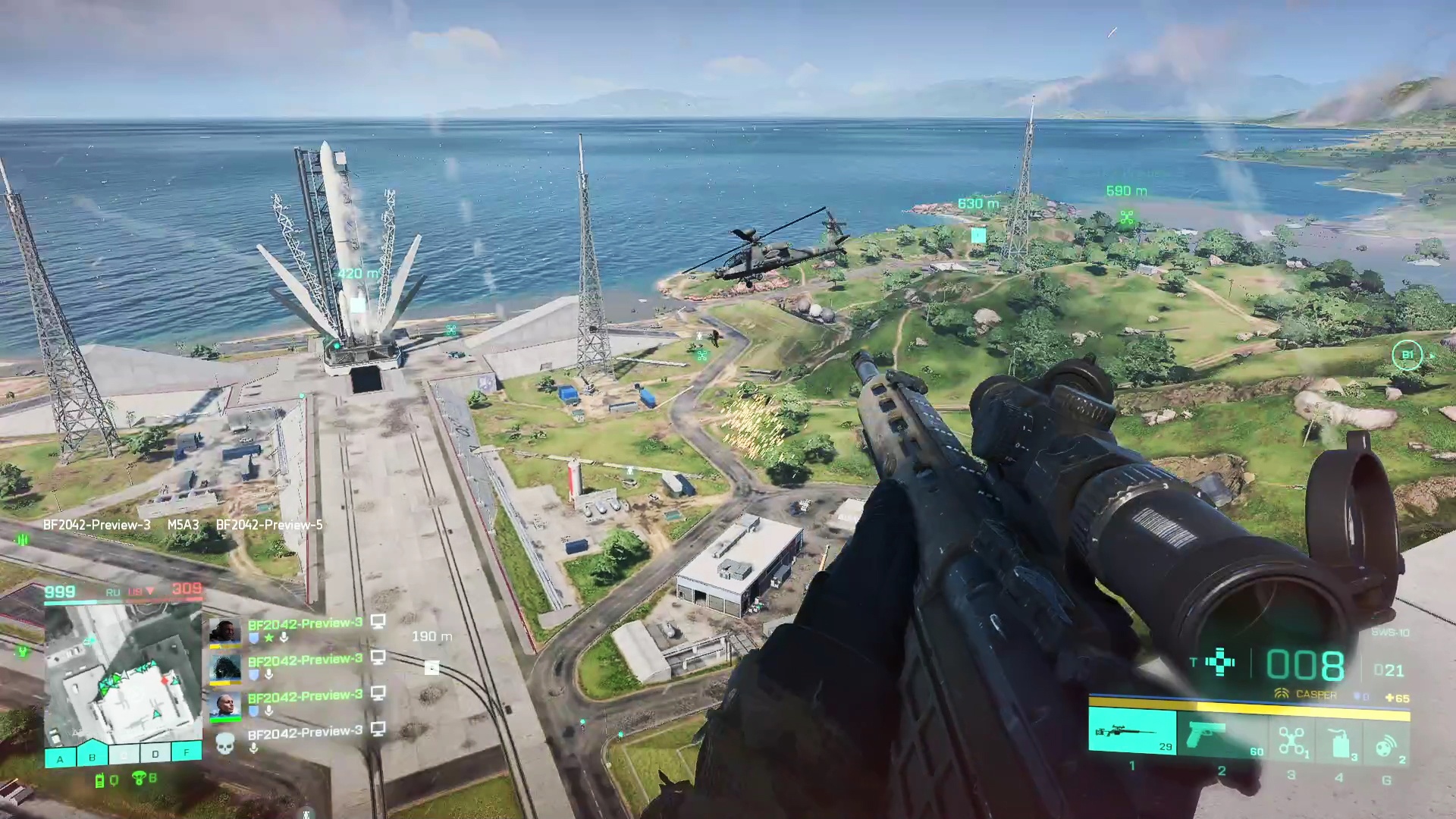 When the missile goes off on Oribtal, it leaves a debris landscape and de facto changes the map – but proportionally only a tiny fraction. And because the map is so gigantic, I may not notice the whole spectacle at all.
There will be several pre-scripted events like this in the final game and, especially at the time of release, there will certainly be crowds of spectators gathering to marvel at them. In the end, however, they remain superficial and are mainly, as they say in New German, eyecandy.
Destruction was better before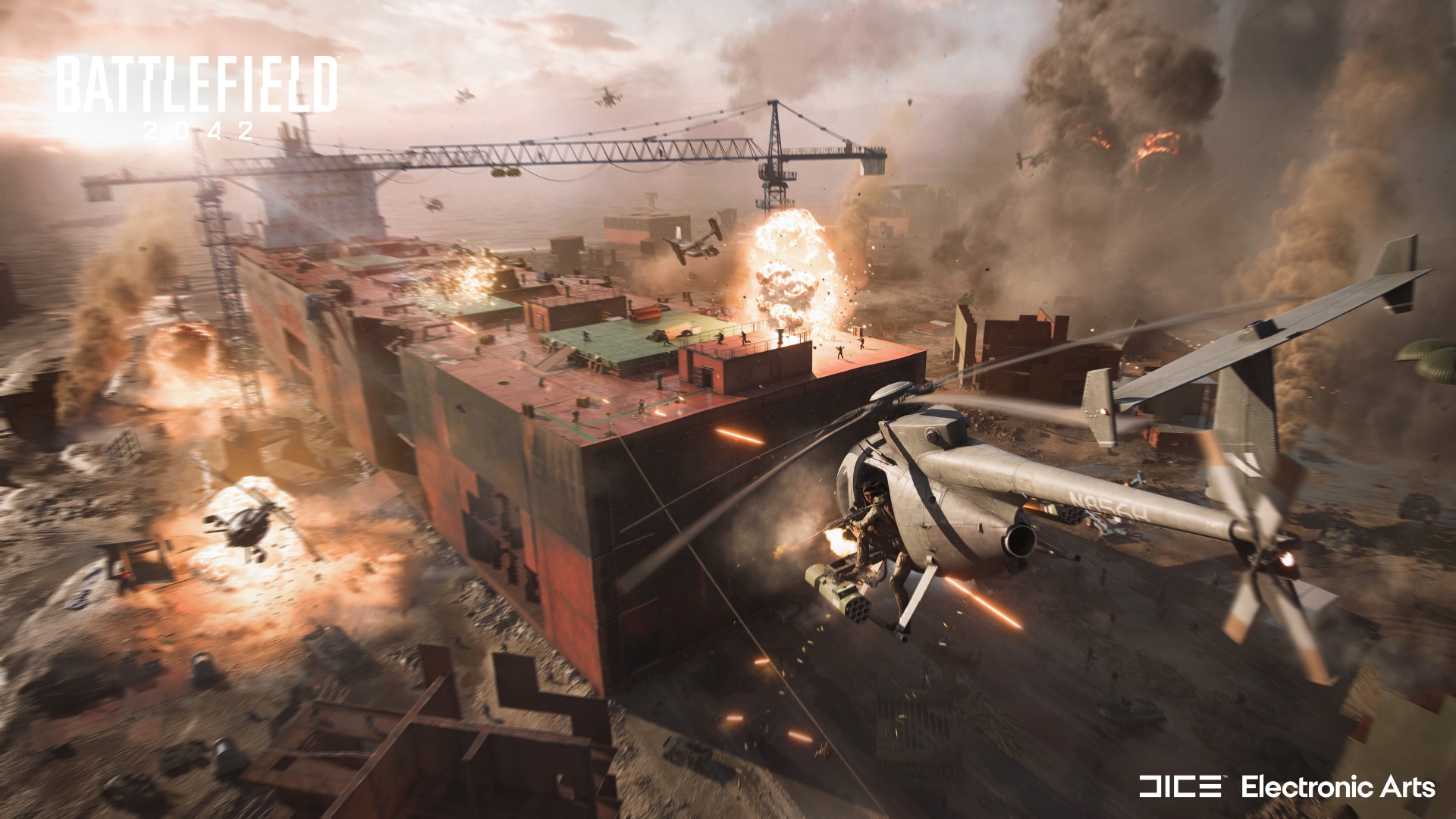 Instead of focusing on levolution effects, DICE should have focused on physical destruction, because in this respect the beta clearly falls short of expectations. On Orbital, at least, I couldn't find a single building that was completely destructible, as was the case in Bad Company 2. Even with continuous tank fire, many structures such as scaffolding, tunnels, containers and massive walls remained intact.
It is possible to blow holes in the facades of smaller buildings and thus open up new lines of sight, but we can't really level them or cause really big building damage. The destruction effects, however, are extremely detailed: Trees bend believably, tank tracks make furrows in the mud and electric pylons crash to the ground, spraying sparks.
Explosive props such as cars, gas tanks and barrels that blow up when fired upon provide even more spectacle on the map. This may all look great and add to the battlefield atmosphere, but there will be some disillusionment for all players who had hoped for a new "NextGen" level of dynamic destruction. What can be seen in this respect in the beta, we already know from Battlefield 5 and its predecessors.
The beta problems seem big, but are rather small
In our first two and a half hours we have noticed a lot of bugs and errors, which in total can seem quite problematic: Loadouts don't load properly at match start, teammates are accidentally marked as enemies, game characters slide through walls and as a tank co-driver the screen sometimes jerks back and forth so violently that it can make you feel sick.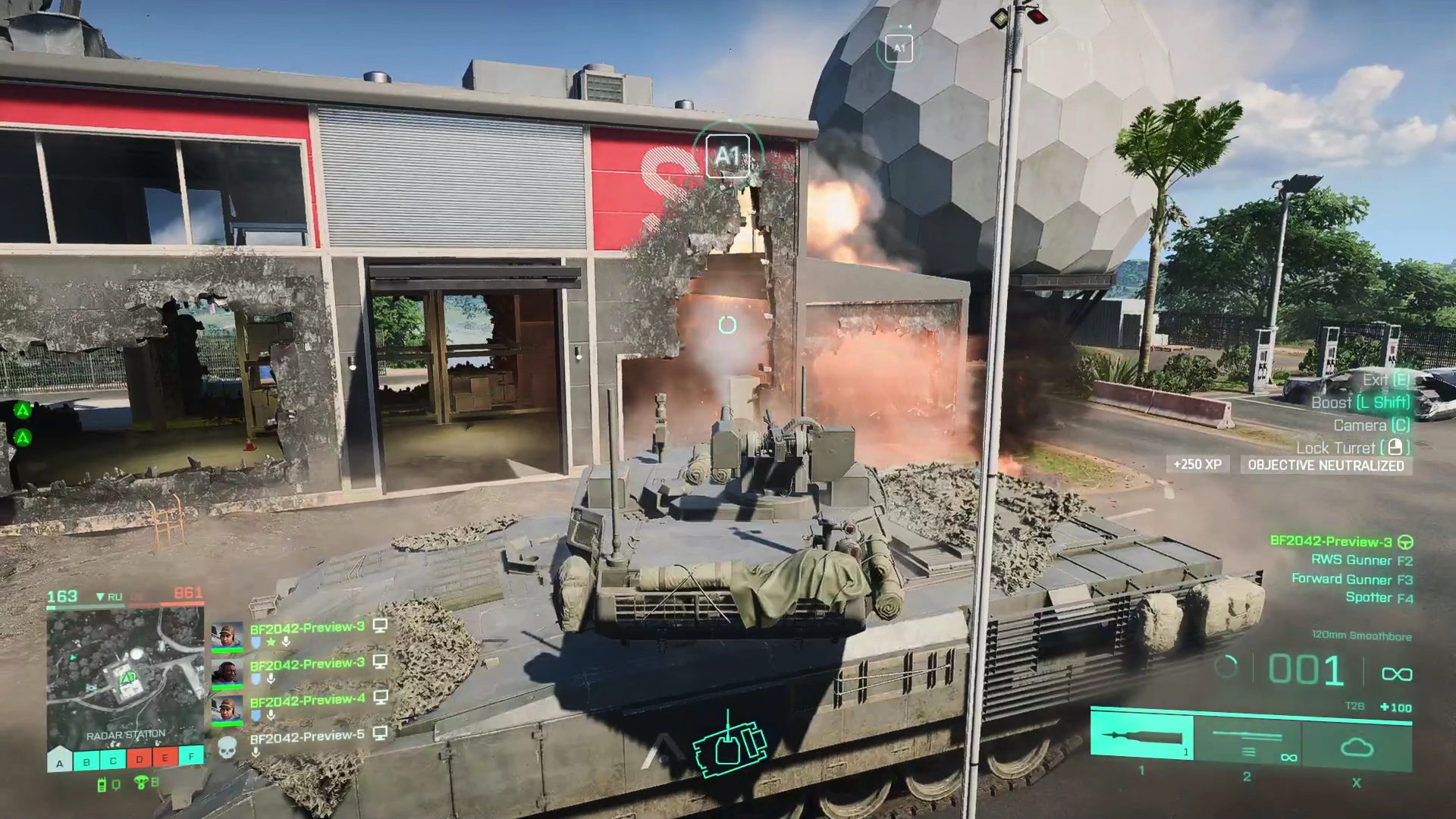 The good news: All these things are rather superficial and can theoretically be solved by the time of release. And that's what the developers intend to do: "Since the beta build that people will be playing, we've already improved a lot of the interface. We have also improved the performance and fixed small bugs. The balance is also still a construction site for which the beta will provide us with important data. A lot will still happen in all these areas before the launch," promises lead game designer Florian Le Bihan.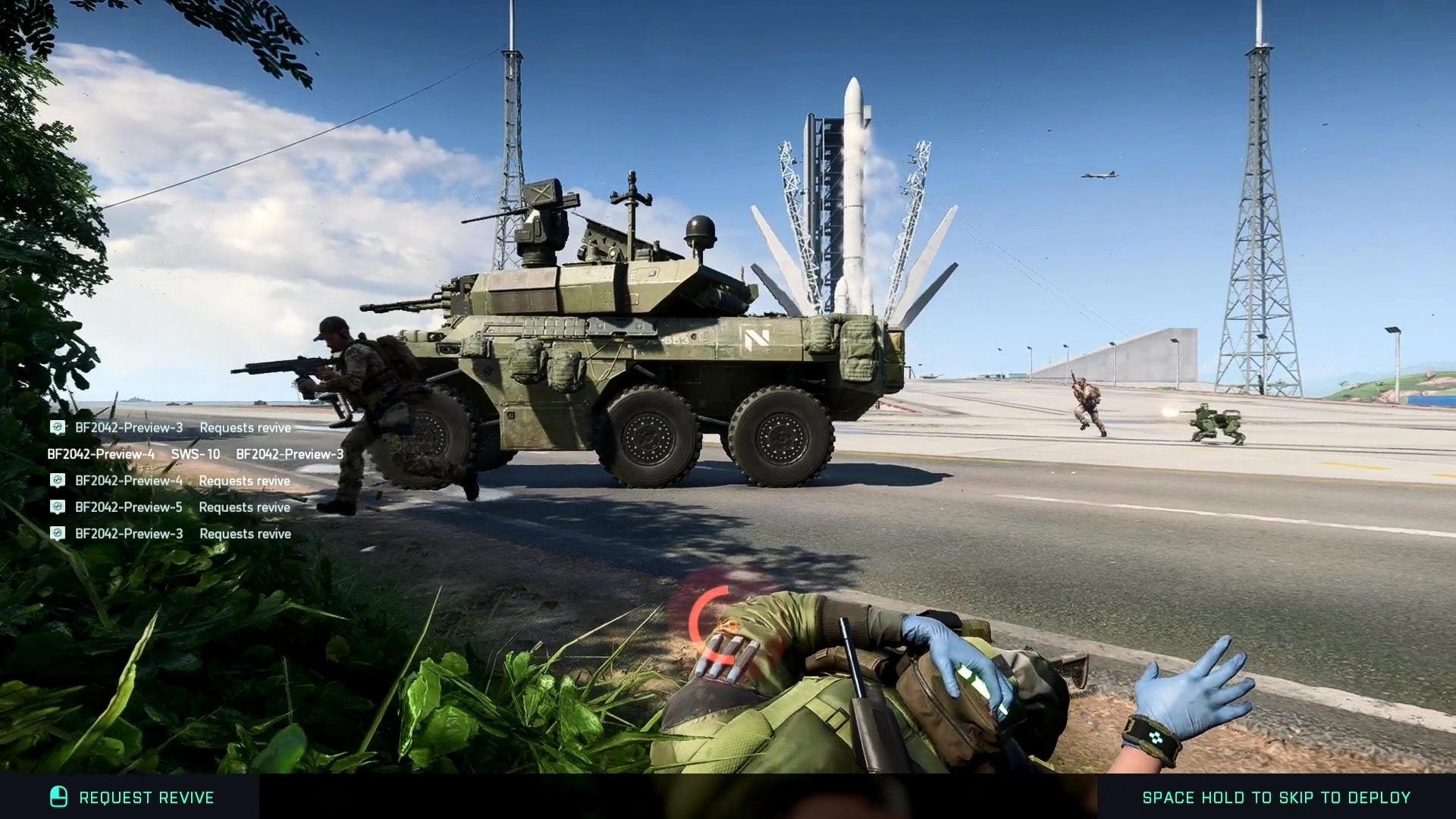 Substantial problems that could seriously endanger the release did not occur to us in our test rounds. This also applies to the shaky weapon balance in the beta: missiles that are too weak or snipers that are too strong are annoying, but the developers can solve them with a twist of the knob.
One thing is certain: yes, DICE still has to tighten many screws. But Battlefield 2042 seems to be on the right track.
You want to see for yourself now? We provide you with all information about the launch date & keys for the BF2042 beta!