Due to the coronavirus, the Mid-Season Invitational (MSI) has been postponed. As of Tuesday, the Mini-World Cup in League of Legends will be held in July, not May.
Riot Games has announced new information regarding the 2020 Mid-Season Invitational. On the official website lolesports.com, John Needham, Global Head of LoL Esports, announced that the prestigious event will be moved from May to July.
2020 Mid-Season Invitational Moved from May to July #MSI2020

Read more here: https://t.co/FHD5CgIsD3 pic.twitter.com/SryvyBvgH8

— LoL Esports (@lolesports) March 10, 2020
"Moving the tournament to the summer offers the best chance of having the travel restrictions lifted by then," said John Needham, who hopes for an early improvement regarding the coronavirus epidemic. "This would allow teams to travel safely from around the world." According to the announcement, the MSI will start on July 3, with the final scheduled for July 19.
Venue remains unknown
Meanwhile, the venue of the Mini World Cup, which G2 Esports won as the first European team last year, remains unknown. Riot Games said that the venue would be published as soon as possible. However, due to the unpredictability of the coronavirus and the spread of the epidemic, it is necessary to wait and see how the situation develops.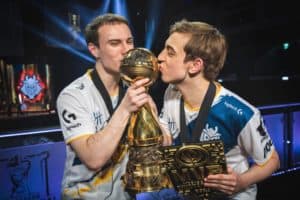 According to the current status, it is unlikely that MSI will occur in Asia and Europe, as the coronavirus has spread most strongly there. An event in North America is currently in the offing. The Mid-Season Invitational was last held in the USA in 2015.
Information on the Worlds 2020, which are scheduled to be held in China in October, was not yet available at the time of the MSI announcement.
Summer split must adapt to the MSI
The relocation of MSI has far-reaching consequences for all regional leagues. Consequently, the European premier league LEC is also affected. The summer split in the League of Legends European Championship will already start on 22 May.
Originally, the first week of the Summer Split is scheduled for early to mid June. Thus, the start of the season, which is important for the Worlds, will be brought forward by almost three weeks. For the time of the MSI, playing operations in the LEC would probably have to be interrupted.