A causa del coronavirus, il Mid-Season Invitational (MSI) è stato rinviato. A partire da martedì, la Mini-World Cup in League of Legends si terrà a luglio, non a maggio.
Riot Games ha annunciato nuove informazioni riguardanti l'Invitational Mid-Season 2020. Sul sito ufficiale lolesports.com, John Needham, Global Head of LoL Esports, ha annunciato che il prestigioso evento sarà spostato da maggio a luglio.
2020 Mid-Season Invitational Moved from May to July #MSI2020

Read more here: https://t.co/FHD5CgIsD3 pic.twitter.com/SryvyBvgH8

— LoL Esports (@lolesports) March 10, 2020
"Spostare il torneo verso l'estate offre la migliore probabilità di avere le limitazioni di corsa sollevate per allora,,,, ha detto John Needham, che spera in un miglioramento iniziale per quanto riguarda the coronavirus epidemic. "Questo permetterebbe alle squadre di viaggiare in sicurezza da tutto il mondo". Secondo l'annuncio, il MSI inizierà il 3 luglio, con la finale prevista per il 19 luglio.
La sede rimane sconosciuta
Nel frattempo, la sede della Mini World Cup, che la G2 Esports ha vinto come prima squadra europea l'anno scorso, rimane sconosciuta. Riot Games ha detto che il luogo sarà pubblicato il prima possibile. Tuttavia, a causa dell'imprevedibilità del coronavirus e della diffusione dell'epidemia, è necessario attendere e vedere come si evolve la situazione.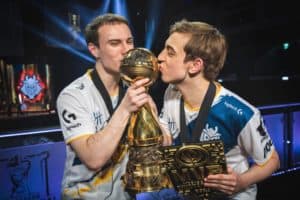 Secondo lo stato attuale, è improbabile che l'MSI si verifichi in Asia e in Europa, poiché il coronavirus si è diffuso con maggiore intensità in questi paesi. Attualmente è in programma un evento in Nord America. L'ultimo Mid-Season Invitational si è tenuto negli Stati Uniti nel 2015.
Le informazioni sui Mondiali 2020, che si terranno in Cina in ottobre, non erano ancora disponibili al momento dell'annuncio del MSI.
Lo split estivo deve adattarsi all'MSI
Il trasferimento di MSI ha conseguenze di vasta portata per tutte le leghe regionali. Di conseguenza, anche la Premier League europea LEC è interessata. Lo split estivo del Campionato Europeo della Lega delle Leggende inizierà già il 22 maggio.
Originariamente, la prima settimana della Spalato d'estate è prevista da inizio a metà giugno. Così, l'inizio della stagione, importante per i Mondiali, sarà anticipato di quasi tre settimane. Per l'epoca dell'MSI, le operazioni di gioco nel LEC avrebbero probabilmente dovuto essere interrotte.