by in
Since 25 May the Battlepass for the anniversary tournament "The International 10" in Dota2 is for sale. If things continue to go the way they are, a world record is in the offing.
Only 20 days after the Battlepass sale started, the 15 million US dollar limit was broken. The unique crowdfunding tool allows fans to increase the original developer-supplied prize pool of $1.6 million. The incentive for this is a reward system that is dependent on the total proceeds.
The event itself will take place at the Ericsson Globe in Stockholm, Sweden, returning to Europe for the first time since 2011.
New world record is possible
Last year, a prize pool of 34.6 million US dollars was achieved with Battlepass for TI9. This is the largest prize pool ever in eSports. And as the current prize pool increases, this amount should be cracked without any problems.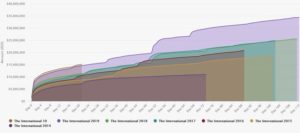 Last year, revenues slumped a little over the course of June, before rising rapidly again after new content was released in the summer. The graphic shows this very impressively. On day 51 there was a steep increase of almost three million US dollars within 24 hours.
Actually, it was to be expected that the fans might be less generous than before due to the Covid-19 recession. But this fear does not seem to be true. How long the Battlepass will be for sale is also still unclear, the event has been postponed to 2021 due to the current crisis.