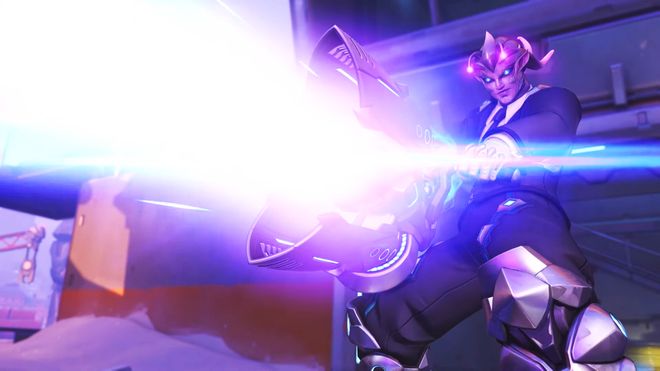 by in
In the past season of the Overwatch League the San Francisco Shock was the measure of all things. Jay "sinatraa" Won, who is now receiving an MVP skin, was particularly brilliant.
After a long delay, Blizzard has announced the official MVP skin for Jay "sinatraa" Won. Although the Flex DPS player had convinced all along the line, he has since quit his job and moved on to a completely different title.
Zarya immortalized sinatraa
At the end of April, the star player announced that he would end his career in Overwatch for a run at Valorant. From the Shock he went to the Sentinels, the home of the Fortnite world champion Bugha.
But his fans may now "dress up" from now on. The Alien Zarya Skin is supposed to be a tribute to the chat process. There, viewers very often posted alien emotes for sinatraa.
"When we initially decided to create an alien in a suit, we knew it would be a bit silly. So the focus was on making them look as cool as possible and not generic as some people thought," said Senior Concept Artist David Kang on the Overwatch League website.
Sinatraa himself got the skin presented a few weeks ago and was thrilled.
"The eyes are really crazy," he said in reference to the eerily cool lateral blinking of Zarya. "It's madness that they made Zarya the alien I wanted, but also kept the suit I wanted and it looks so good. It sounded so silly in my head, but somehow they managed to make it work."
The community let themselves out on Twitter about the skin. The main reason also seems to be the fact that sinatraa is withdrawing from the OWL. But the design was also well received by others. The skin impresses with elaborate animations and purple-neon particles on the back and the cannon.
Diligent spectators in front of
And how do you get the skin? There are no missions or milestones for Alien Zarya. All you have to do is be a diligent spectator of the Overwatch League or pick up some money. For 200 League Tokens, the alien suit is yours.
The outfit is available until June 30th, so you still have the opportunity to earn tokens via streams of the Overwatch League. But before you do so, don't forget to link your accounts.