Beside excellent Esport on the Dreamhack there are of course many more events in Leipzig. One of them is the German Casemod Championship, which this year again attracted numerous creative people.
We did a round at the Dreamhack and show you six of the coolest cases in Leipzig: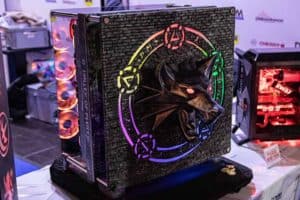 The Witcher – Monia Reuter
The first case we want to show you is inspired by the successful series "The Witcher".
Not only are there numerous quotes from the series on the case, but the integration of the
iconic design of the series is fantastic. Especially the elaborate backside attracts attention.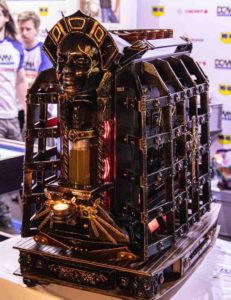 The winning Iron Maiden – Ali "THE CRE8OR" Abbas
This case then won first prize in the royal category "Casemod" at the German Casemod Championship this year.
The level of detail is simply phenomenal.
Together with the unusual details it is no wonder that the first prize went to this case.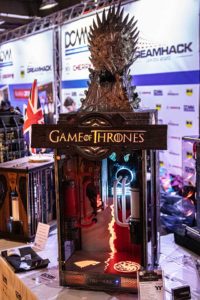 Game of Thrones Fever also on the Dreamhack – Monia Reuter
Who wouldn't want to be king of Westeros? This case will get you the Iron Throne right outside your desk.
The large coats of arms of the well-known protagonists like Haus Stark and Targaryen are also prominently displayed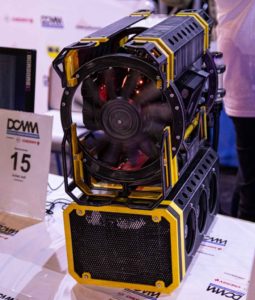 Case from the 3D printer – Julian Zoll
This case has undergone a very special working process.
It actually comes 100% from a 3D printer and shows the many possibilities and opportunities of 3D printing.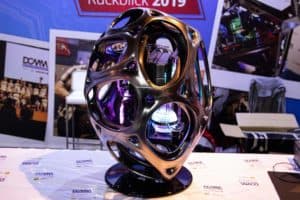 Only three in Europe – Stefan Blass
This Casemod also attracts attention from afar with its open design. What looks like a lot of work, Stefan Blass didn't even find so elaborate. After all, he only slightly modified one case. The fact that there are only about three examples of this case in Europe explains the exotic look.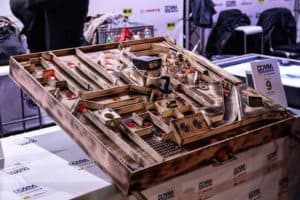 Gambling table – Ali "THE CRE8OR" Abbas
But the Casemod championship also comes up with wacky creations apart from the royal "Casemod" discipling. For example this gaming table, which attracted visitors to the trade fair in rows. This gaming table was created as a product of many remnants and shows that there are indeed no limits to creativity.
Which casemod did you find the coolest? Tell us about the social media!