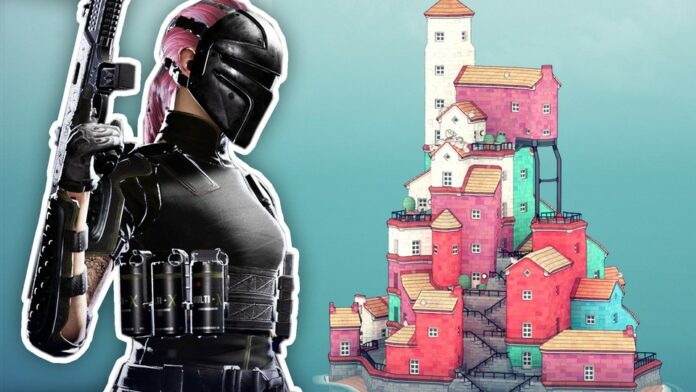 In our recommendation you will find the best PC games on Steam that you can permanently get for less than 10 euros. We cover all genres from strategy to role-playing to survival
You want some new additions to your game library but can't spend a ton of money? Don't despair, we've put together a list of recommended games that you can get permanently on Steam for less than 10 euros. Included are some classics that are still worth a look today, but also insider tips in all genres. We hope you enjoy browsing!
The Best Strategy Games for Under 10 Euros
Dorfromantik: The somewhat different building strategy game with the unusual name lets you build your own village from randomly generated hexes and create villages, forests, rivers and fields. You get more cards for matching sides. Small side quests like "build more than 100 contiguous forest fields" add a surprisingly strong addiction factor. (around 9 euros)
Townscaper: The building game Townscaper is in a similar vein. Here, too, you build your own small town by adding platforms, using simple controls and a soothingly beautiful art style. The place you choose and the surrounding fields determine how your building looks. In this way, your city changes dynamically and can, for example, be built infinitely higher. Fabiano tells you in his preview why this simple principle is so captivating. (Early Access, around 5 euros)
Bloons TD 6: Actually, Bloons TD 6 doesn't look like anything special. The comic graphics and the monkeys with their balloons will probably put most people off within the first few seconds. But behind it lies an enormously challenging tower defence game with countless tactical possibilities that kept our editor Dennis glued to the screen for weeks. (around 8 euros)
The best survival games for under 10 euros
Don't Starve: The hand-drawn 2D game Don't Starve is a real classic for survival fans. In endless mode, you explore a gloomy and randomly generated world that you either subjugate … or are subjugated by. In the co-op spin-off Don't Starve Together, you can even loot, craft and fight in pairs, but you have to pay 15 euros for this. (around 8 euros)
Terraria: The 2D open world of Terraria took years of development to finally become a real masterpiece. If you like the Minecraft principle but want a bit more role-playing and exploration, Terraria is the ultimate time-eater for you. (around 10 euros)
The best role-playing games for under 10 euros
Fallout: New Vegas: Yes, New Vegas has a few years under its belt and probably looks a bit muddy without mods. But if you're willing to overlook that, you'll get a post-apocalypse as vivid as hardly any other game. The role-playing game's unmistakable charm has even helped it to rank third in our 100 best open-world games of all time. (around 10 euros)
Undertale: If you are looking for a truly extraordinary story experience that turns role-playing conventions on their head and makes you laugh and cry in equal measure, then you should definitely give the cult classic Undertale a chance. The ingenious soundtrack alone is worth at least one listen. (around 10 euros)
Gothic: We probably don't need to tell you anything more about Gothic – after all, the hard-as-nails role-playing game from the Ruhr area is still unrivalled in many of its open-world mechanics. Our role-playing game expert Dimi tells you in his column why Gothic is still so important in 2021. (around 10 Euro)
The best action games for under 10 euros
Zero Hour: The tactical shooter Zero Hour sends you into the middle of a hostage situation in teams of 5 and lets you compete against each other in PvP. The focus is on realism, teamwork and the use of various gadgets. Zero Hour aims to combine elements from SWAT, Rainbow Six and Ghost Recon and already enjoys 86 percent positive Steam ratings in Early Access. (Early Access, around 10 euros)
Assassin's Creed & Assassin's Creed 2: The first two Assassin's Creed games may no longer be up to date, especially graphically. But especially part 2 with the story of Ezio during the Italian Renaissance is still considered by many to be the best part of the series – also in our big ranking of all Assassin's Creed games.
Portal 1 & Portal 2: If you haven't played Portal 1 and 2 yet, you really shouldn't say that out loud – and you should catch up on the classics about the ingenious Portal puzzle mechanics and the biting AI GLaDOS as soon as possible. It's not for nothing that we voted Portal the best PC game of all time. And that despite the fact that the cake is a lie.