SteamWorld Build wants to shine on two levels: On the surface you play Anno, while in the depths you play Dungeon Keeper. We have played an exclusive sample.
The first trailer shows that behind the cuddly visuals lies a fascinating game principle on two different levels (desert surface and mine underground):
Robot cowboys in a build-up game
SteamWorld, SteamWorld … ring any bells? It certainly does for me, because a few years ago I enjoyed playing the bottle platformer SteamWorld Dig . And it wasn"t just a really good game. It also had, like all parts of the series, the special charm of its setting as a plus.
The totally crazy and lovable mix of cowboys and steampunk robots makes these games distinctive. And so now there is another adventure around the nice machines that want to dig up something. Only this time it is designed as a construction game.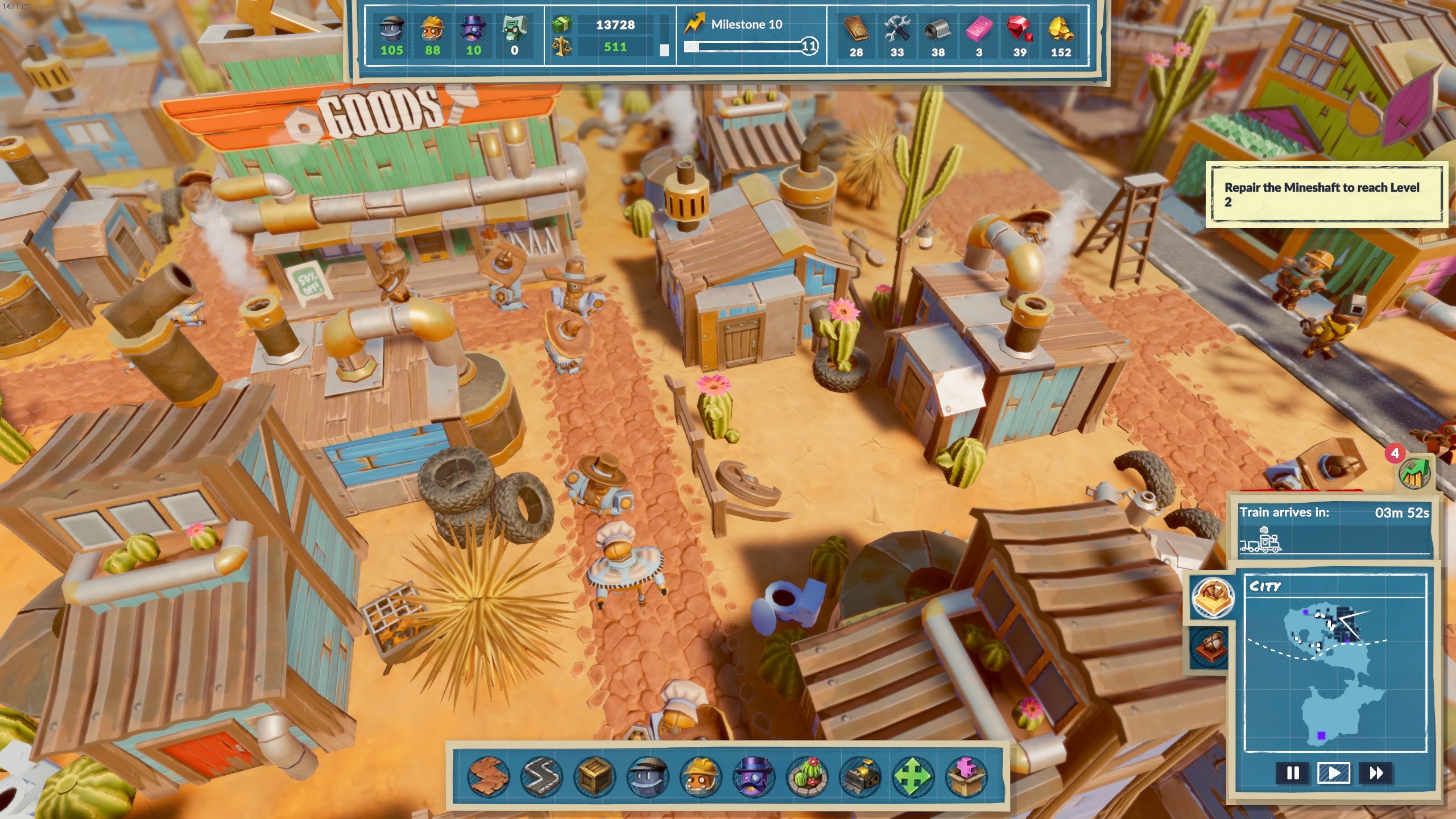 Here"s how it works: You build a village around an abandoned railway station. Like in an Anno, at first you only have access to the simple working class. With them you can mine cactus water, collect wood and process it into boards. To do this, you need warehouses to collect the goods and, of course, roads. For all buildings must be connected to the road network leading from the railway station so that they can function or be inhabited.
In addition, the workers need to be supplied with coal, because they have to be powered somehow. However, there are no energy mechanics or the like, SteamWorld Build is thoroughly cosy, survival elements are also missing for the time being.
Social advancement through contentment
In the settlement, you must then build a marketplace and a workshop where the bots can have themselves checked. The more needs you fulfil, the more taxes the tin cans pay and the more of them live in a house.
Both are relevant, because buildings not only cost resources, but also money to buy and maintain. In addition, the buildings need workers (the inhabitants are not simulated individually). If the industry grows, the settlement must also grow.
Once a worker"s house has reached 100 percent satisfaction, you can upgrade it in exchange for money and raw materials, which turns the inhabitants into engineers. These in turn have their own needs, which, just like in Anno, also expand. Initially, a new class only needs a few new goods or services. But when you exceed certain inhabitant thresholds, more are added until the class can then eventually move up.
Although we were not allowed to play too far, it already became clear that it does not stop with the engineers. After that, at least the aristocrat counterpart, the aristobots, and scientists will be added. Also like in Anno, jobs can only be held by a certain population group. So it doesn"t make sense to simply let all inhabitants advance.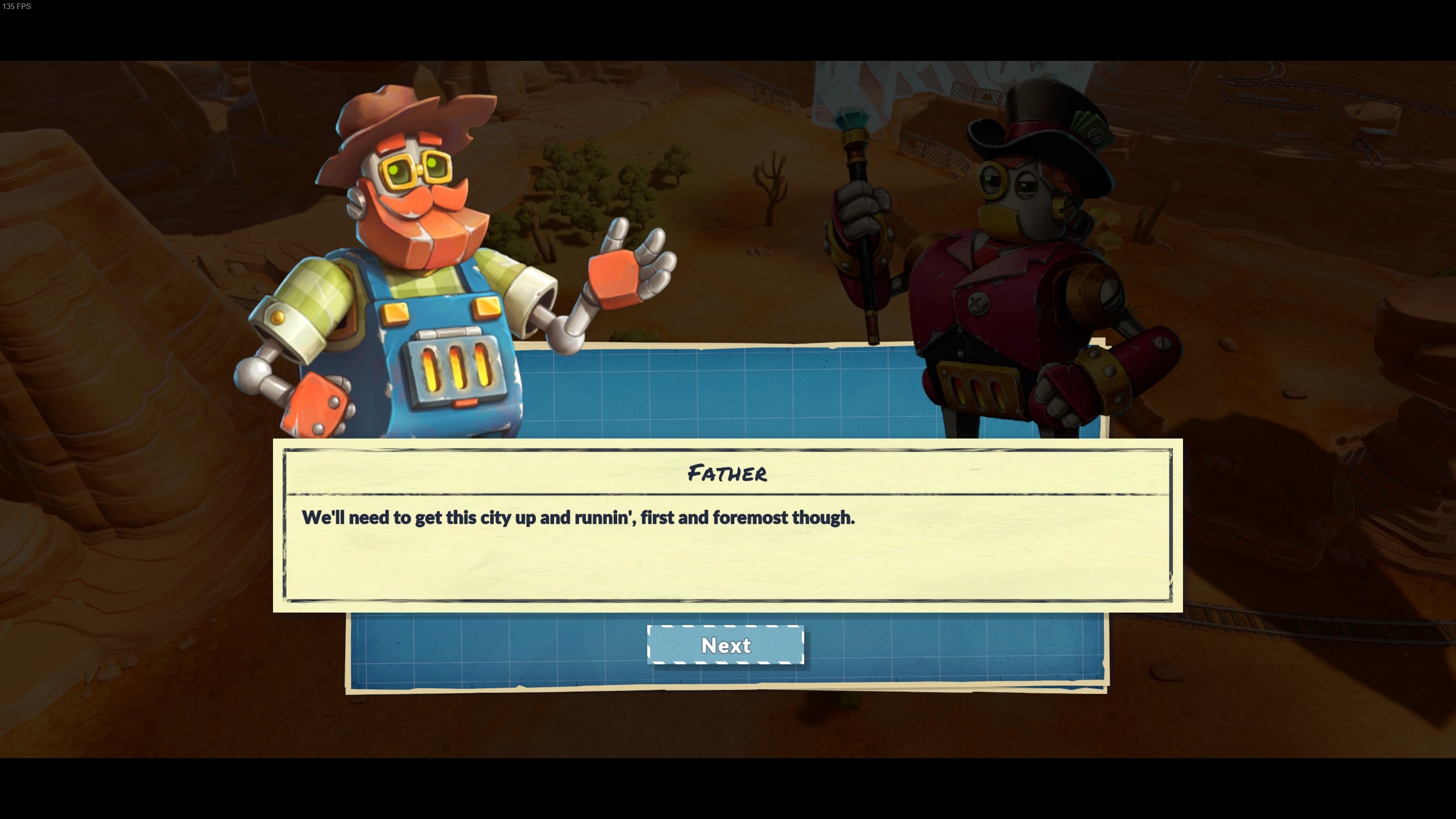 It"s really about digging out!
But the real purpose of the settlement is not just to grow. The Cowbody bots have come to the barren valley to recommission an old mine shaft. In the depths of the planet they want to find ancient technologies and components with which they can escape from the barren planet.
To do this, you move down one game level, under the earth. There you set up small camps and workbenches for the workers and give them digging orders. To do this, mark square blocks of rock and the helpers, who look like Minions from above with their yellow helmets, get to work.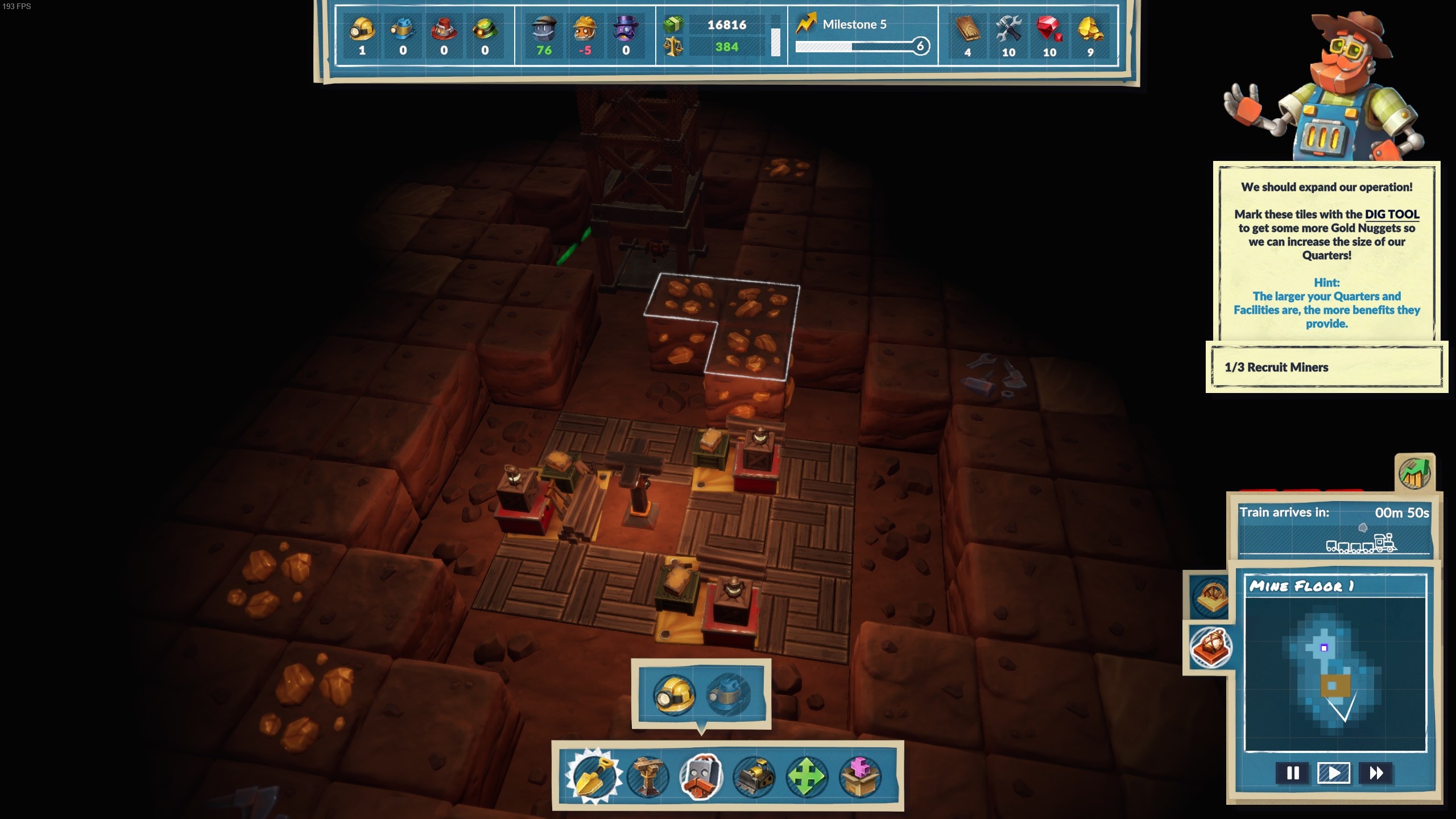 In large areas you will soon have to pull in pillars. A little later you will also unlock bridges with which you can overcome smaller chasms. In the rocks you will find gold and gems as well as old machine parts.
You need the gold nuggets for some underground construction projects and the gems for trading, more on that in a moment. The machine parts, on the other hand, are the starting point for other goods you produce on the surface, such as tools. Other underground-exclusive raw materials will be added later.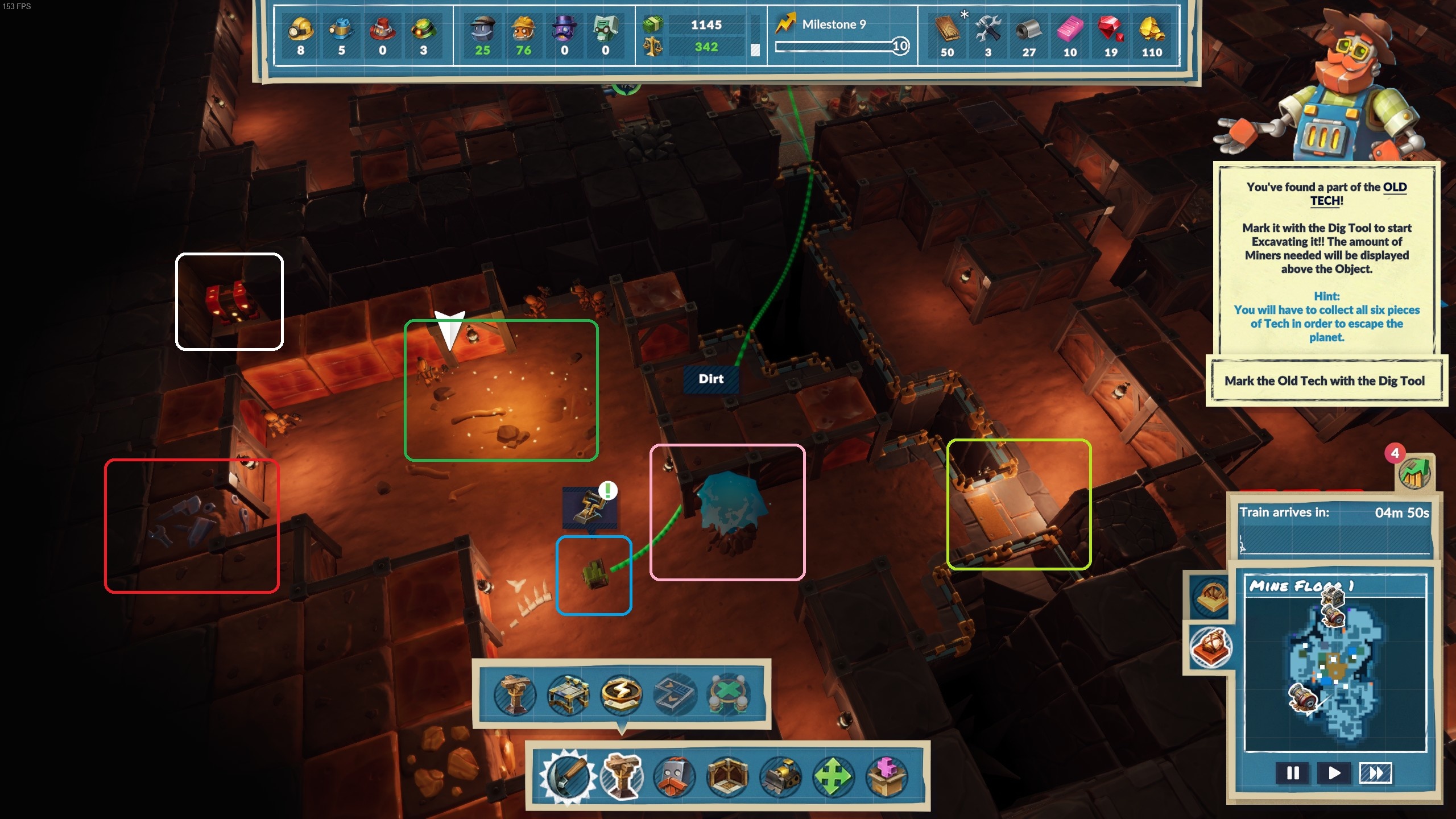 The upper world can"t move forward without the mine – and vice versa
In this way, progress above and below ground are mutually dependent. A new population group unlocks new buildings and thus better digging tools (initially you can"t get through every type of rock). And in order to satisfy the new population, you need resources from the level you have just made accessible. Because yes, there is more than one level. You work your way down one level at a time. Presumably, new challenges are always waiting for you.
The number keys allow you to switch between levels very quickly and without pausing to load. In addition, as far as we were able to play, there are no death spirals in SteamWorld Build. So if you don"t visit the surface for a while, it doesn"t matter.
Sometimes you will discover a treasure chest while digging, which will spit out either money, resources or items. You can place the latter in a building to increase its working speed or reduce its maintenance. You can also buy such items for gems and money at the railway station. A train passes by there every few minutes and sells or buys all the goods.
For in between, the game offers some decoration options with which you can make the settlement really pretty, as in the trailer – if you feel like it. A few clever ideas round off the game. For example, better roads increase the radius of influence of service buildings, because this is not measured as the crow flies, but according to effective walking distance.

Comfortable, but with few challenges
And that"s about all there is to it. As promised, SteamWorld Dig is not an overly complex or difficult game. Some call it cosy, others perhaps one-dimensional. In any case, there"s not much demand on you. You can"t really fail here, at least not in the phase of the game that I was able to see.
All in all, SteamWorld Build is a kind of Anno light on the surface with underground gameplay in a bottle. In this interaction, the title already makes a good impression. Whether it will really be a good game depends on the variety it has up its sleeve.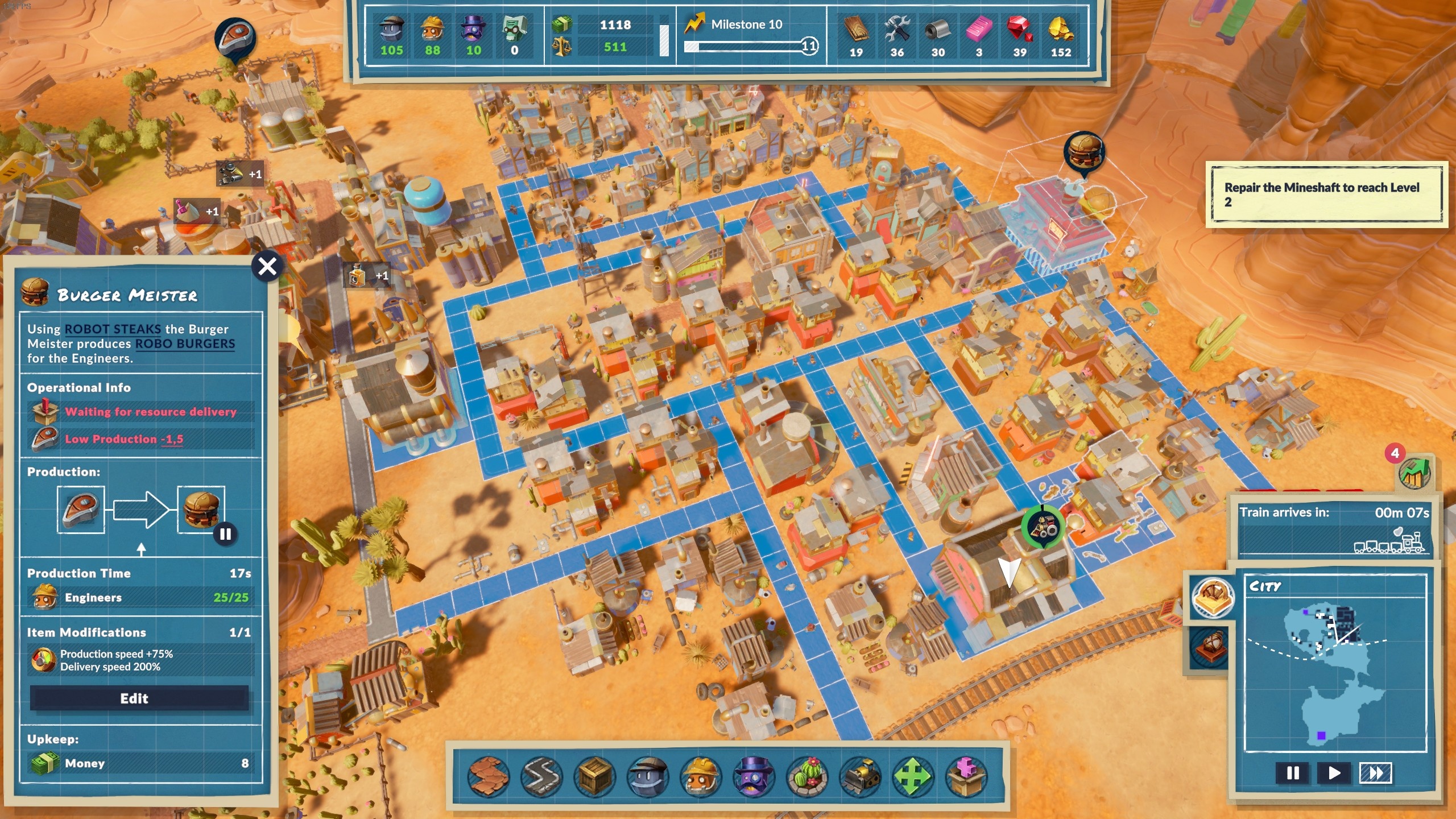 There are definitely other starting maps, but whether these are different scenarios or just different starting environments could not yet be read from the demo. At least the story makes it quite clear that something is lurking down there. But what that is, the developers obviously don"t want to reveal yet.
Besides that, of course, the setting is a case in point. The whole world exudes a childlike charm that you either like or dislike. But since Steamworld Build already looks quite polished and the creators have proven in the past that their work has robot hands and feet (all parts are at least at "very positive" on Steam), I am quite confident that this series offshoot will also find its fans again. If only because on some days simpler is simply better.
Editorial conclusion
I"m not quite sure yet how much fun SteamWorld Build will be after ten or twenty hours. This preview has simply revealed too little about the long-term motivation. But the core concept is definitely good. Just the fact that switching between Anno building and digging is quick and smooth makes a lot of difference. I don"t have to constantly worry about what"s happening on another level. However, for my taste, the whole thing still lacks a bit of ambition. A few challenges would be welcome.
So it remains to be seen what else SteamWorld Build has to offer. For the time being, however, I have confidence in Thunderful, as the studio is now called (the Swedish studios "Image & Form" and "Zoink" have joined forces) – even though The Station, a newly founded Thunderful studio, is responsible for SteamWorld Build. The charm of Thunderful"s wondrous steampunk world is already conveyed quite well by the developers, and as for the challenge … well, we all know what happens when you dig too deep and too greedily …