There are 17.000 players in the database of FIFA 20 and with every update new players are added. Actually everybody can put together his team the way he or she wants to. But our list of the most played attackers shows that some players are simply indispensable.
Don't you know that too? Every FIFA 20 team is made up of Wissam Ben Yedder in attack, Ferland Mendy in left-back position and Marc André ter Stegen in goal. We take a look at the Futbin database and find that, yes, each position has its typical perennial favourites.
TOP 5 – the most popular attackers:
This category includes ST, MS, RF and LF positions. The FIFA Ultimate Team players bet on these five goal scorers.
1. Wissam Ben Yedder (ST, OTW): 7.53 million games
2. Ousmane Dembélé (RF, gold): 7.45 million games
3. Wissam Ben Yedder (ST, 1.IF): 6.91 million games
4. Kylian Mbappé (ST, gold): 5.81 million games
5. Neymar Júnior (LF, gold): 5.61 million games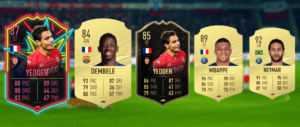 The four most popular attackers are French, followed by superstar Neymar. But they all have one thing in common: they have at least 4* skill skills and at least 4* on their weak foot. These are necessary to score a goal from any situation. In the same way, the forwards benefit from high speed, dribbling and shot values.
We have taken a close look at the boys.
Wissam Ben Yedder – 7.53 / 6.91 million games
The Frenchman is a real gatekeeper for FIFA fans. The AS Monaco striker has the highest final score in this list and is quite cheap compared to Mbappé and Neymar. That's why he has two of his special tickets in the top 5.
The 85 version is already available for 120k coins on the Xbox One and 170k coins on the Playstation 4 (as of 21.02.2020). The Ones-to-watch card (OTW) on the other hand costs more than three times as much. The clou about it: the value of the OTW card increases with every new special card Ben Yedder gets.

Many players bought the OTW card as early as October 2019, when AS Monaco striker "only" had a rating of 83 and was quite cheap with 100,000 coins – an investment that paid off. In 22 league games, the Frenchman has collected 23 scorer points so far, which enabled him to secure three Team of the Week tickets. Many OTW owners are happy about that and that's why they have been relying on the 29-year-old's offensive strength for months.
Strengths: 95 positional play, 94 finish, 94 agility, 5* weak foot
Weaknesses: 74 long shot, 71 long pass, 64 strength
Recommended Chemistry Style: Hunter (+10 tempo, +5 finish)
2. ousmane Dembélé – 7.45 million matches
The 22-year-old is a perfect wingman for the small purse. At the start of FIFA 20, Dembélé still cost 50,000 coins, but now he's cross-platform at a "bargain price" of 5,000 coins.
With Messi and Neymar still costing more than 600,000 coins on the wing position, many players are betting on the nimble sprint wonder. It has similarly strong sprint and dribbling values as the superstars and with the Chemistry-Style Deadeye (+11 shots, +7 passing) the Fanzose also becomes a goal machine.
strengths: 93 sprints, 89 agility, 89 dribbling, 5* weak foot, 5* skills
Weaknesses: 76 volleys, 78 reaction, 69 endurance, 52 strength
Recommended Chemistry style: Deadeye (+11 shot, +7 pass)
4 Kylian Mbappé – 5.81 million games
The striker from Paris St. Germain is currently experiencing an incredible hype. Of course, as many players as possible want to play the superstar in FIFA 20. Because of his incredible start, dribbling and finishing strength and his strong left to Neymar, many FIFA players claim that Mbappé is the best striker gold card in the whole game.
Although the Frenchman still costs ~600,000 coins today, he has made nearly 6 million games in Ultimate Team mode.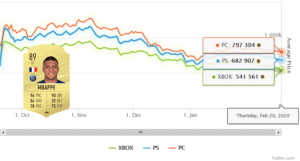 Strengths: 96 sprints, 92 agility, 89 finish, 5* skills
weaknesses: 70 long pass, 79 long shot, 82 balance
Recommended chemistry style: Marksman (+9 shot, +5 dribbling, +5 physis)
5th Neymar Júnior – 5.61 million games
Neymar and Mbappé simply belong together in Ultimate Team mode. With no outstanding left-wing players other than Neymar at the start of FIFA 20, many Weekend League players are forced to invest in the Brazilian. Even today, many Esportlers swear by the dribbling skills of the Parisian playmaker. According to Futbin, Neymar scores an average of 0.65 goals and 0.43 assists per game in 5.6 million games.
Strengths: 96 agility, 96 dribbling, 95 ball control, 5* skills, 5* weak foot
weaknesses: 49 strength, 61 jumping power, 80 shooting power
Recommended Chemistry style: Deadeye (+11 shot, +7 pass)