CS:GO pro Can "XANTARES" Dörtkardeş announces on Twitter that he is parting ways with the BIG Clan. There are already rumours about his future team.
The Turkish CS:GO pro Can "XANTARES" Dörtkardeş is no longer playing for the BIG Clan. The organisation announced this in an update last Sunday. The 25-year-old will be replaced by Dane Nicklas "gade" Gade, who has been newly signed by BIG.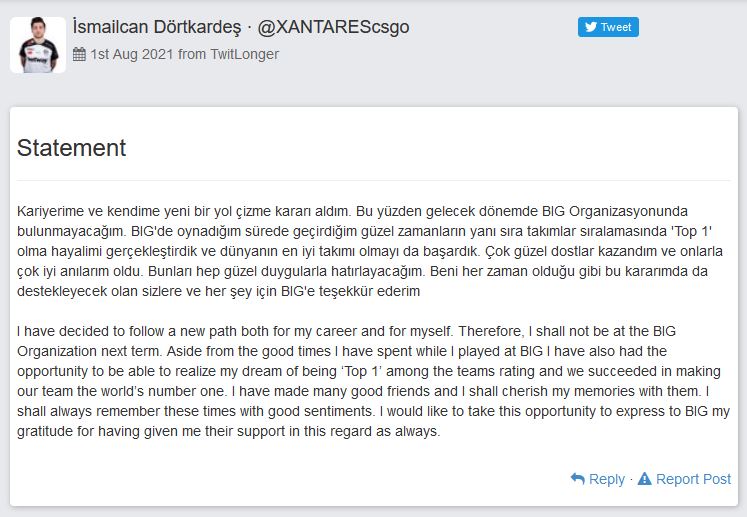 Immediately after BIG's announcement, XANTARES posted a statement of his own on Twitter. In his Twitlonger post he writes: "I have decided to take a new path both for myself and privately. Apart from the good time I have had at BIG, I have also been able to realise my dream of being 'Top 1' in team rating. We have succeeded in making our team number one. "
Since December 2018, XANTARES has been an integral part of the team. With BIG, he won DreamHack Open Leipzig 2020, DreamHack Masters Spring 2020, DreamHack Open Summer 2020 and the cs_summit 6, among others. Due to the successes during this time, BIG climbed to the top of the world rankings.
Soon Turkish "dream team" around XANTARES?
According to rumours from Gamerbase, plans are currently being made for a Turkish superteam around XANTARES. An official confirmation is still pending, but it is planned that he will take on the role of ingame leader. Besides him, ex-mousesports star Özgür "woxic" Eker will also be part of the team. Only a few details are still pending for an official confirmation.
Grenade Out 💣 #believethemyth

🇹🇷 Özgür "woxic" Eker
🇹🇷 Can "XANTARES" Dörtkardeş
🇹🇷 Ömer "imorr" Karataş
🇹🇷 Buğra "Calyx" Arkın
🇹🇷 Ahmet "paz" Karahoca

🔗🇹🇷 https://t.co/WQS0pyEJG1
🔗🇬🇧 https://t.co/CfDmAeGdop pic.twitter.com/1TVCG44wcC

— Gamerbase (@gamerbaseorg) July 31, 2021