The trailer for Cold War and Warzone Season 4 was released just in time for the Summer Game Festival. We show you what's going to be new!
There is a lot of information in the new trailer, even though it is only one minute long. New maps have been announced, Verdansk will change again and new weapons and operators are of course also included.
New maps for Cold War
Three new maps have been announced for the multiplayer. The first to appear in the trailer is the completely new 6v6 and 12v12 map Collateral. This shows a destroyed oil drilling station in the desert and is graphically reminiscent of the Satellite map. In the middle of the map, however, there are also some houses that enable fights in a confined area. The 12v12 version of the map also seems to feature vehicles such as buggies and motorbikes.
Next, the trailer shows the 2v2 map Amsterdam. This small map will be playable in the firefight modes and takes place on the rooftops of the city of the same name in the Netherlands. The scene in the trailer is reminiscent of the first campaign mission of Cold War.
Thirdly, there is a surprise for all Black Ops II fans: the extremely popular map Hijacked is coming back in the 6v6 modes. The map looks relatively unchanged, the luxury liner has apparently only received a graphical update.
Satellites falling from the sky
Some things seem to be changing in Verdansk as well. Crashed satellites can be found scattered around the map, which could contain new loot or become part of a new event. In addition, the attack helicopter with minigun is coming back into the game. Some players fear that the invisibility glitch will return.
There will also be new vehicles, namely motorbikes coming to Verdansk. These offer no cover, but should be faster and more manoeuvrable than the previous vehicles.
A new gulag will also be shown. This is modelled on the upcoming Black Ops map Hijacked, similar to Standoff.
New weapon gets unorthodox
The exact details of the upcoming Battle Pass weapons are not yet available, however, a weapon that looks like a nail gun can be seen in the trailer. Since in the past seasons such "fun weapons" were rather released during the season, the nail gun might not be part of the upcoming Battle Pass either.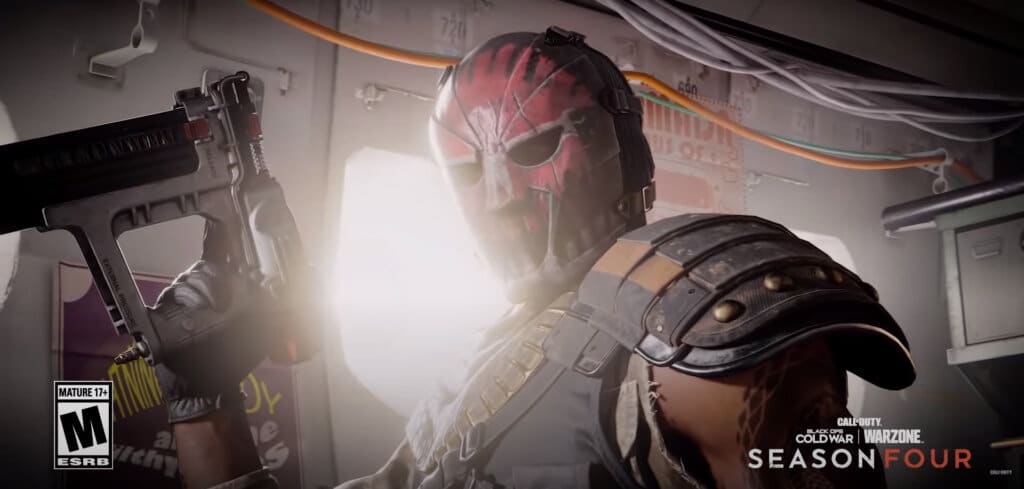 Finally new Zombies content
Season 4 will also finally offer new fodder for Zombies players. The trailer shows a new map for the Outbreak mode, where a dragon-like monster can be seen among all the zombies. The map is set in a zoo and will probably be called that.
There will also be a new map for the normal zombie mode. In the trailer, a burning train can be seen entering a railway station. So it could be a remake of the BOII map TranZit.