Season 2 of Call of Duty: Warzone and Cold War has a release date. We collect all the changes, new weapons, operators and maps.
The new update for Call of Duty: Warzone and Cold War is approaching with great strides: Season 2 will start on February 25, 2021. Multiplayer and Battle Royale will be expanded with new weapons, operators and more. We summarize for you what we know about Season 2 and what the trailer embedded above reveals besides the release date.
What Season 2 changes in Warzone & Cold War
The developer has published an official roadmap of the content you can expect with Season 2 in Warzone and Black Ops: Cold War. The new features are quite numerous. Not only are there new weapons and operators, but also various game modes, zombies and of course another Battlepass.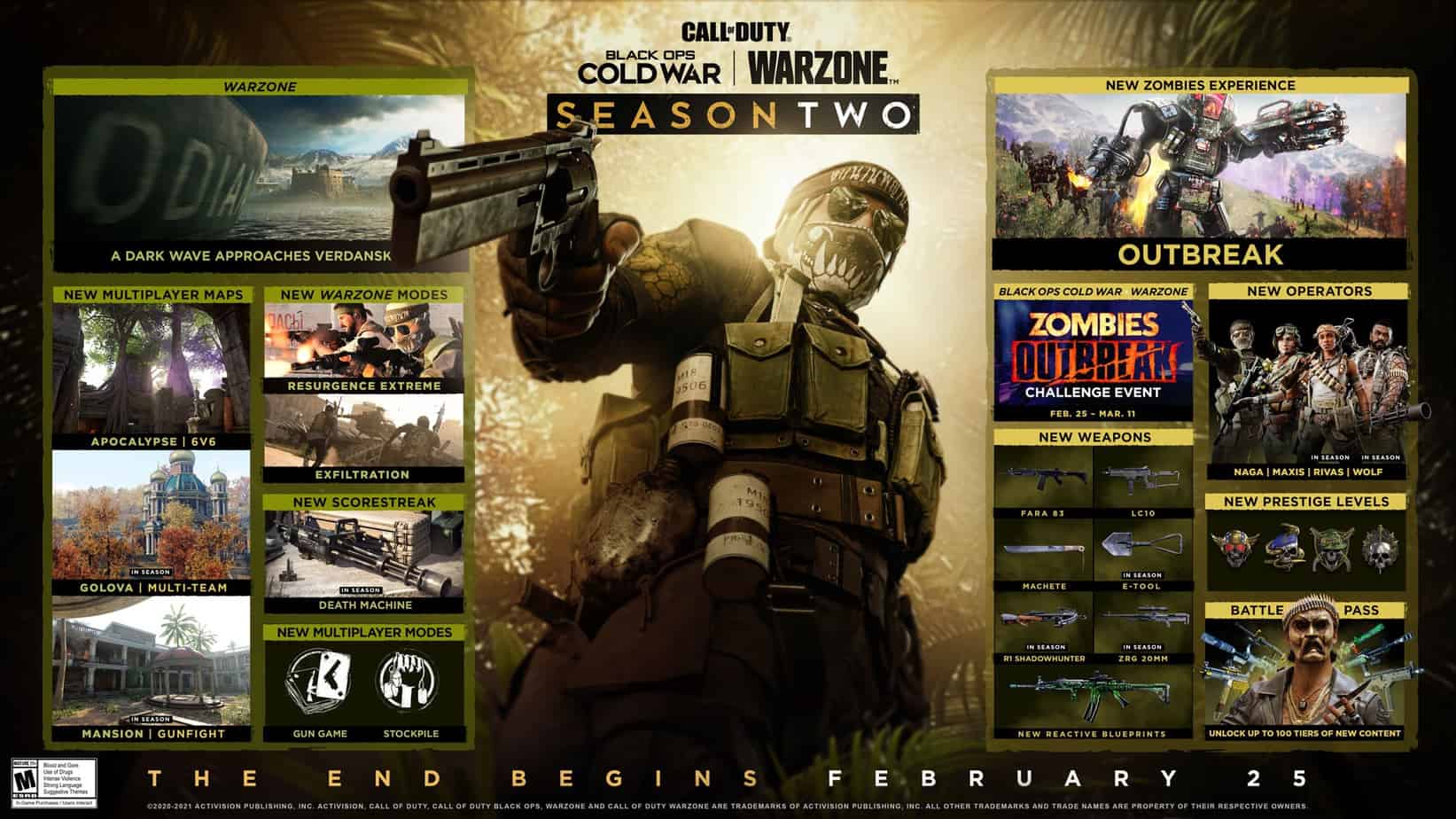 New weapons in Season 2
In the cinematic trailer you can see several new weapons, probably including a new Scorestreak, which will appear in Season 2. The guns will also be available in Warzone, as usual. The new roadmap also shows more weapons.
Machete (in Season): A special weapon that is preferably used in jungles.
E-Tool (in Season): Another melee weapon.
FARA 83: Fully automatic assault rifle.
Galil: A popular Assault Rifle from Black Ops.
AI-LC10: A new SMG that makes up for its low damage with rate of fire and less recoil.
R1-Shadowhunter Crossbow: Another special weapon that can take out silent targets.
ZRG 20mm: Sniper rifle with slow rate of fire, but deadly on body hits.
Mini-Gun Death Machine (Scorestreak): A handy minigun that is effective even against vehicles. Also available in zombie mode.
New operators in Season 2
Season 2 will see the appearance of four new operators, some of which appear in the trailer. The developer officially confirmed the names along with the roadmap.
Kapono "Naga" Vang, Warsaw Pact: a former warlord from Laos.
Samantha Maxis, NATO (in Season): Rescued from Firebase Z and now takes part in the battles.
Terell Wolf, NATO (in Season): An elite Delta Force sniper.
Karla Rivas, NATO (in Season): A specialist in guerrilla tactics.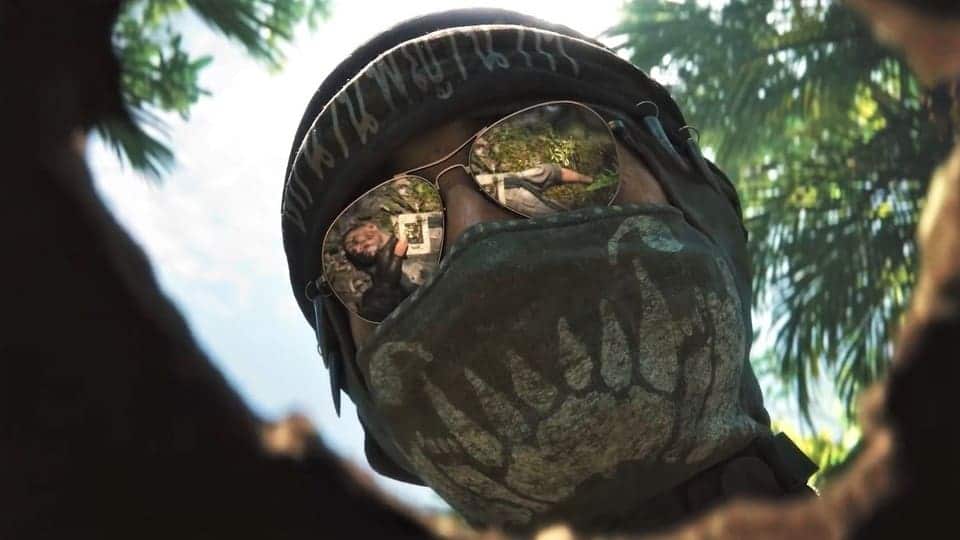 New Game Modes
There will be some new game modes with the second season of Warzone and Cold War.
Outbreak: a new zombie mode in which you'll complete tasks in the Ural Mountains. We have already gathered more information about this one in a separate article.
Gun Game (Free-For-All): A party mode without custom load-outs, perks, score breaks, equipment or field upgrades.
Stockpile (6v6) (in Season): A mix of Kill Confirmed and Hardpoint. You have to kill enemies and collect dog tags.
Hardpoint (Multi-Team) (in Season): A squad-based hardpoint mode for up to ten teams of four players each. You must capture and defend a point that changes position every 120 seconds.
New Maps in Season 2
Four new maps have now been officially confirmed.
Apocalypse (6v6): A cartel base in the middle of the jungle.
Golova (multi-team) (in Season): A Russian village in the Urals with an underground secret.
Mansion (2v2, 3v3) (in Season): The Cuban mansion from the campaign mission "End of the Line".
Miami Strike (6v) (in Season): A smaller tag version of the original map.
Kevin Drew, Lead Systems Designer, teased new features for Season 2 in the Season 1 launch broadcast. He also confirmed a planned new map for the multiplayer.
The map is supposed to appear directly with the launch of the second season and not with a mid-season update. Leaks also claimed that it will be set in Vietnam – according to the official trailer, a jungle setting in Southeast Asia actually plays a role, but in the neighboring country of Laos. However, no details about the announced map are known yet. We will keep you up to date, of course.
More vehicles
Sedan: In Outbreak you can drive a sedan from the Eastern Bloc.
Light Truck: Off-road vehicle that you can shoot out of.
What's changing in Warzone?
Game modes for Warzone
Rebirth Island Resurgence Extreme: The Resurgence game mode for up to 90 players at a time.
Exfiltration (in Season): During the course of a Battle Royale round, you must find a radio and keep it in your possession for a certain amount of time in order to win. However, the player with the radio will be marked on the map for all to see.
Is a new map coming?
There will be some new interesting points to discover in Verdansk. In addition, the developer is already teasing a change to the map. This is because the tanker Vodianoy brings an unknown cargo to the area.
There are hints that Warzone will get another new map after Rebirth Island, which will be bigger than Verdansk and will be set in the Ural Mountains. However, it is unclear whether this will be released so soon after the new area in Season 1. It's possible that you'll have to wait a little longer and that it won't be released in Season 2.
We have collected all information and leaks about the new Warzone map in a separate overview for you: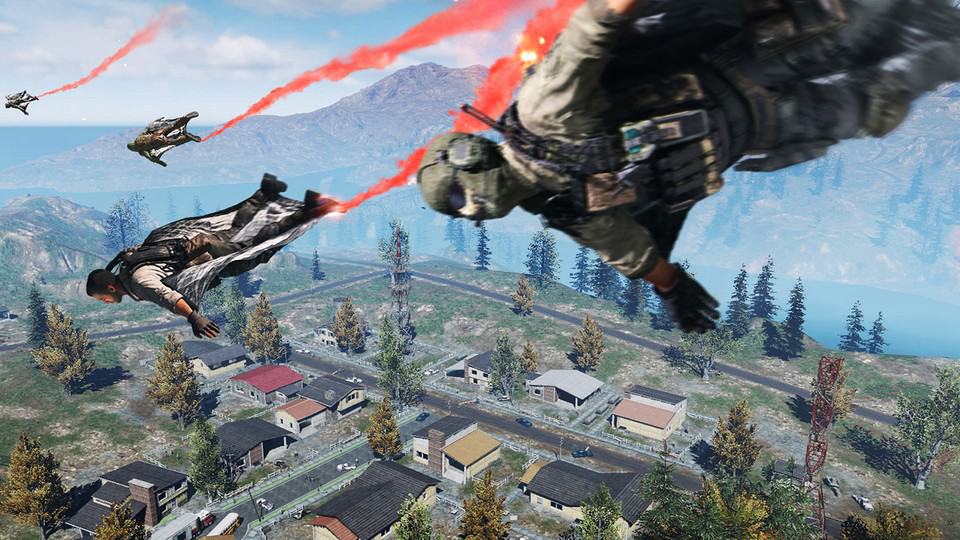 More Details: New Map for Warzone
What else is new in Season 2?
The current Battle Pass will expire on February 24, and the new one will start directly afterwards on February 25. It will once again contain 100 ranks, through which you can unlock rewards such as skins or CoD points. You can level it up in both Cold War and Warzone, both games share a progression system. It is not yet known which rewards will be available in Season 2.
In 2021, not only new Seasons for Warzone and Cold War will be released, but also a completely new Call of Duty. According to insiders, the next part of the shooter series will be set in the 1950s.