Call of Duty Warzone is to get a new, large map. We collect what is known about the update, release, setting and gameplay.
It is an open secret, even if the official confirmation is still waiting: Call of Duty: Warzone is getting a new map. As is often the case with CoD, a lot of information has already been leaked, with relevant websites and influencers like CharlieIntel, ModernWarzone and TheGamingRevolution balancing their discoveries.
We have fought our way through the leaks and info tidbits and collect here all the information known so far about the new Warzone map, the setting and the possible gameplay changes. This article will be continuously updated as soon as new details emerge or are confirmed.
Looking for tips on how to (re)enter Warzone? Then we at GameStar Plus have just the right guide for you. In it, we explain everything you need to know about weapons, loadouts, maps and the various game modes of Warzone.
All info & rumors about the new map
When will the new map be released?
Probable time frame: The release date of the new map is not yet known. But there is a time frame that sounds credible for several reasons, namely March 2021. The usually well-informed portal CharlieIntel also assumes this window.
What speaks for it: Warzone will be one year old on March 10, 2021. According to several sources, including YouTube, the developers are planning a big update for the anniversary, probably in the middle of Season 2. And this patch should include the Ural map, among other things.
What is the setting of the map?
It's obviously going to the mountains: Even though no official information about the setting of the new Warzone map is known yet, all insider sources agree – it's set in the Russian Ural Mountains.
What speaks for this: We already know the mountains from the Fireteams maps from CoD Cold War, so it is obvious that the new Warzone arena is based on them. It was the same with Modern Warfare – Verdansk was composed of multiplayer maps. And Russia (or rather the Soviet Union) would fit well with Cold War's theme, the Cold War.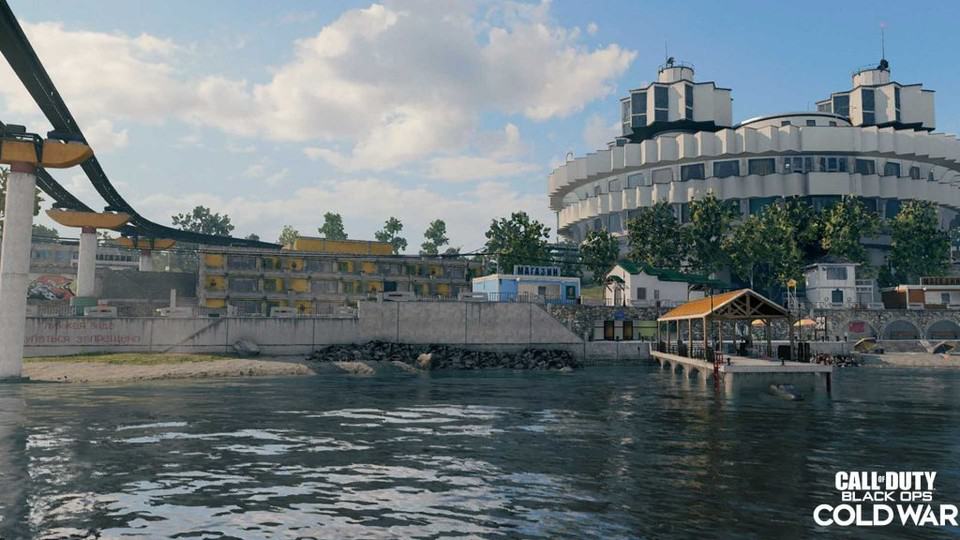 How big will the map be?
Bigger than Verdansk and Rebirth: according to ModernWarzone, the new Ural map is based on an 8×8 playing field. For comparison, Verdansk is larger on paper (9×9), but there is significantly less playable area (6.5×7). The most recent map, Rebirth Island, is even smaller and has room for a maximum of 40 players.
What speaks for this is that Warzone has so far only had a single, fully-fledged Battle Royale map, which has been expanded with a stadium, train and metro – but it still remains the same environment. And Rebirth Island is so compact that a maximum of 40 players can be on it. Many players were disappointed by the size of the island. If the new map is to be a real alternative to Verdansk, it will definitely have to offer enough space.
Layout and important places on the map
Composed of Fireteam maps: The new Warzone map is said to be partly composed of familiar multiplayer maps from CoD Cold War, namely Ruka, Alpine and Sanatorium. These areas are supposed to be connected by new areas. The layout could look like this, as ModernWarzone shows:
All signs are pointing towards the next full size #Warzone map being located in the Ural Mountains 🏔

— ModernWarzone (@ModernWarzone) December 22, 2020
The well-known CoD leaker TheGamingRevolution, who had already revealed concrete info about the Battle Royale long before Warzone's release, also posts a video online about the new map, in which he also goes into detail about its layout. His information coincides with that of ModernWarzone, revealing even more details.
These should be the important places of the new map:
Sanatorium (the map of the same name from Cold War along with the lake).
Weather station
Ski slopes (the alpine map from Cold War)
A zoo
A chemical laboratory in the middle of swamps
Mines
Spetznaz training area (the Ruka map from Cold War)
Duga
Golova
What is the reason for this? Verdansk was also composed of multiplayer maps, albeit ones from Modern Warfare. It would make sense if this is also the case with the new arena.
Will the gameplay of Warzone change?
Radioactivity: According to ModernWarzone, there will be new, dangerous environmental elements, possibly radioactive radiation, that will slowly damage you when you are in certain areas. Thematically, this would again fit well with the Cold War and Cold War storyline.
Boating: According to dataminers, you should be able to drive boats on a lake – this would be a completely new type of vehicle in Warzone, alongside vehicles and helicopters. The thesis is supported by TheGamingRevolution, among others. So far, we only know boat battles from Cold War, which, however, runs on a different engine.
Swimming: Even more exciting, however, is the rumor that we will finally learn to swim and dive, as is already possible in Cold War. However, it's unclear if and how this would be feasible with the basic technology framework of Warzone, which is based on Modern Warfare. There is no swimming mechanic in the engine so far.
What happens to Verdansk?
Nuclear bomb is supposed to explode: For months, rumors have been circulating about a nuclear explosion that will change or even destroy the Verdansk map. Now some sources name a concrete date: March 11 is supposed to be the day, as ModernWarzone writes on Twitter, for example:
March 11th

— ModernWarzone (@ModernWarzone) February 18, 2021
Will Verdansk be deleted? Some believe that Verdansk will be completely replaced after the explosion, after all, the new season is titled "the end begins". However, we think that this is unlikely. After all, the developers have been working on the map for many seasons, so it would be a pretty drastic step to delete Verdansk. Presumably, it's a special mid-season event that either introduces a new game mode (like the zombies at Halloween) or provides permanent changes like nuclear radiation.
What is Dark Wave? The official roadmap for Season 2 of Warzone and Cold War talks about a "dark wave coming towards Verdansk". In the trailer, a ship could already be seen heading towards the port. As the developers announced, the tanker will become a new point of interest on the Verdansk map, which you will be able to explore from the start of the season.
What does Rebirth Island's Easter Egg reveal?
Clear allusion: on the small Battle Royale map Rebirth Island, players have discovered an Easter Egg that provides a clue to the setting of the Ural map. In a hidden bunker, you'll find – in addition to weapons and killstreaks – documents that mention a bunker under Mount Yamantau. It really exists, it is the highest mountain in the Russian Ural Mountains.
How to find the Easter Egg: You have to find a suitcase on Rebirth Island, which randomly appears at different locations. In it you will find three locations on the island that you have to visit. At each one you'll receive a numerical code, which you then put together and enter at the yellow door in the command center. ModernWarzone has created a map with all spawn points known so far:
Thanks to the hard work of @TheGamingRevo3 and @dkdynamite1 we now have maps showing the briefcase and numbers locations for the new #Warzone Rebirth Easter egg!

Notes:
9 briefcase spawn locations 💼
26 reference photos 📸
26 numbers locations 🗺
Endless combinations 🔓 pic.twitter.com/d1ndVF00xs

— ModernWarzone (@ModernWarzone) December 18, 2020
Typical for Call of Duty: The fact that the developers like to scatter hints about innovations bit by bit through such Easter Eggs has been clear at least since Cold War. The unveiling campaign of the new Black Ops dragged on for weeks, with ever new riddles, which then revealed the Cold War setting at the end. More hints about the new warzone map will probably appear in the near future.