In the Battle Royale PlayerUnknown's Battlegrounds (PUBG) the developer has started an action for a good cause. To fight the consequences of the heavy bush fires in Australia, a special frying pan skin is now available in the ingame shop.
100% of the profit raised from the Australia Fire Relief – Pan skin will be donated to help communities across Australia with immediate bushfire relief and future support.

Thanks to community artist @SWatercolour for kindly contributing his original art. pic.twitter.com/tILABk07eD

— PUBG (@PUBG) February 19, 2020
Frying pans against bush fires
Since the beginning of the severe bush fires in Australia, there have been repeated disaster reports from "Down Under". The PUBG Corporation now announced to make a very special contribution to the reconstruction.
In cooperation with the popular illustrator Hector Janse "shitty_watercolour" van Rensburg they designed a special frying pan skin for the PUBG players.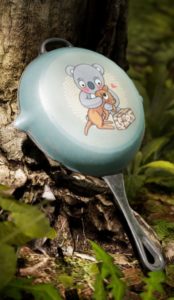 For one month, the pan will be available for sale in PUBG's in-game shop ($2.99 for PC / 300 G-Coins for consoles). According to PUBG Corporation, 100% of the resulting proceeds will then go to an aid organisation to support Australia.
The developers commented on the fundraising campaign as follows:
"Australia and our environment will take a long time to recover from this disaster, but we are grateful to be in a position to help with such an important cause."
The PC version is already available and will remain on sale until March 19th. The console version will follow a week later on 27.02. and will be available until 26.03.
What do you think about the fundraiser? Tell us about it through the social media!