Dans le cadre de la Bataille Royale PlayerUnknown's Battlegrounds (PUBG), le développeur a lancé une action pour une bonne cause. Pour lutter contre les conséquences des lourds feux de brousse en Australie, une peau de poêle spéciale est désormais disponible dans la boutique du jeu.
100% of the profit raised from the Australia Fire Relief – Pan skin will be donated to help communities across Australia with immediate bushfire relief and future support.

Thanks to community artist @SWatercolour for kindly contributing his original art. pic.twitter.com/tILABk07eD

— PUBG (@PUBG) February 19, 2020
Poêles à frire contre les feux de brousse
Depuis le début des graves incendies de brousse en Australie, des catastrophes ont été signalées à plusieurs reprises par les « Down Under ». La société PUBG a maintenant annoncé qu'elle apporterait une contribution très spéciale à la reconstruction.
En coopération avec le célèbre illustrateur Hector Janse « shitty_watercolour » van Rensburg, ils ont conçu une peau de poêle à frire spéciale pour les joueurs de PUBG.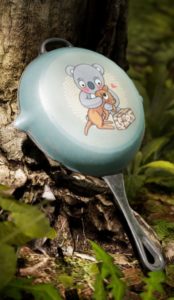 Pendant un mois, le plateau sera en vente dans la boutique en ligne de PUBG (2,99 $ pour les PC / 300 G-Coins pour les consoles). Selon PUBG Corporation, 100 % des recettes qui en résulteront seront ensuite versées à une organisation d'aide pour soutenir l'Australie.
Les développeurs ont commenté la campagne de collecte de fonds comme suit :
« L'Australie et notre environnement mettront beaucoup de temps à se remettre de cette catastrophe, mais nous sommes reconnaissants d'être en mesure de contribuer à une cause aussi importante ».
La version PC est déjà disponible et restera en vente jusqu'au 19 mars. La version console suivra une semaine plus tard, le 27.02. et sera disponible jusqu'au 26.03.
Que pensez-vous de la collecte de fonds ? Parlez-en à travers les médias sociaux !