by in
For the first time since the release of VALORANT, Executive Producer Anna Donlon is back in a video update. It's all about the future of the game.
Less than a month after the release of Riots shooter VALORANT, there is a preview of where the game will go in the future. There is talk of new agents, new maps and much more.
The roadmap
In the future, the game will be divided into episodes and acts, which will be used to reveal the story behind the characters. One act is supposed to last about two months, so act one: ignition is now about halfway through. Each episode consists of three acts, so it will last for half a year.
The release of a new act is also the date for major updates with new agents and maps. With every new act, a new agent should come, which means that six new agents are added per year. However, this plan can be adjusted according to feedback from the community.
The first new agent after Reyna has already been tased: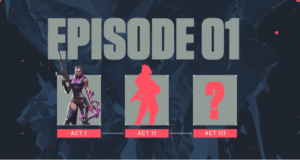 Many details about the agent are not yet known. In some forums there is speculation about an agent with turrets or similar abilities. None of this has been confirmed yet.
In addition, a new Battle Pass comes with each act, new skins should be available about every two weeks. It will be a bit more unspecific with new game modes. According to Donlon, a new mode will come before the start of episode two, but so far there is no fixed cycle.
One point that has been left open is the maps. A big criticism of the community are the few maps that are available so far. With only four maps there is little variety and in big tournaments best-of-fives are hard to achieve.