by in
With the launch of VALORANT, the first Battlepass was released at the same time. It offers 50 different rewards that can be unlocked while playing.
The tactical shooter VALORANT is out of the beta version and officially available since June 2nd. With the Battlepass "Ignition: Act 1" there are 15 items in total in the form of weapon skins, talismans, player cards and graffiti. In addition there are Radianit points, which can be exchanged for further VALORANT points. At the final level 50, the knife skin "Melee – Kingdom" awaits.
Free access for every player
The Battlepass unlocks little by little cosmetic items. The longer a player collects experience points (EP) through online matches, the more items are added. This pass is available to everyone and is valid for the first act until it is replaced by the next act in the future. Each new act will also offer a separate Battlepass with new exclusive rewards.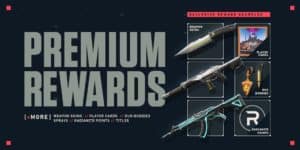 In order to receive the Premium version of the Battlepass, 1,000 VALORANT points must be invested. These can be purchased in the main menu in the shop. For example, the package with 1,150 VALORANT points costs 11.99 euros. Riot Games promises more rewards for this than for the standard version, but also assures that in-game purchases do not bring any advantages for the gameplay.
With a little playing time, everyone can even afford the Premium Battlepass. At levels 3 and 8 there are 10 Radianit points to earn, each of which is worth 800 VALORANT points. So the costs for a Premium variant are quickly covered. On the other hand, the in-game currency can also be used for products from the shop.
Motivating reward system including bugs
The Battlepass allows you to earn XP while you are pursuing a character mission. As a result, players do not have to choose between the two options, but can make new progress in both areas.
However, at the start of the Battlepass, not everything seems to be going well in terms of rewards. Because some users write on Twitter about items that they did not receive. Riot Games must address this problem promptly in order to make the promised features available to the community.
The responsible developers of VALORANT have already commented: "We are aware of the problem that players do not receive rewards from the Battle Pass." The players should receive their items, which they would have already earned, afterwards.