Gorgeous visuals, largely unconsumed scenario – the construction game in ancient China sounds exciting, but reveals some weaknesses in the test.
China is on the rise in the world of computer games. On the one hand, of course, through the giant publisher Tencent, which is acquiring more and more prominent studios, but the Far Eastern country is also becoming increasingly popular as a setting, as Total War: Three Kingdoms or Stronghold Warlords prove.
Ballads of Hongye is a classic building strategy game that has attracted a lot of attention in the run-up, especially due to its picturesque graphic style. Just take a look at this trailer:
Now the game is available for ten euros in the virtual Steam shop, but the reviews are not even 50 percent positive. Because as the famous general and part-time gamer Sun Tzu used to say: "Graphics alone do not make a good game.
New start for Hongye
Your goal in the game is simple: rebuild the fictional province of Hongye! You can tackle this task either in Challenge Mode or in Relax Mode. These are largely identical, but in the latter mode the time limits are omitted.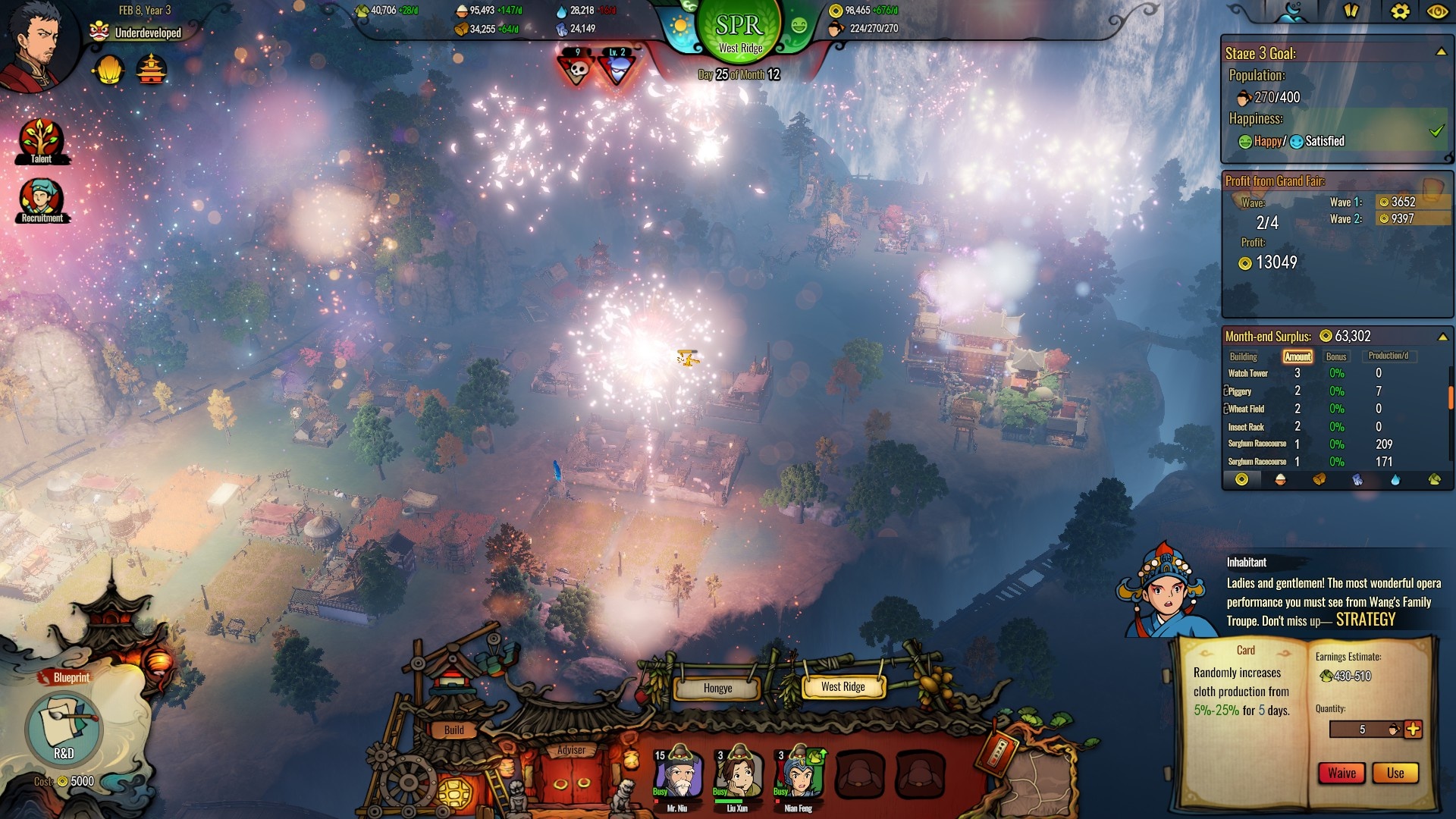 Unfortunately, there are no other game modes apart from the two already mentioned: you have to do without multiplayer, individual scenarios and even a classic endless game.
Before you can cultivate the eight areas in the campaign, a committee presents you with a document with concrete goals for each of the areas, which are divided into three phases. In the area called West Ridge, for example, you must recruit an advisor in the first phase – more on that in a moment – reach a population of 200 in the second, and rule over a total of 300 citizens in the last section.
Set, six
The said committee will rate your performance in four different categories at the end of each phase. If you"ve taken forever to reach a goal, you"ll be dumped with a "D" in time efficiency. At the same time, you can get an S+ if you"ve made your population very happy.
The whole thing is then summed up in an overall score. Whether the ancient Chinese really used ratings from D to S+, as you know them from some meme rankings, remains to be seen – but it works in the context of the game.
Rebuilding a province and being judged at the same time? No easy task. Fortunately, you can recruit advisors, some of whom will support you with tangible bonuses such as a 15 percent increase in food production for seven days.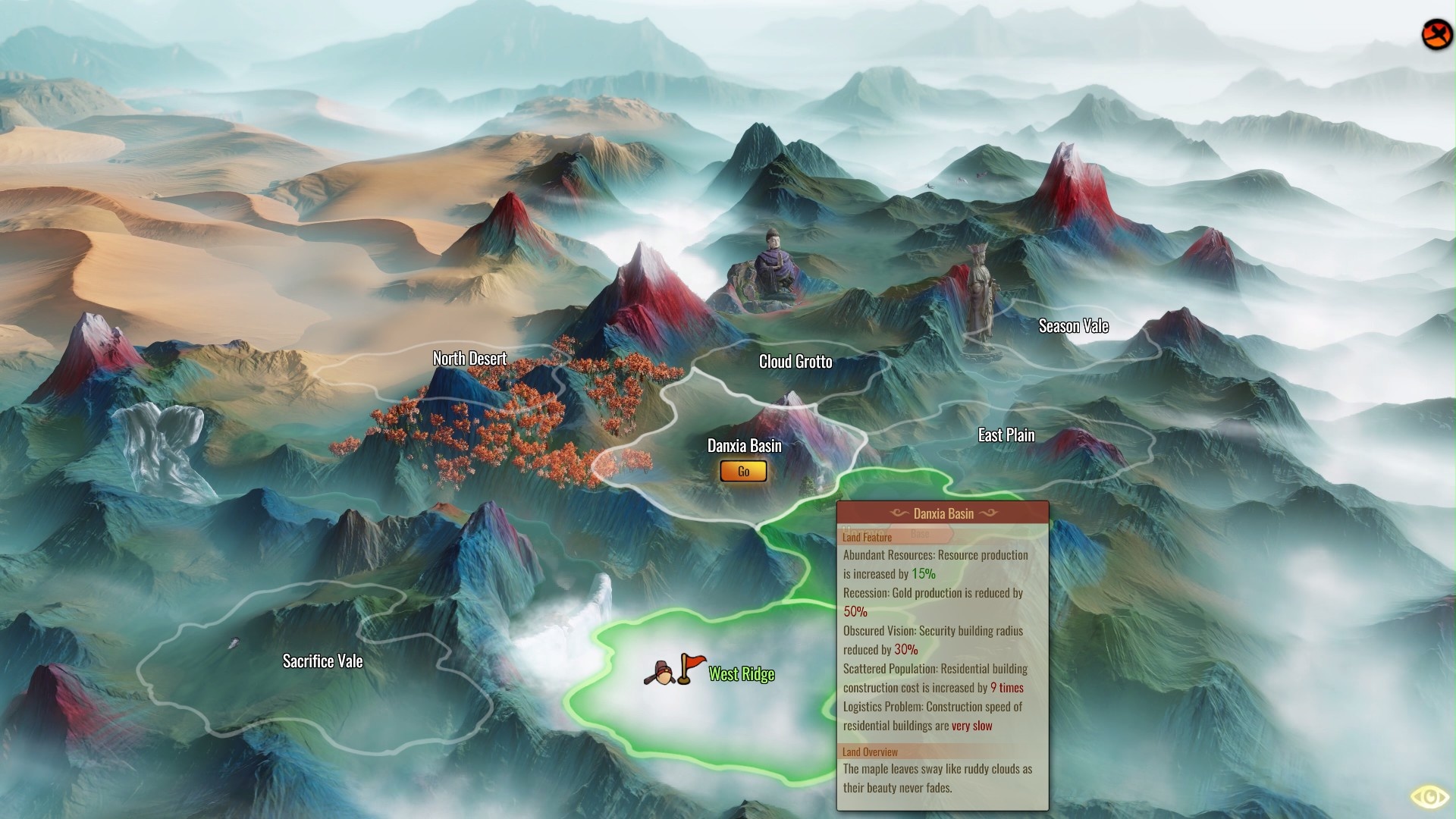 These advisors also want to be paid at the end of the month and occasionally demand salary increases. If you do not comply, you risk your consultants becoming dissatisfied and leaving your services. It is therefore important to carefully weigh up their actual benefits.
The four seasons
In terms of gameplay, Ballads of Hongye offers genre standard at first glance. Your inhabitants want to be supplied with food, water and clothing, and you also need wood and ore as building materials. Just plant a few wheat fields and the food supply is ready? Far from it! Because said wheat fields yield the most in autumn, but considerably less in summer and winter, and nothing at all in spring.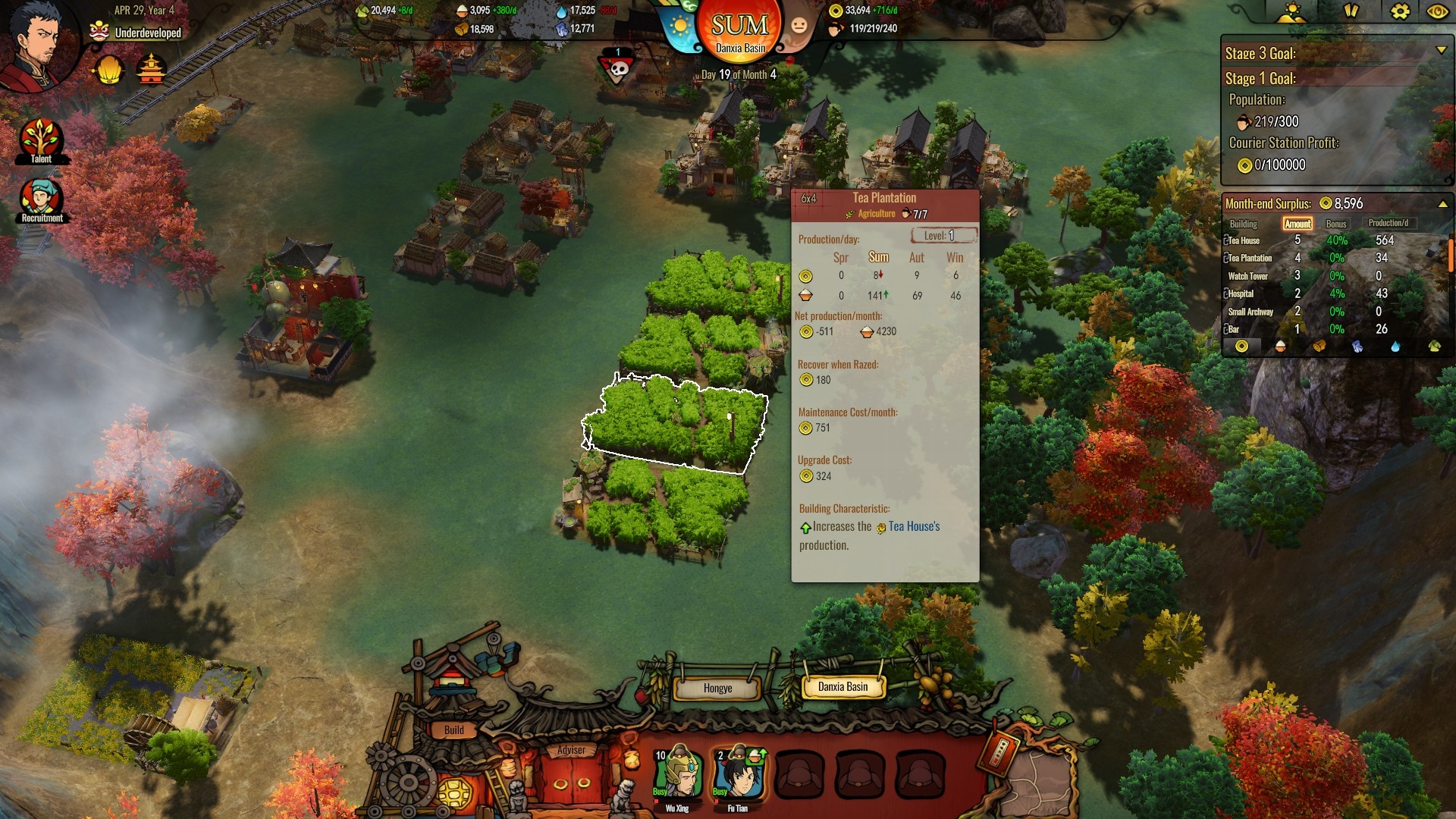 And that brings us to one of the most important features of Ballads of Hongye: the seasons. All buildings are particularly effective at certain times of the year, but at others they are just a drain on your pocket. The maintenance costs always remain the same. Is it worthwhile, for example, to tear down wheat fields in spring and rebuild them later, or do you compensate for the loss elsewhere? Ballads of Hongye therefore offers a lot of room for fiddling and foresighted action, at least in theory.
In the test, we found the seasons rather annoying, as they changed every few minutes and we were constantly cleaning up after them. Time, by the way, can neither be accelerated nor slowed down, only paused. During the pause, however, you are not allowed to give any building orders.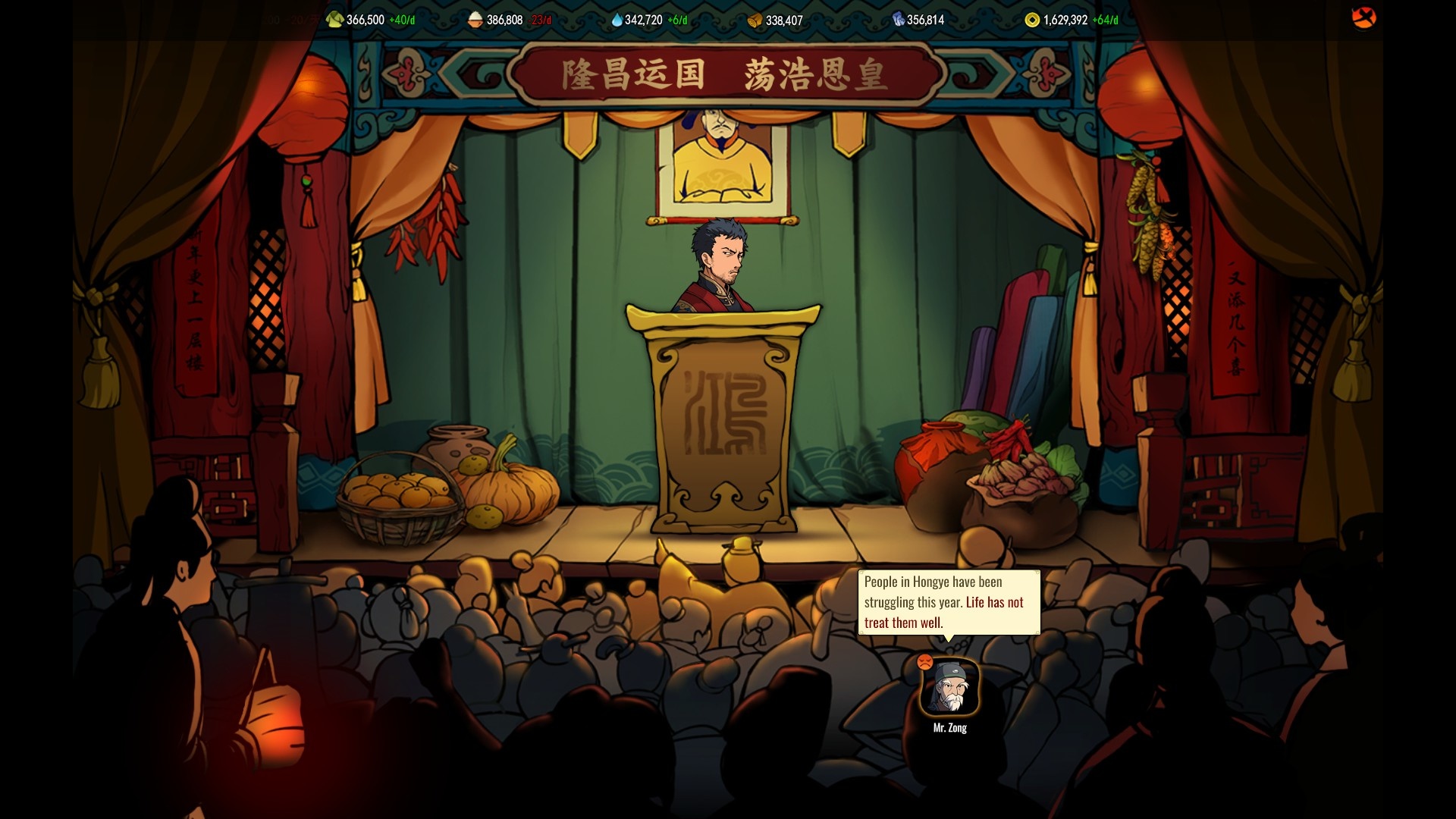 Everything goes wrong that can go wrong
As if the seasons weren"t stressful enough, you also always have to reckon with disasters: From earthquakes to lightning and fire outbreaks to epidemics, it"s all here. The frequency of these disasters is still quite high, even though the developers have meanwhile improved the situation with a patch. In our first test version, so much went wrong that it made every disaster film look old.
You can fight some of these disasters, for example a fire station bravely extinguishes fires – but these buildings are also expensive to maintain and should therefore be built carefully.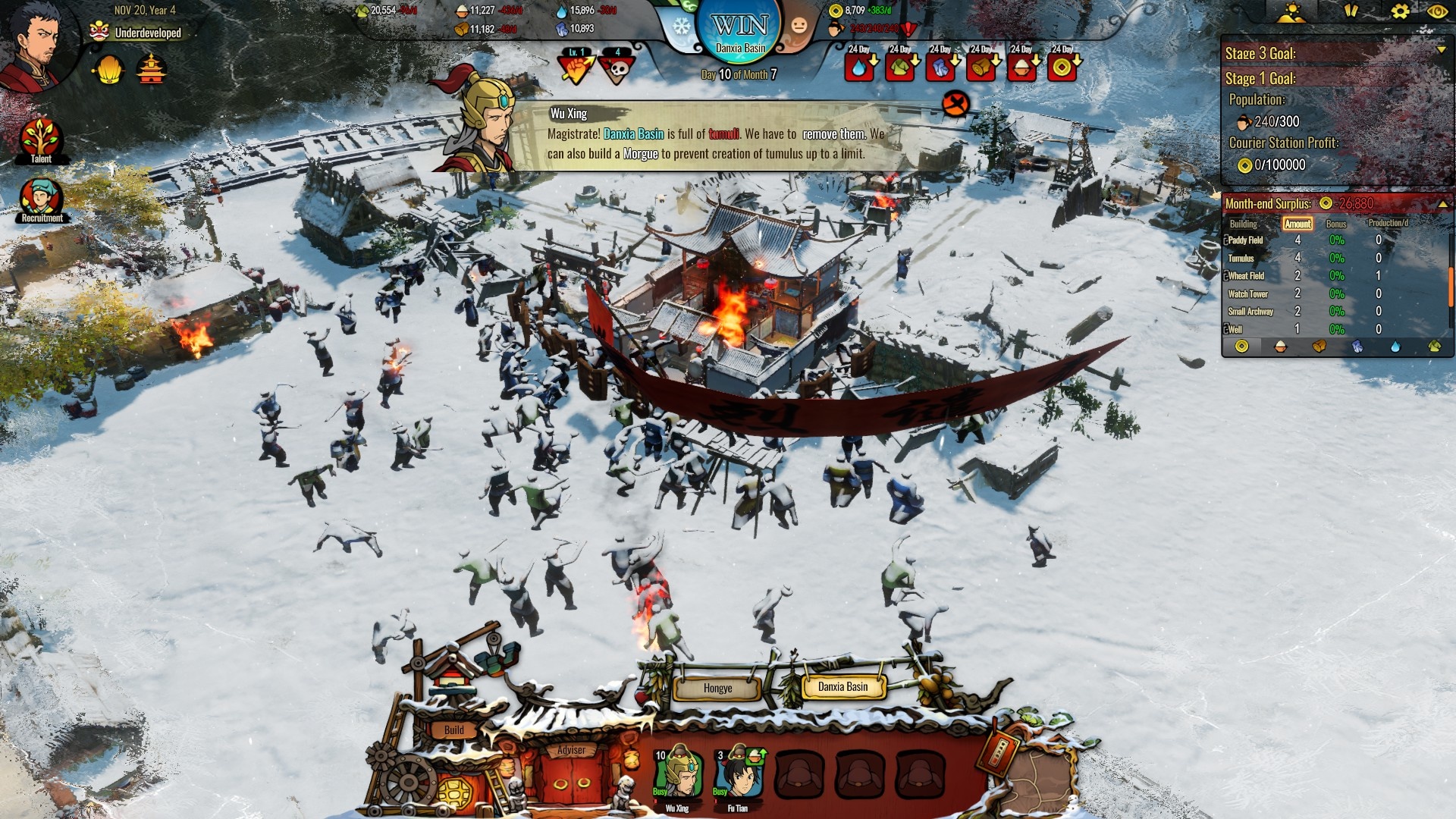 Generally, we need to talk about the economic system of Ballads of Hongye. As in most genre representatives, there is a display at the top of the screen that shows your stock of food, wood & Co. The trouble is: this display is practically useless. There is also a financial book, which tells you exactly how much you are generating from which product. Here you are sometimes confronted with completely different values.
Example: According to the display at the top of the screen we produce -205 meals per day, but according to the book we produce +635. How does that fit together? It can also happen that you nominally earn over 2,000 money coins – which sounds great at first – but at the end of the month you lose money because the maintenance costs are not included. So you have to study tables. In general, one of the biggest problems of Ballads of Hongye is that many essential game systems are explained too late or not at all.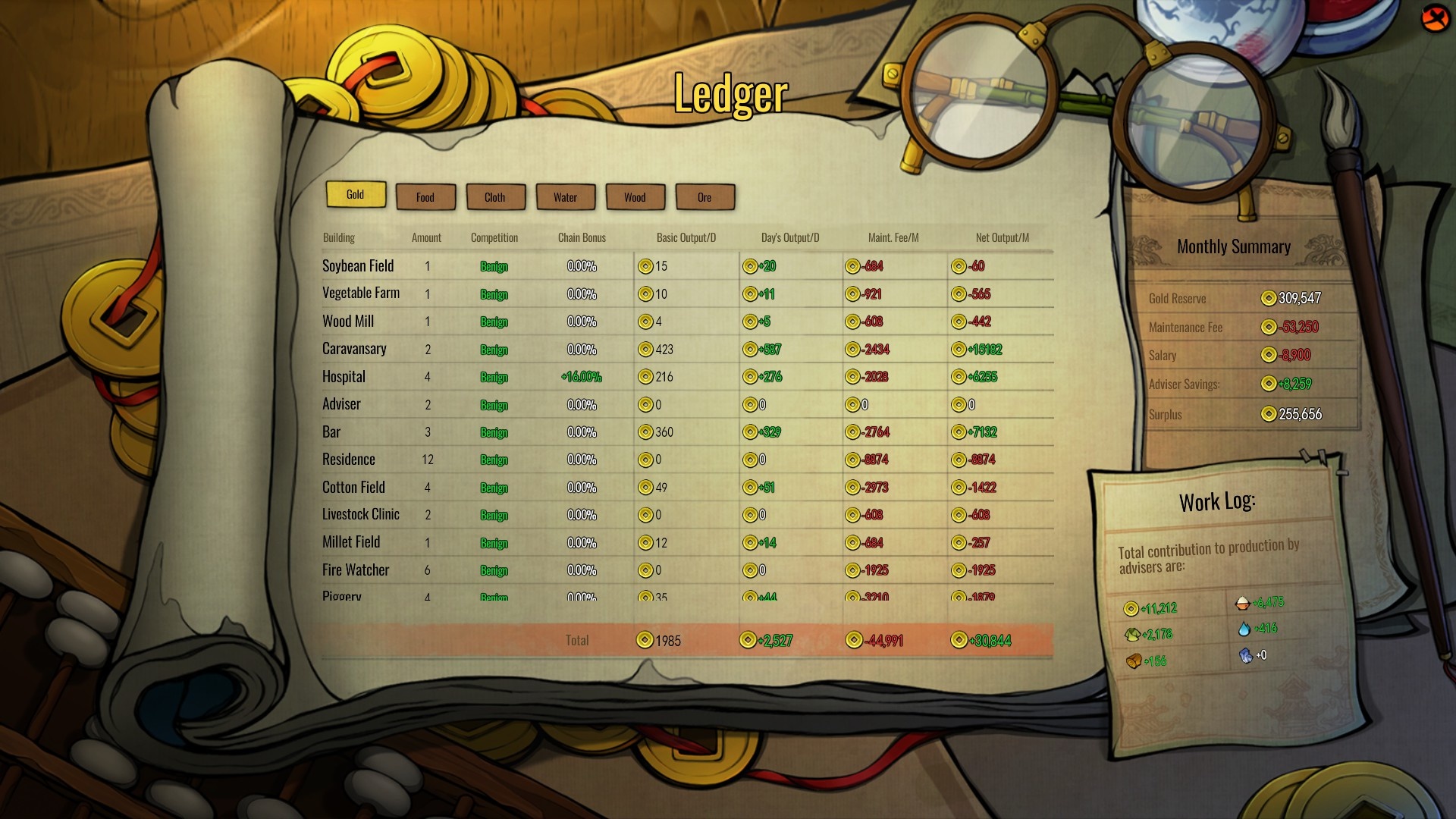 The highlight at the end
But enough complaining! Ballads of Hongye does one thing really well: the visuals. Here, above all, the lush colours and the many beautiful panoramas directly catch the eye. When busy workers build a new farm while a majestic waterfall towers over the entire valley in the background, every construction strategist"s heart leaps for joy.
The animations also show a lot of attention to detail; for example, one of our guards may be chasing a criminal through the treetops of our grove. Last but not least, the seasons are visually beautifully staged. The game also creates atmosphere through small optical tricks such as freezing the edges of the screen in winter.

Steam is currently receiving some complaints about the game"s performance, which is said to be not good even on powerful computers. On our test system (RTX 3080, i7-11700K, 32 GB RAM), however, Ballads of Hongye almost always ran smoothly on the highest settings. On the other hand, the loading times are rather long, but this is hardly a problem in view of the game"s other major problems.
So is a trip to the Middle Kingdom worth it? Graphic connoisseurs can certainly have fun with Ballads of Hongye, but construction games of this (or better) quality are as numerous as stones in the Great Wall of China.
Ballads of Hongye - View screenshots!
Editor"s conclusion
Ballads of Hongye requires a differentiated view: I myself can hardly do anything with the game and had to force myself to continue playing after the second area. This was mainly due to the unnecessarily opaque economic system as well as the frantically fast change of seasons and the countless catastrophes that don"t leave me a moment"s peace. If you prefer to build quietly and according to your own ideas, I must honestly say: Hands off this game! Or at least wait until a clever endless mode is added at some point.
If, on the other hand, you are one of the seasoned construction veterans, you like to discover mechanics on your own and you are just looking for a genre representative for in between, Ballads of Hongye is by no means uninteresting. At a fair price of currently ten euros on Steam, you can"t do much wrong here anyway.