The SWAT successor in spirit storms the Steam bestsellers with explosive charges and stun grenades, but loses its publisher at the same time.
Ready or Not is currently a big topic – and for several reasons. After its surprising Early Access launch on 17 December, the tactical shooter is now being treated as an extremely promising successor to Rainbow Six 3: Raven Shield and SWAT 4. At the same time, however, there was also controversy about a possible rampage level at a school. We summarise the events.
Sudden launch amid praise
The launch of Ready or Not came out of nowhere and was actually ill-starred. The developers spoke of financial reasons and a lack of supply of keys as the primary reason for the early launch. But the tactical shooter turned out to be a complete success:
Players are absolutely thrilled with Ready or Not in the Steam reviews, 93 percent of the 15,000 reviews give it a thumbs up.
Above all, the realistic and methodical gameplay and the high degree of polish for an Early Access version with only a few bugs are praised.
For many players, Ready or Not is already the best contender to succeed the old SWAT and Rainbow Six parts.))
Openly, Ready or Not is deliberately filling a gap in the market that is currently hardly covered by other games. In the Christmas week, the tactical shooter therefore recorded more sales than all other titles on Steam – and that despite the Christmas sale with many offers.
Steam Best Sellers Last Week (Christmas Week)

1. ready or not
2. FNAF: Security Breach
3 It Takes Two
4 Halo Infinite Campaign
5 Forza Horizon 5
6. valve index
7 Battlefield 2042
8 Sekiro: Shadows Die Twice GOTY
9 Project Zomboid
10. Red Dead Redemption 2 pic.twitter.com/zkgVoTKhEA

– Benji-Sales (@BenjiSales) December 26, 2021

School Shooting? Publisher drops out
At the same time as Ready or Not was triumphant, there was also a small scandal surrounding Ready or Not:
When asked by a player, a Ready or Not developer confirmed that there would be a school level with a rampage scenario. The post (was later removed.)
Shortly after, the partnership between developer studio and publisher Team17 was terminated. Media reports suggested a connection with the confirmation of the school rampage level.
In a statement to (PCGamer), the studio clarified that the separation from Team17 had nothing to do with the announcement of the rampage scenario in the game. It is unclear whether and how far the level has already been developed.))
Via Twitter, the developers emphasised that the project would be approached with respect and sensitivity. They do not want to shy away from sensitive topics.
– VOID Interactive (@VOIDInteractive) December 24, 2021

New number one on Steam
Over the course of Christmas week, Ready or Not set new user records on Steam almost daily, reaching a ranking in the Steam Top 100 with nearly 20,000 concurrently active players.
And even after Christmas Eve, the tactical shooter held on to the top of the bestsellers, as evidenced by the list from 28 December: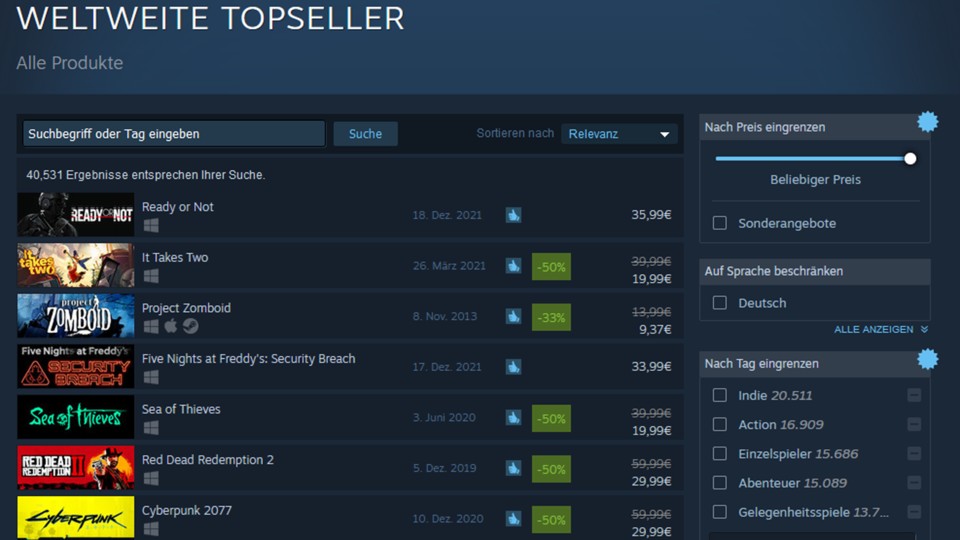 What is the current status of the game? Ready or Not in its current incarnation contains six playable levels with different scenarios ranging from hostage rescue to bomb defusing, which can be played solo with an AI squad or in co-op.
A wide range of authentic weapons and equipment will be available, including stun grenades, pepper spray, battering rams, ballistic shields, night vision goggles and much more. New missions, PvP and translations into several languages will follow in the next 12 months.