by in
It has been known for quite some time that Rocket League will soon be Free to Play. Now developer Psyonix has announced new information – users should be happy.
Rocket League is switching to Free to Play and introduces some new features to the popular autoball game.
An exact date for the changeover is still pending, but Psyonix has already announced information about the ranking, the Rocket Pass and the online mode.
No PlayStation Plus or Nintendo subscription necessary
The changes in the online mode are especially interesting for the Rocket League fans. In the future, there will be no need to subscribe to PlayStation Plus or Nintendo Switch Online.
In addition, the previous Rocket ID will be merged with the Epic account. So the friend list from Epic Friends will be visible in the Rocket ID and vice versa.
Rocket Pass linked to season
Until now, the Rocket Pass was not really traceable in terms of time. This will change with the update. In the future the pass will be linked to the respective competitive season.
The first season will start with Free to Play, so that the Rocket Pass will be playable. As soon as the current season ends, the pass will also end.
The tournaments in Rocket League will also follow the schedule of the Seasons.
New Rank System
In Rocket League there will continue to be a ranking system. To unlock it, players must now reach level 10.
Until now, Grand Champion was the highest rank. With the introduction of Free to Play, this will be divided into three levels: Grand Champion 1, Grand Champion 2 and Grand Champion 3, and the new highest level will be called Supersonic Legend.
Players who are currently Grand Champion are expected to be ranked in Grand Champion 1.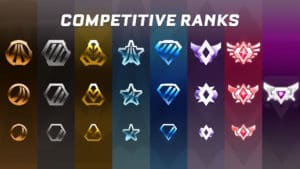 There will also be changes in the lower ranking area. The lower ranks will be more like the gold level. Experienced players will be preferred. For example, a player who is currently ranked in a bronze level should be ranked higher than a complete newcomer after his placement matches.
New quickchats, a new soundtrack and other minor changes will also be introduced. You can find the details here.
A major update for Rocket League is scheduled for mid September. According to Psyonix the free-to-play start will follow shortly after.