Diablo, WoW, Call of Duty: The new Microsoft reign is a huge opportunity for popular series. Because the new start brings with it numerous advantages.
Microsoft's announcement about its purchase of Activision Blizzard hit like a bomb on Tuesday. The industry giant has been setting video game milestones for many years with franchises like World of Warcraft and even Call of Duty. Nevertheless, the question now remains open as to what will happen to the games and the players.
Activision Blizzard went under the hammer for 68.7 billion US dollars. Microsoft snatched up the company and thus also brings on board numerous games that are an integral part of the gaming world. These are represented on pretty much every platform: PC, PlayStation, Xbox, but also the Nintendo consoles and even smartphones. For some of these games, there could be changes over time.
A big issue will most likely be the group of Xbox exclusive titles. It was already the case when Bethesda took over that games were only released for their own console for the time being. This could possibly also apply to Activision Blizzard's titles. This would mean that games like Spyro, Crash Bandicoot and also Call of Duty would only be released for the Xbox. The CoD franchise enjoys huge popularity on the PlayStation.
Exclusive titles only for Xbox
However, there is a small all-clear for all Call of Duty fans for now. Microsoft gaming boss Phil Spencer revealed in an interview with the media outlet (Bloomberg) that it is not their intention to pull communities away from the platforms. The number of players on the PlayStation would make up a significant portion and accordingly play a significant role in revenue.
Therefore, Microsoft would be shooting itself in the foot if Call of Duty were suddenly an exclusive title for the Xbox. However, it is quite conceivable that in future some content will only be available on Microsoft's console and that PlayStation players will have to do without it. The well-known insider Tom Henderson is of this opinion, as Call of Duty makes too much money on the PlayStation.
I don't think Call of Duty will go Xbox exclusive BTW.

The series makes too much money on PlayStation to just alienate such a big community (remember that Microsoft now OWNS Call of Duty).

Some form of DLC exclusivity? Sure… But not a console exclusive.

Tom Henderson (@_Tom_Henderson_) January 18, 2022

Because of this, Sony has also spoken up and tried to dispel the concerns of the players:inside. In a statement to the magazine (Bloomberg), the company hopes that Microsoft will stick to the contractual agreements and thus Activision's games will remain cross-platform. In addition, the purchase will not be fully completed until 2023, which means that already planned titles such as Overwatch 2 and Diablo 4 will most likely still be released on the PlayStation.
Game Pass as a new subscription system
One of the biggest changes could come in regards to Game Pass. The Blizzard-Activision games will expand the Game Pass offering, attracting even more gamers:inside to Microsoft's subscription system. This was already the case with the Bethesda takeover, when The Elder Scrolls Online was integrated into Game Pass.
This could also happen with World of Warcraft, for example. For the MMORPG giant, monthly costs are incurred to get access to Azeroth. The previous payment process could be transferred to Game Pass due to the takeover. This would be similar to the current model.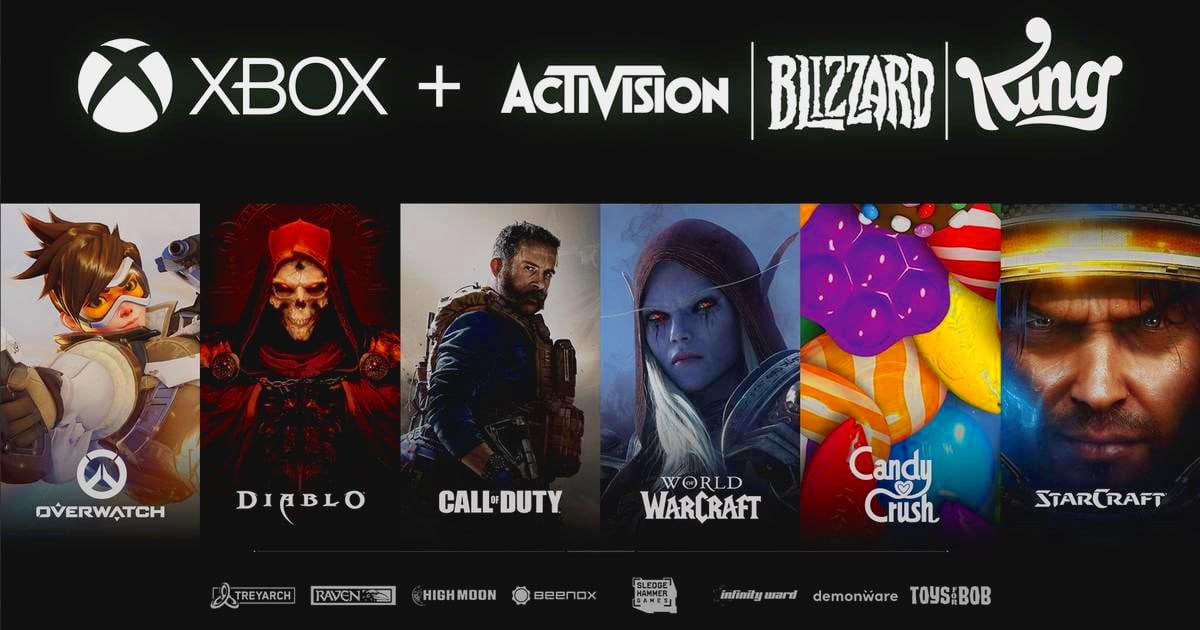 Microsoft has confirmed with the acquisition that PC Game Pass and Xbox Game Pass has over 25 million subscribers. Therefore, a large number of new players:inside could be drawn to Azeroth. This would be particularly advantageous for World of Warcraft, as the game has recently had to struggle with a strong loss of players.
But other titles could also benefit from the existing Game Pass users. As a result, Activision Blizzard's games could boost Xbox sales and lead to a longer-term Game Pass subscription on average.
However, it will be some time before drastic changes occur. The full integration of Activision Blizzard into Microsoft is not expected until 2023. The company will continue to operate autonomously until then. Nevertheless, gamers:inside can hope that Microsoft will honour all the contracts already signed by Activision Blizzard, as this was also the case with the acquisition of Bethesda.
With the acquisition of Activision Blizzard, Microsoft has snatched up many established games and popular game series. The titles may be in for big changes.
The wheels of capitalism grind slowly. Want an example? Microsoft's purchase of Bethesda parent Zenimax in 2020 has so far only had a detailed impact. Yes, there is Fallout and Skyrim in Game Pass, yes, The Elder Scrolls 6 may very well not be released for PlayStation consoles but 16 months later, the two publishers still exist largely autonomously.
Activision Blizzard will go through a similarly gradual process until the Microsoft titan has fully digested one of the biggest publishers to date. The takeover is not expected to be completed until 2023 at the earliest, and even then only if the antitrust authorities do not object because the danger of a monopoly position.
But the future prospects are not exclusively bleak, on the contrary. For Microsoft as the new Activision owner could give Blizzard in particular and its Diablo, Warcraft and Starcraft brands a new boost. Call of Duty should also benefit in the long run from the change in management. Not to mention that the employees of Activision Blizzard should basically be better off under the new aegis of the Microsoft group than they have been so far.
And what about us PC gamers? It couldn't have worked out better for us.
The Microsoft deal is a blessing for Blizzard
Bobby Kotick is arguably one of the most controversial figures in the video game industry, even more so after the scandalous revelations of 2021. As CEO of Activision Blizzard, Kotick stands for maximum profit and limitless ambition like no other publisher boss, loved by investors, hated by gamers. It was Kotick who once tried to establish Destiny as the next "billion dollar franchise" (exclamation) and thus another global brand alongside Call of Duty.
After the takeover of Blizzard Entertainment, Kotick transferred his idea that it is no longer enough for video games to make millions in sales, but that they must instead rake in billions in order to be successful, to the games of the Diablo makers. The games company, which was once legendary for taking as much time as possible for its projects, suddenly had to account for why it didn't fire out hits like Overwatch or Diablo 3 every year.
The old Blizzard way of working no longer fit the need for blockbusters under the Activision aegis. Postponements like Diablo 4 and Overwatch 2 strained the relationship between developer studio and owner. The cracks in Activision Blizzard's façade that became abundantly clear in recent years bore witness to this internal rift between creatives and financiers.
Now you might think that Blizzard's takeover by Microsoft would just be swapping one master for another. But Microsoft in particular has shown in the recent past that the company is only too willing to give newly acquired studios a lot of freedom.
Brian Fargo of Inxile Entertainment may serve as an example here: Wasteland 3 was actually supposed to be the last big commercial game by the designer who became famous with The Bard's Tale and Fallout. But after the Microsoft takeover, Fargo decided to postpone his retirement.
The most obvious explanation for this change of heart would be money, of course, but for Fargo it's actually time: financial security as a Microsoft sub-studio allowed Inxile to put far more time into fine-tuning Wasteland 3 than would otherwise have been possible. Under these conditions, even the meanwhile disillusioned Fargo (who once settled accounts with stingy publishers for the Kickstarter campaign of Wasteland 2) has apparently regained his desire to make games.
And it is also understandable: Of course, Microsoft is keen that the studios and brands it brings on board to bolster Game Pass and the Xbox platform continue to thrive. And currently, the big players in the industry are fighting to secure the best talent and names.
The recent past has shown that the Xbox group wants to appeal to as broad a range of gamers as possible and to this end also invests in games that do not have the potential to become "billion dollar franchises". How else could one explain the revival of Age of Empires 4 and Microsoft Flight Simulator?
These two PC-centric, in-game shop-less games alone show that Microsoft has an interest in seeing gamers as more than squeezable lemons. Although financially quite successful, there is a noticeable focus on such projects to strengthen the brand, excite gamers and enhance Game Pass as the central success concept of Microsoft's gaming division.
Would a Bobby Kotick at Activision Blizzard ever have supported such games? In his eyes, they would undoubtedly have been too small, too niche, too special to monetise them in the way Activision Blizzard's business model requires. Of course: Microsoft, as a platform owner, as the owner of Windows and Office and Minecraft (!), as a cloud provider and leading technology company, has completely different means at its disposal than Activision Blizzard.
This is already shown by the takeover sum of almost 70 billion dollars. Of course, you can afford to make losses, promote creative ideas and not always just look at the black zero at the end of the bill. But that's exactly what could be very, very good for us players.
The revival of old series doesn't seem out of the question either; Blizzard's real-time strategy classics, for example, could experience a revival similar to the recent Age of Empires. And last but not least, the Microsoft takeover could be a signal to all those people who have turned their backs on Blizzard in recent years: "Things are looking up again, come back, here you can realise your dream games!"
That sounds less far-fetched when you think back to how many times employees have left, come back and quit again at BioWare, for example. Besides, Microsoft has a knack for gathering veterans for new game projects. If that doesn't work out, Relic Entertainment will make Warcraft 4 …
Get rid of old mistakes!
Less funny, but hopefully all the more salutary, must be Microsoft's handling of Activision Blizzard's problems beyond fallow game brands and Call of Duty parts spat out every year. While Microsoft is undoubtedly not blameless, the corporation has shown that it is willing to look into allegations that go back some time.
That incidents such as the examples of sexism and harassment at Blizzard Entertainment, the clarification of which Boby Kottick apparently deliberately made difficult, could occur on a similar scale at Microsoft seems difficult to imagine. At least in its external image, Microsoft presents a far better picture than Activision Blizzard.
The Microsoft management lives diversity and has put topics like accessibility at the top of the company's agenda in recent years. Women like Shannon Loftis, the head of Age of Empires administrator World's Edge, play a central role here. It is hoped that this example will set a precedent at new corporate addition Activision Blizzard, that processes such as reporting assaults to HR will be overhauled and wrongdoers identified rather than protected for years as is the norm at Blizzard.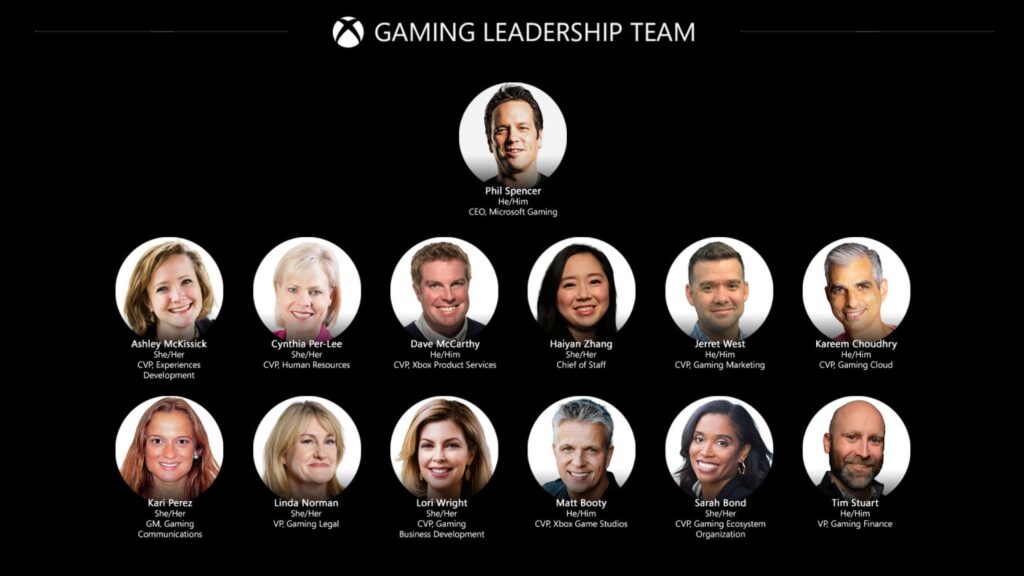 What Microsoft has grasped: Diversity, inclusivity and creativity go hand in hand and are key to appealing to as many gamers in the world as possible. Also with an eye on the metaverse and the gaming environments of tomorrow. Should Activision Blizzard under its new owner internalise this philosophy, it can only be an improvement on the current state of affairs at the publisher, which for many currently embodies everything that is going wrong in the games industry.
It will get better, but it will take time
In the end, it will be a long time before we see the real consequences of the amazing events of the last few days. For now, surprisingly little is changing in the relationship between Microsoft and Activision Blizzard. Even Bobby Kotick will remain with us gamers for a while longer before he vacates his chair with a large severance package in his briefcase. Until then, he may even enjoy misplaced praise from a Microsoft boss.
Labour representatives will continue to stand up for the rights of the Activision-Blizzard employees they represent, and the struggle to form unions will continue under the new owner. This time, however, hopefully with the difference that their criticisms and concerns will fall on more open ears than last time.
Call of Duty, meanwhile, will continue to release at its familiar pace for quite some time and Blizzard Entertainment will continue to put Overwatch 2 on the back burner. But the groundwork for positive change has been laid, I'm sure of it. For us gamers alone, the purchase agreement between Microsoft and Activision Blizzard will change a lot for the better in the next few years. Even if it's just the simple joy of being able to welcome dozens of new games to Game Pass that were previously exclusive to the Battle.net launcher.
But even that will take a while. Because the mills, they grind slowly.