Many sci-fi fans have high hopes for the story adventure The Invincible. What awaits explorers beyond the top graphics is revealed to us by the makers in an interview.
The Summer Game Fest 2022 proved it at the latest: Science fiction is currently the big trend in the gaming universe. Especially fans of space horror will get their money's worth: Callisto Protocol, Fort Solis, Aliens: Dark Descent and many more have been announced.
But what about those who are mainly waiting for epic stories and unforgettable characters? Will they have to freeze themselves in a stasis chamber until better times come? Fortunately not, because a story star in the release sky raises high hopes: The Invincible, created by ex-Witcher developers and based on a legendary sci-fi novel.
Not only have we seen the dewy gameplay from the PC Gaming Show, but we've since been able to ask the developers a few questions of our own. Some of their answers were surprisingly clear, but in many places the team is still very secretive. Taken together, they paint a picture of a game that bleeds atmosphere and is meant to grip you as tightly as only the best stories usually do. And that deliberately does without modern open-world facets.
The gameplay reveal with a good five minutes of uninterrupted gameplay scenes transports you directly into the fascinating Atompunk universe.
What is this all about?
Our former Invincible expert ~ Dani ~has written an enthusiastic column detailing the exciting setting that awaits your visit in the game. Here is the short version again: Astrobiologist Yasna finds herself on a hostile desert planet. There is no trace of her crew. Now she – that is, we – have to find out what actually went wrong and where the rest of the team has gone. The focus is clearly on story and exploration, by the way, exclusively in first-person perspective as in Cyberpunk 2077.
Fans of the legendary book by Stanislaw Lem will now frown: who on earth is Yasna? The character did not come from Lem's pen, developers Starward Industries invented her especially for their game. And for well-considered reasons, as they explain to us:
"We didn't want to change Stanisław Lem's iconic characters because we preferred not to mess around with great art. Also, it was important to adapt the narrative to a specific medium – the game. Adding a few elements to the story will make the gameplay more exciting, we thought.
It's also worth noting that Yasna has a different personality from the main character of The Invincible novel, such as an ironic sense of humour, which significantly enhances the narrative "
In terms of visuals and mood, The Invincible sticks much closer to its quirky template: instead of sleek chrome technology, you'll find clunky robots, colourful spacesuits and analogue radios that resemble bricks. True retro-futurism, in keeping with the vision of Invincible author Lem, whose novel was published in 1964.
Little action, but lots of atmosphere
Not much happens in the gameplay shown, actually Yasna just walks a bit through the (graphically heavily impressive!) area, observes a carrier robot and talks over the radio with Astrogator Novik, whom we already know from the first teaser. Only at the very end does it suddenly become threatening, when a seemingly inactive antimatter cannon sets its sights on Yasna.
Don't expect spectacular action in The Invincible, the dangerous excursion will not be popcorn cinema, but rather a philosophical journey that raises complex moral questions. The gameplay is obviously quite simple, interaction options are clearly marked, a click lets Yasna climb, grab or explain what she is observing.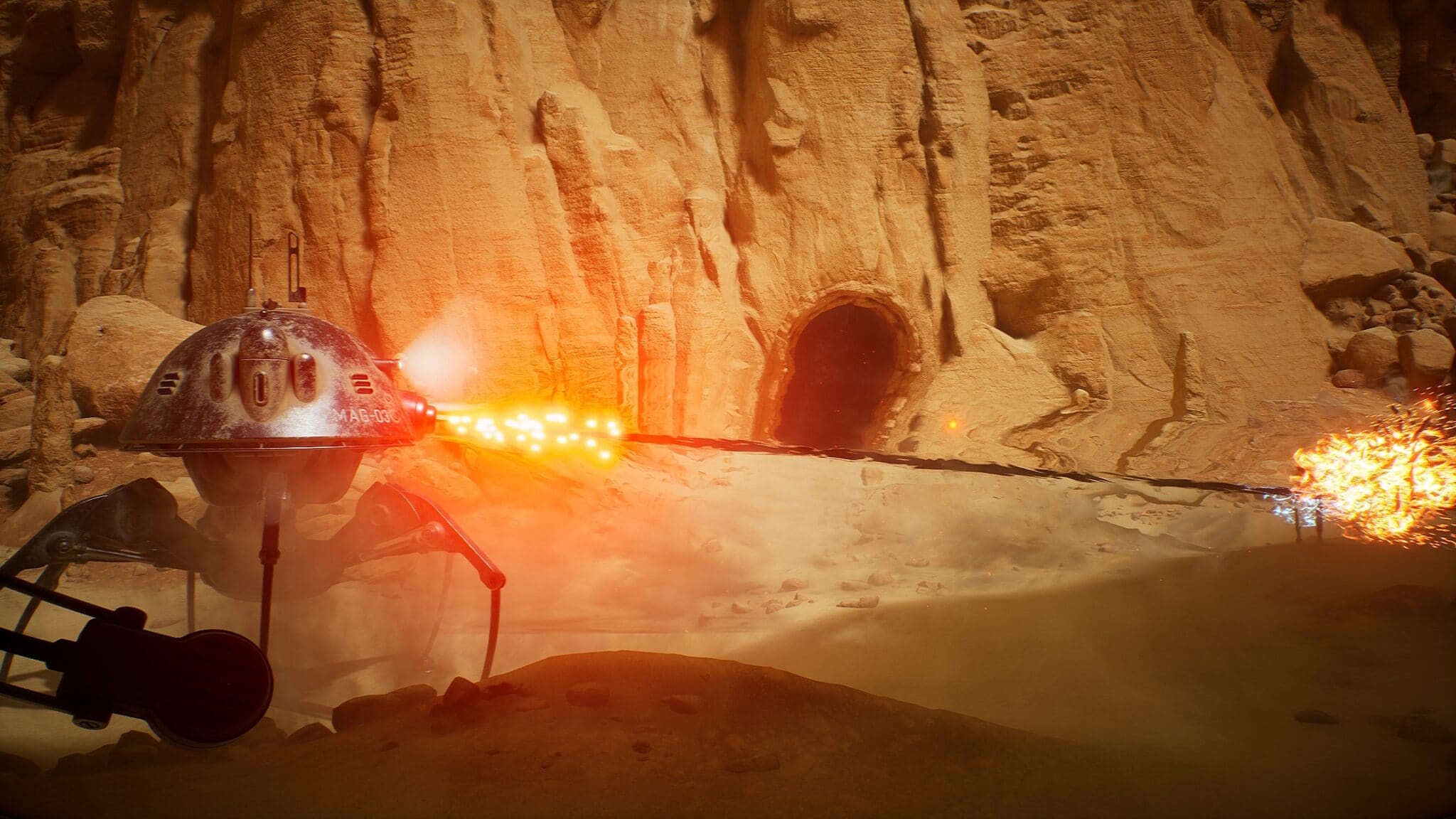 Dialogue options also appear occasionally, your decisions also have an influence on the story, according to the developers. They didn't want to tell us how many different endings the game offers. But at least they let us know a few other things, for example whether the story is linear or whether there are optional side missions.
"The Invincible is largely linear, but with various narrative choices and paths to explore, plus the realistic interactions with the Atompunk tools. Sometimes you'll need to use a telemeter or tracker, drive a rover and talk to your astrogator, or robot companions … So, even though the story follows a set track, there are different elements that you focus on during the game"
So in plain language: the story will be linear, but the gameplay should offer you variety. And although the world Regis III is another desert planet, the developers believe that you won't be bored by the environment either: The secret of a good game world is to include many exciting details to discover. Regis III is also not a monotonous sea of sand, but consists of many different areas.
The Invincible - View Screenshots!
What else the developers have revealed to us: The Invincible will not be a scope monster, but should be playable through in a weekend. They also have a piece of advice for anyone interested in the game: It is not a must to read the novel before the adventure – but they would recommend it to everyone because it is simply one of the best Si-Fi books ever.
Finally, fans have to swallow a bitter astronaut pill: The Invincible will definitely not be released in 2022, but only in 2023, an exact date is not yet known. The game is coming out for PC (Steam, Epic and GOG), PlayStation 5 and Xbox Series X/S.
Editor's Verdict
Please don't throw analogue radios at me now, but honestly I didn't care much for The Invincible until recently. Yes, the setting sounds cool and the fact that ex-Witcher developers are behind it is certainly a good sign for the quality of the story. But I don't know the original and have about two hundred other story games on my wish list.
And holy slideshow, now I'm damn glad I took a good look at it after all! So instead of the next half-empty open world, I get a linear story that I can complete in two days? That presents me with complicated, philosophical questions in the process? That sounds exactly like what I'm looking for at the moment! So I'll gladly book myself a ticket for this space flight.