A Youtuber compares the gameplay trailers of the PC and PS5 versions of God of War in terms of their graphics quality. The differences turn out to be surprisingly small.
October 20, 2021 may not have been a Thursday, but Thor must still have gotten mighty chills when he stopped by GlobalESportNews and learned: God of War is coming to PC! So Kratos and Atreus will soon be setting off from home once again to dent the winged helmets of the Norse gods.
In the course of the announcement, the developers promised some graphical improvements for the journey of the ageing god of war. In addition to improved shadows and reflections, a particularly high-quality environment concealment is also said to be at work. Therefore, many PC players might also assume that God of War will look recognisably better on the home computer than on the PlayStation 4 and 5 – but this is not (yet) the case.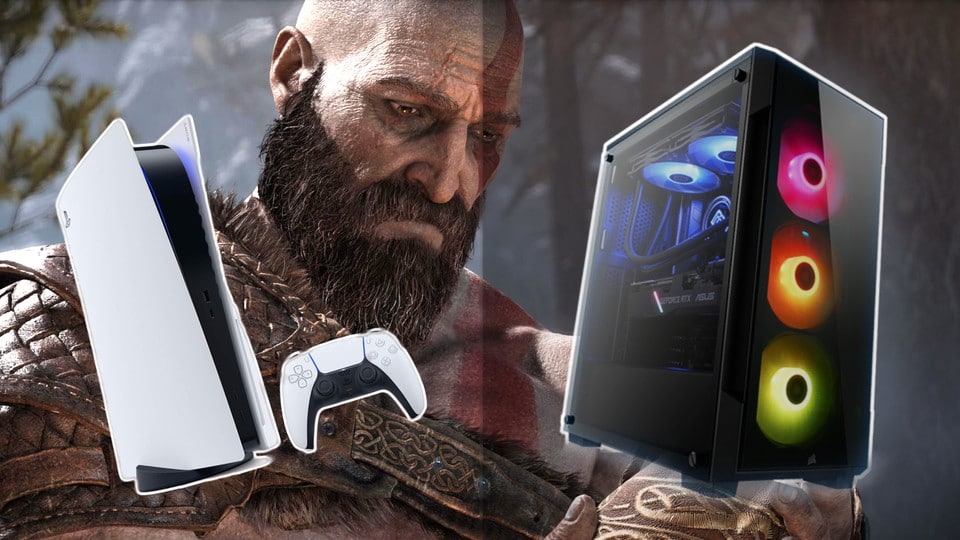 (All info on the PC conversion of the console masterpiece can be read here)
Differences in the first comparison rather small
The Youtuber (Cycu1) has compared the two gameplay trailers of the PC and PlayStation versions and analysed them for graphic differences. Since both videos contain the same material, this can be done easily.
Before we get to the results, it's best to form your own opinion:
In the course of the ten-minute video, three differences can be identified:
Resolution: In most situations, the image sharpness of the two versions appears exactly the same – in others, however, you can see that there is still a dynamic resolution at work on the PS5, which, depending on the gameplay, cannot maintain the native 4K display. This upscaling is not observed in the PC material.
Colours: Probably the biggest difference can be observed in the colour scheme. The PC version of God of War relies on a much more subtle colour intensity and thus looks more realistic in some scenes, but also less splendid.

Lighting: Not only the colours, but also the lighting of the game world seems to work differently in some places on the PC. This is clearly visible in the freeze frame at minute 6:00 – here the PS5 version could even be prettier for some eyes, because it relies on much brighter highlights.


PC version still has an advantage

Either way, the PC version will still have one big advantage over its older console sister: Fan modifications! Because, of course, it will only be a matter of time before resourceful hobbyists raise the graphics controls beyond the given level in God of War.

You can find out for yourself what a good figure Kratos cuts on the PC from 14 January 2022 at the latest, when the Norse godslinger is released.