The building game continues its World Tour with thematic content on different regions. In total, there are seven more DLCs.
With a fancy render trailer, the long-awaited successor to Cities: Skylines was announced just recently. But the more than eight-year-old building game has not yet reached its end: Seven smaller expansions and download packages are to be released in the coming months. We show you what else awaits you.
These expansions are coming next
All the new DLCs are introduced in a short trailer, which you can watch here, before we go into detail about the new content:
Let's get started on 22 March 2023 with a free update called Hubs & Transport which brings new content for the main game and some expansions. Among other things, there is a new taxi (for After Dark), new ferries (for Mass Transit), and an airport for disaster management (for Natural Disasters). Some DLCs are also coming on the same day, with more to follow in May:
Content Creator Packs
Shopping Malls: Here you get 60 new assets, such as 4 different shopping malls as well as over 50 growing buildings. (Released on 22 March)
Africa in Miniature: Includes 28 new buildings inspired by African architecture. (Released on 22 March)
Sports Venues: Includes 12 new sports stadiums of various sizes, as well as 10 public parks with sports facilities. (Released on 22 March)
Industrial Evolution: A set of buildings decorated in the industrial styles of different eras. (to be released in May)
Railroads of Japan: Lets you build authentic Japanese railways with trains, stations, buses and more. (to be released in May)
Brooklyn & Queens: A set of residential buildings that mimics the style of the two New York boroughs. (to be released in May)
Mini extension with holiday theme
No more specific details are available yet on the Vacation With Us expansion, which is also scheduled for release in May. Apparently, everything here revolves around holidays and holidays, in the picture below we recognise a swimming pool or a hotel complex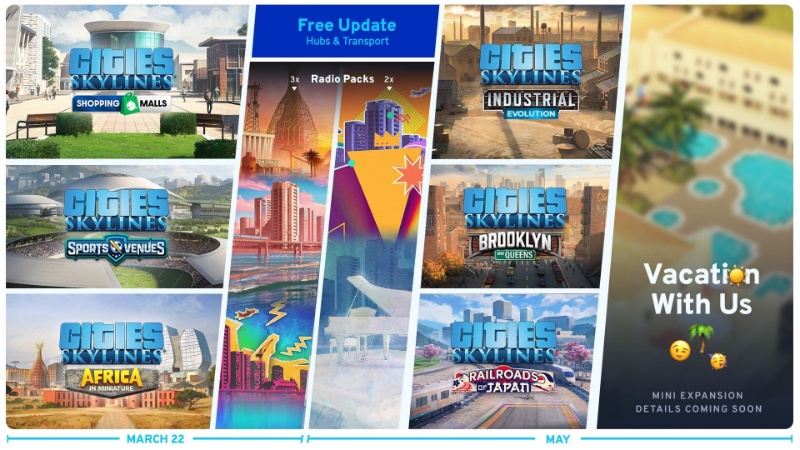 Radio stations
80's Movies Tunes: 15 songs and about 70 minutes of new music (Released on March22).
Pop Punk Radio: 16 songs and about 75 minutes of new music (Released on 22 March)
Jadia Radio: Stands for Just Another Day in Africa and plays 16 songs by Cameroonian rapper Wan Shey (Released on 22 March)
Piano Tunes: 16 songs and about 60 minutes of new music (to be released in May)
80's Pop: 16 songs and about 60 minutes of new music (to be released in May)
With the newly announced expansions, the World Tour of Cities: Skylines apparently ends, as hinted at in the (blog entry on Steam) . Whether there will be further DLCs and new content for Cities Skylines after that seems questionable, given the announcement of a successor for the building game.

How do you like the newly announced expansions? Do you already know whether you might want to buy some of them, or are you waiting for the release? Feel free to post it in the comments