Fortnite Chapter 3 Season 2 has come to an end and Season 3 Good Vibes brings some new additions like weapons, tools, plants and skins.
Fortnite Chapter 3 Season 2 celebrated its finale on 04 June, where the IO were finally defeated. Now it's time for Season 3, which is called Good Vibes. Here we show you all the changes and innovations you need to know.
A new map
As you have come to expect from new seasons, Epic Games has once again come up with a new map. This one focuses on thriving nature, as the Reality Tree provides a new environment called Reality Falls. It offers a variety of (purple) trees, mushrooms and jump-slurp mushrooms.
It also creates waterfalls, caves and even geysers that can help you progress quickly. The reality tree only affects its near vicinity at the beginning, but will spread out as the Season progresses.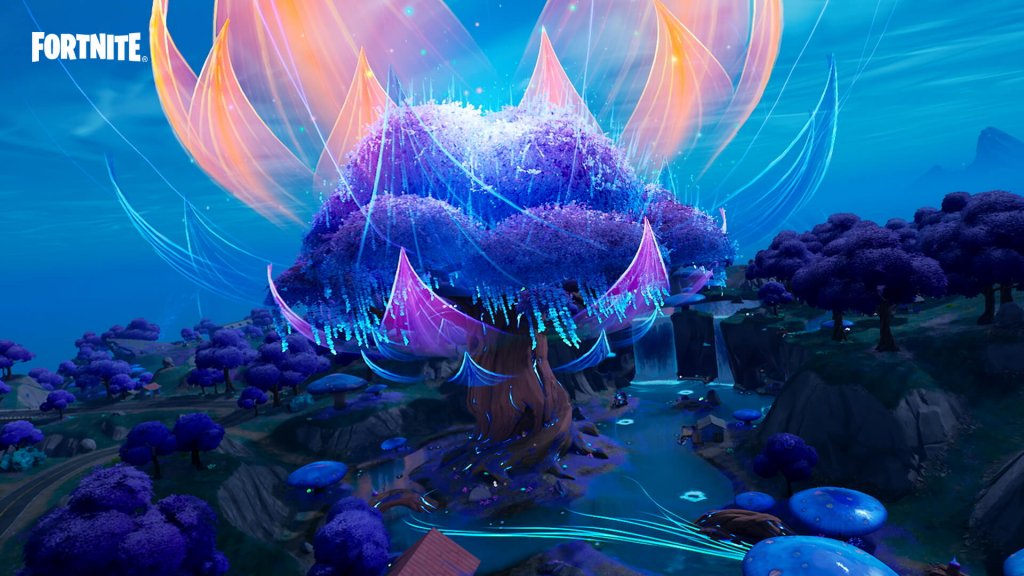 Reality seedlings
Through the reality tree there are now also reality seedlings distributed on the map. You can plant these and also take care of them by weeding. If you plant one of these seeds, a reality seedling will grow, which you will always find in that spot over rounds.
The seedlings can even give you loot. So the better you take care of your seedling, the better loot you will receive. Also, you can throw reality seeds you find on the ground, which will teleport your seedling to you.
New Weapons
In total, Epic Games is offering three new weapons, but is also allowing some old weapons to return. The new shotgun is called the two-shot shotgun and fires volley shots that can cause enormous damage.
The precision rifle or DMR offers a new type of weapon. The range is between that of a sniper and an assault rifle. The rifle also has a telescopic sight.
Lastly, the Hammer assault rifle has been added. This weapon can be used well at any distance and can shoot particularly fast. Only the recoil could be a challenge for one or the other.
The Kugler is back including a roller coaster
The Kugler is back as a means of transport. While it has received a few changes, it still has the same features as before. But now there is even a roller coaster specially adapted to the Kugler. So if you're in the mood for a wild ride, you should give this one a try.
Riding animal
The wolves and wild boars can still be found in Season 3. However, there is now the option to ride them. Even fighting and shooting is possible on the wild animals without having to dismount.
Storm Sickness
The storm is now even more dangerous for the players, because after some time in the storm, they suffer from storm sickness, which increases the damage even more. If you want to avoid this, you should simply not be in the storm for too long or not enter the storm again after a short time.

Battle Pass
The new Battle Pass contains the skins Darth Vader, Evie, Schnips, Adira, Stormrunner, Malik, Sabina and Indiana Jones. As always, this can be unlocked with V-Bucks.
You can find more information on the (Epic Games page). However, not all changes of the new season have probably been discovered yet, as it has only been playable for a short time. So there will probably be more information as time goes on, which we will also report on. Until then, we wish you a lot of fun in Season 3.