What innovations does the gameplay of FIFA 22 offer? We took a look at the next-gen version, draw a first conclusion and analyse what this means for the PC
FIFA 22 is already causing frustration and disappointment among PC players months before its release. Because this year, too, we have to completely do without a next-gen version. The practice is not new. But with the last generation change, PC players only had to sit out once before the jump came. FIFA 22 will now be the second year in which the PC looks sadly out of the window while PS5 and Xbox Series are bolting in the neighbour's garden.
But what does that mean now exactly? Are PC players getting an uninspired rehash this year with no improvements worth mentioning? Just a squad update with new kits for 60 euros? No. It's not that far yet. FIFA 22 is also supposed to be different on the PC than last year. It just gets significantly fewer innovations than the next-gen versions – which, by the way, even cost a hefty 80 euros.
Just in time for the EA-Sports-Spotlight we try to get more clarity. We were already able to play FIFA 22 and the developers explained to us in advance what exactly is behind advertising phrases like "Hypermotion".
All new features at a glance
These are the new features for PC
– Goalkeeper Rewrite: Goalkeepers have been reworked. Keepers should now use their brains more often between the posts and make smarter decisions. In addition, the goalkeeper personality is to determine exactly how a keeper behaves and positions himself.
– True Ball Physics: With the help of new data, the ball physics should become much more realistic. This will affect exactly how balls fly, how quickly they pick up speed and how far they roll
– Explosive Sprint: Pressing the sprint button now makes players run explosively. This is to make timing more important and fast strikers can pass defenders more effectively at the right moment
– New Attacking Tactics: In the team screen we can now split the offensive strategy into two areas. We can define how players behave in their own half and how players behave up front
These features are only available for Next-Gen

– Full Team Authentic Motion: Sounds complicated, but basically it means simple: there are thousands of new animations. Motion-Capture has not only collected data from individual players, but from two complete teams during a real match. Over 4000 new animations were created this way.
– Machine Learning Flow: An adaptive system is supposed to guarantee smoother motion sequences. Animations are written in real time and should ensure that players adapt better to individual situations
– Tactical A.I.: This feature in particular should only be possible with the stronger CPU power of the next-gen consoles. AI-controlled players can better analyse their environment and thus make six times more decisions per second than before. The team also behaves more like a unit.
– Kinetic Air Battles: Animations of players are now coordinated during header duels. This is to give the impression that the players are really fighting each other in the air
– Composed Ball Control: Players should control incoming balls with smoother animations. The animations are longer and therefore more natural. The first two ball contacts now flow more smoothly into each other
.
– Player Humanization: Players should behave more like real people on the pitch. There are always little interactions when other players are around.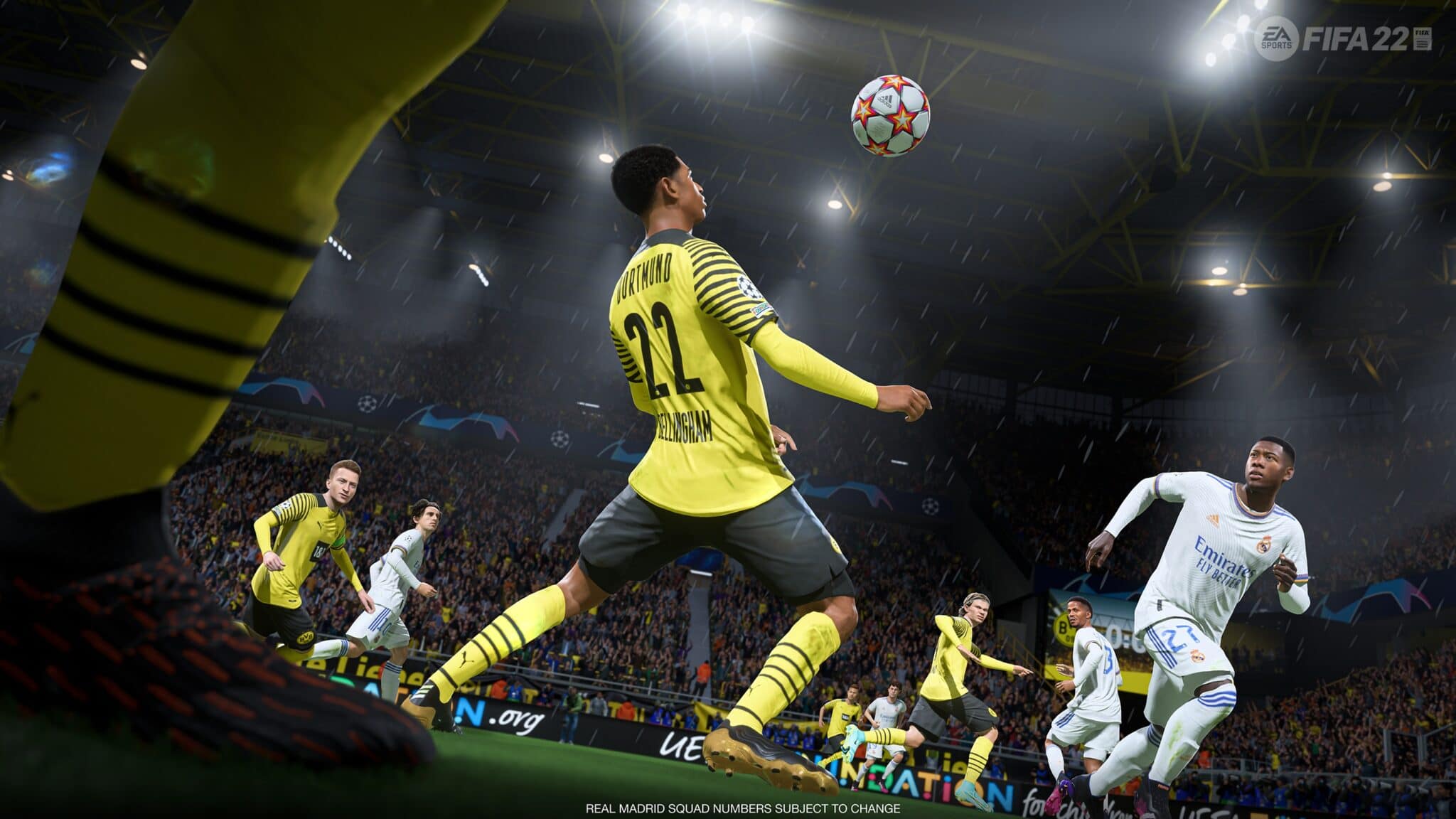 This is how good the PC innovations are
First of all a disclaimer: EA only allowed pre-access to the PS5 version of FIFA 22! So we couldn't touch the PC version yet. But we know which features from the PS5-version will be in the PC-version and we had a close look at it.
The game will be available in the PC-version only.
But that also means that the overall impression is coloured by the next-gen version. Before you even think about getting FIFA 22 for PC, make sure to wait for game impressions of this version.
The goalkeepers
The most noticeable new feature is the goalkeeper behaviour. In the playable beta versions, the goalkeepers were more than once the stars of a match. Time and again there were nerve-racking penalty area scenes.
The goalkeepers were challenged and managed to constantly get their fingertips on the ball with impressive dives. It should be noted that almost without exception, world-class keepers such as the newly crowned European champion Donnarumma or the goalkeeping legend Peter (not Kasper!) Schmeichel were available.
In 1-vs-1 situations, the keepers even parried far too well. However, this is probably a bug that EA already has on its cheat sheet.
The ball physics
The goalkeeper game is complemented by the new ball physics. Rebounding currently causes excitement much more often than frustration. It's amazing how different the game feels just because of more realistic trajectories. Side changes are almost aesthetically enchanting. Crosses or high balls to the top arrive at their destination much more reliably and make many more plays valid options.
The sprinting
The explosive sprints also fit well into the new gameplay framework. FIFA 22 plays directly more catchy as a result. Fast players no longer have to advance a ball six metres to gain an advantage. The explosive run in the right second often does the trick, but remains just one of many options and not a panacea.
This is how good the next-gen innovations are
Smarter teammates?
Whether it's tackling, dribbling or passing, movements look wonderfully fluid on the PS5. Thanks to thousands of new animations. Although we played against the AI, a game rarely felt robotic.
The players act dynamically and creatively. The attacking game thus offers much more variety. Scenes in which we play around the penalty area like in handball are extremely rare. This does not necessarily make FIFA more realistic – but more entertaining.
The new tactical AI shows itself most clearly when we play on the wings. Then the whole team systematically moves closer to the ball. As a result, outfield players are more often free on the other side and allow more frequent changes of sides.
But even with Tactical A.I., not all players always act intelligently. Centre-backs in particular sometimes broke out of the formation. At times they let themselves fall back so far that they picked up every offside position. In addition, the man-to-man defence doesn't quite work yet. Sometimes a Sergio Ramos stands ten metres away from Lukaku and thinks: "Yeah, he's covered".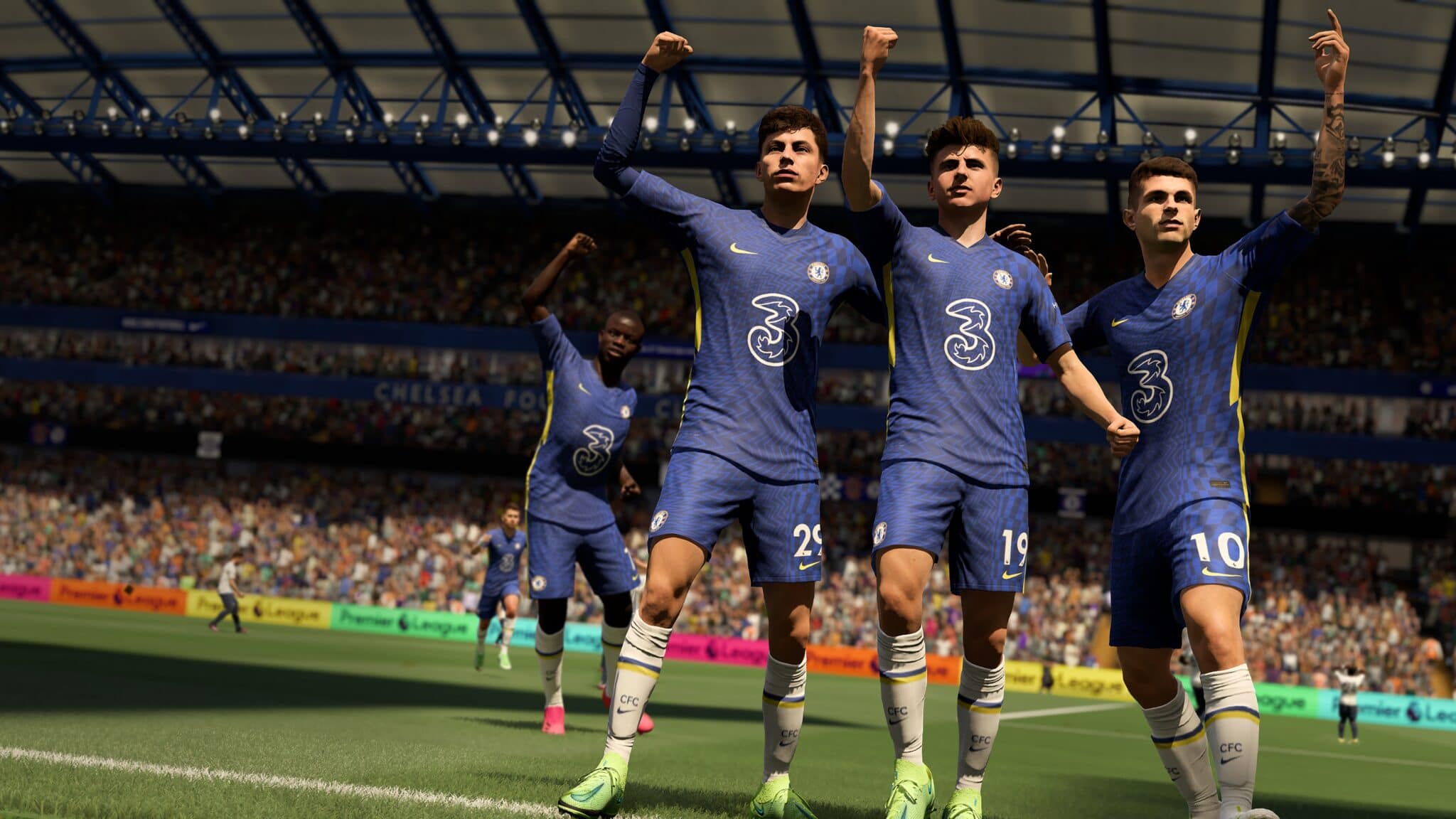 Living pitch
FIFA 22 brings digital football to life. At least that's what it tries to do. Lots of little animations are supposed to make players' movements feel individual and natural. This works well, but not always. Somehow it's charming that players now gesticulate a lot more or turn their heads to their teammates and opponents to exchange a few words.
The rewritten animations are also sometimes a curse, sometimes a blessing. It adds to the realism when a player adjusts his stride slightly to stand better to the ball. Nevertheless, the players often look clumsy rather than natural. Only to step past the ball after all.
Next-Gen-FIFA on PC
There's a way you can benefit from the next-gen features on PC too. Stadia gets the same version as PS5 and Xbox Series X/S. You can stream Next-Gen FIFA on your computer via the browser. But be sure to find out beforehand whether Stadia is worth it for you. One problem here, for example, could be the input delay.
What should FIFA fans expect?
Once again, we have only played the PS5 version. So we can't look at the PC features in complete isolation from the next-gen features. It may well be that some of the innovations that work well only unfold in combination with the next-gen content. For example, we don't know whether the goalkeepers might lack some of the animations without Next-Gen.
Even little things like the ball physics come into their own better when side changes are possible more often, like on the PS5. Currently, however, we consider the (few) new PC features to be very useful throughout.
The more innovative features are only available on the next-gen consoles. There is no doubt about that. But they still suffer from some teething problems, at least in the beta. If you have a choice, the next-gen version would probably still be the better choice. If only because it graphically trumps the PC. An absurd world.
As far as the PC is concerned, we can conclude by saying: FIFA 22 might offer a bit more in terms of gameplay than we initially feared.