The next big FIFA 20 update is just around the corner: The Winter Upgrades. Various top stars will be happy about a new overall ranking. We have summarized all the information about the Winter Upgrades and dare to make a forecast for the Premiere League.
The Winter Upgrades are always a possibility to get better players at a lower price by clever investments. But what exactly are the Winter Upgrades and how can you use them best?
Winter Upgrades – what is that?
The strongest players of the first round automatically get an upgrade, i.e. all your special cards get a higher rating with the refresh. However, the upgrade does not affect players' existing standard gold cards. Standard players in your squad will not be upgraded by the update, but you can draw their improved cards from packs. There will be no downgrades this year.
When are the winter upgrades coming?
Last year, FIFA started the winter upgrades on Friday 15 February. So most likely we can already look forward to the first refresh slide this Friday, February 14th. The other leagues were released in 2019 in a two-day rhythm. In order: Premiere League, Bundesliga, Serie A, LaLiga, Ligue 1 and finally the rest of the world.
How high are the upgrades & what will be upgraded?
Gold cards get an overall upgrade between +1 to +3, bronze and silver players can get higher upgrades. In addition, in some cases the "weak foot" and "dribbling skills" abilities are increased. In addition, players' positions may occasionally be changed.
How does it work with the special cards?
Normally all special cards receive the same upgrade as the standard card. This applies to all kinds of special cards, no matter if TOTW, Headliner, OTW, Hero, etc. Especially here FIFA players can make big profits by buying the special cards before the upgrades and selling them more expensive after the upgrades.
Which players will receive an upgrade in the Premiere League?
The Premiere League will most likely get their upgrades this Friday. The website sofifa.com collects performance data from all players throughout the season and calculates the FIFA rankings. Over the past few years, this data has always been a very reliable indicator for winter upgrades. This is what the updates in the Premiere League could look like this year:
– Fabinho, ZDM, Liverpool 85 -> 86
– Andy Robertson, LV, Liverpool 85 -> 86
– Giorginio Wijnaldum, ZM, Liverpool 84 -> 85
– Riyad Mahrez, RF, Man City 84 -> 85
– Trent Alexander-Arnold, RV, Liverpool 83 -> 85
– Jordan Henderson, ZDM, Liverpool 83 -> 84
– Lucas, ST, Tottenham 83 -> 84
– Mason Mount, ZOM, Chelsea 75 -> 79
– Daniel James, LM, Manchester United 72 -> 77
– Wilfred Ndidi, ZDM, Leicester City 81 -> 84
– Adama Traoré, RF, Wolverhampton Wanderers 74 -> 77
– Sadio Mané, LF, Liverpool – 88 -> 89
– Roberto Firmino, ST, Liverpool – 86 ->88
– Jamie Vardy, ST, Leicester City – 82 -> 85
– Tammy Abraham, ST, Chelsea – 76 -> 79
The interesting thing is the development of the special cards. If you invest quickly now, you could be making a big profit in just a few days. All information is of course without guarantee.
These players are a safe investment
Especially the upgrades of the Liverpool professionals seem very interesting. Because of the almost perfect season of the "Reds", fans can probably look forward to many upgrades. Sadio Mané, for example: If he gets an upgrade, as sofifa predicted, all his special cards will go up as well. The second information card with a current rating of 90 would then increase to 91. Currently this costs 600,000 coins on the Xbox. But with the winter upgrades the price would rise again.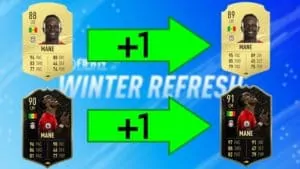 The situation is similar with striker Roberto Firmino. Currently, the Scream card with a rating of 88 costs almost one million coins on the Playstation. Should the announced +2 upgrade come, those interested in the all-rounder card would certainly have to pay a lot more.
Due to the high price this investment is of course very risky and certainly not made for everyone. But also the 87 Hero card, which is currently available for 120k, would rise to an 89 overall rating and thus also in coin value.
A cheap but nevertheless profitable investment is Trent Alexander-Arnold. The Englishman is probably the best legal defender in the world at the moment and for this reason he has also found a place in the Team of the Year. His current 83 rating does not seem to do justice to his strong season performance so far. Therefore sofifa predicts a +2 upgrade.
It would be clever to invest in his second information card with an 86 rating. This currently costs 120,000 coins on Xbox and Playstation. It will probably rise to 88 and increase in value significantly.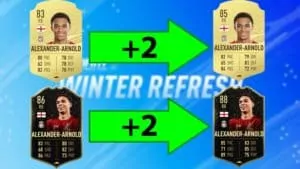 Prime icon moments are also announced
With the winter update, new Ones to watch cards are also patched into the game. These cards will increase with each in-game upgrade. All players who have moved to a new club during the winter break are eligible. Hot candidates for an OTW card in the Bundesliga are Dortmund's Erling Haaland and Emre Can, and Bavaria's new right-back Alvaro Odriozola. Internationally, Christian Eriksen and Zlatan Ibrahimovic, who are new to Inter and AC Milan, respectively, could get an OTW card.
In addition, the eagerly awaited Prime Icon Moments cards could be released. EA has already announced them with the release of FIFA 20.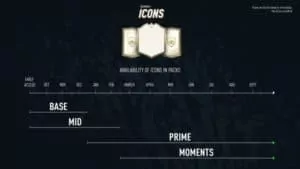 The Icon-Moments cards are the strongest Icon cards in the entire game. Icons are honored with new cards for special moments in their career and get another value boost.
What do you think? Which Premiere League players deserve an upgrade? Are you trying to invest tactically before the big upgrades? Let us know on the social media!