Every week a new FUT 20 Team of the Week is presented with the best players of the previous matchday. We will show you which players could be part of it this time.
Andre Ter Stegen or maybe even Serge Gnabry? Which players will make it into the FIFA 20 TOTW 24? According to ElitageDZN's Twitter account even both players should be listed.
Here is the TOTW 24 Prediction:
https://twitter.com/ElitageDZN/status/1231882524550483968?ref_src=twsrc%5Etfw%7Ctwcamp%5Etweetembed%7Ctwterm%5E1231882524550483968&ref_url=https%3A%2F%2Fwww.esports.com%2Ffifa-20-ter-stegen-oder-gnabry-im-team-der-woche-totw-24-prediction-76415
Top player of the TOTW 24
Even though Marc-Andre ter Stegen had not much to do in the game against Eibar, his parries were very strong. The eternal number 2 in the national team thus kept his box clean and according to ElitageDZN he should get a 92 information card. Due to his consistently strong performance, ter Stegen has long since earned his first TOTW card.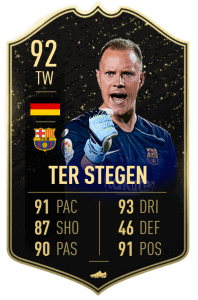 In addition to ter Stegen there are other players from the international leagues who could be worthwhile for your own starting team. According to the prediction these would be the following players:
Marcos Alonso (Chelsea FC, Spain) – 86
IV: Marquinhos (Paris St. Germain, Brazil) – 87
ZOM: Fernandes (Manchester Utd, Portugal) – 88
LF: Aubameyang (Arsenal, Gabon) – 89
Strong players from the international leagues are usually relatively expensive. If you prefer to collect and play Bundesliga players instead, you might be glad to get new cards this week.
5 Bundesliga players, including 2 in the starting eleven
There are two players who have appeared in almost every prediction so far because they perform well every week.
As in the TOTW 23 Prediction the name Serge Gnabry appears again this week. With one goal and two assists, the German international has applied for the TOTW again. If it doesn't work out this week, too, it could be due to Robert Lewandowski. The Bayern striker scored two goals from Gnabry's assists.
The second Bundesliga team is said to be Jhon Cordoba. He decided the away game against Hertha BSC within 37 minutes. The Cologners got already four weeks ago a TOTW map with 81 points. The second info. map is to have 84 points.
That could be the further federal league players:
– IV: Zagadou (Borussia Dortmund, France) – 82
– RM: Steffen (VfL Wolfsburg, Switzerland) – 81
– ZM: Nkunku (RB Leipzig, France) – 81
So the best player of the TOTW 24 should be a goalkeeper. After all, according to futbin.com, ter Stegen is currently by far the most popular goalkeeper in FIFA 20.